Green Valley Park (গ্রীন ভ্যালী পার্ক, নাটোর) is an excellent recreational center located just 2 km from Lalpur Upazila Sadar of Natore district. Spread over an area of ​​about 123 bigha, Green Valley Park has various interesting rides like Mini Train, Bullet Train, Nagordola, Marigo Round, Pirate Sheep, Honey Swing, Speed ​​Boat, Paddle Boat, etc. to entertain visitors of all ages. Also, this park is surrounded by natural beauty and has a picturesque lake spread over an area of ​​about 30 acres.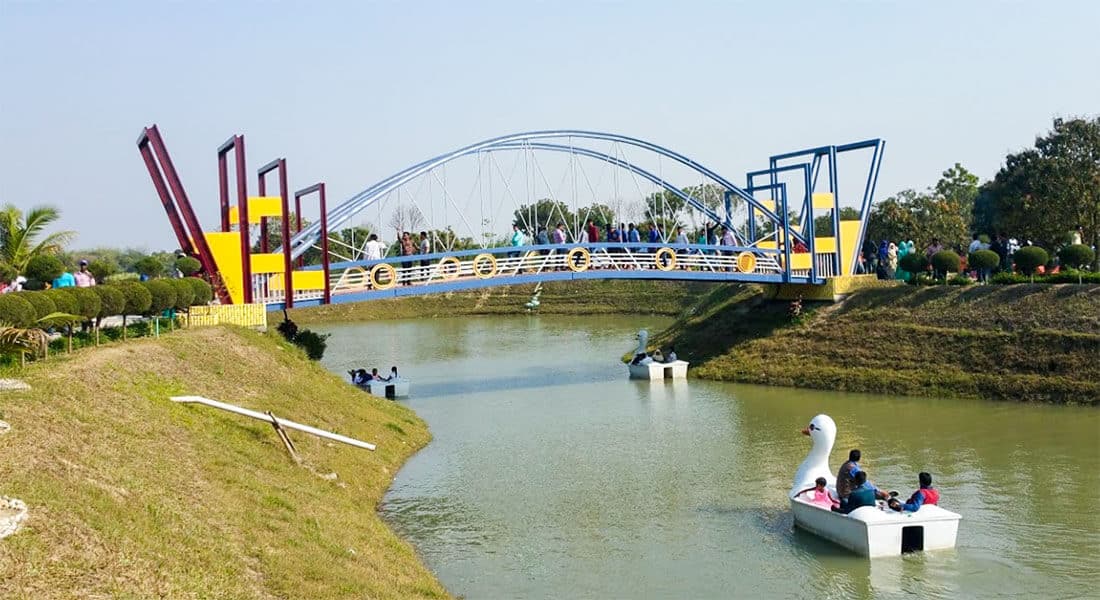 Other facilities of Green Valley Park include a shooting spot, picnic spots, adventure rides, concert and playground, round-the-clock security and power system, prayer place, decorator, car parking, cafeteria, shop, meeting-seminar venue, and accommodation.
Green Valley Park (গ্রীন ভ্যালী পার্ক)
Entry Ticket Price and Schedule
The entrance fee of Green Valley Park is Tk 50 per person. The park is open daily from 9 am to 5 pm. (Park opening hours vary with changing seasons). Water park ticket = 300 taka (12 pm to 4 pm) Water park locker fee = 500-500 taka. There are total 10 rides to enjoy, and the ticket for each ride is 30-50 taka. Car parking fee = 10-300 Tk.
Note: (No food can be carried)
Contact Detail Of Green Valley Resort Park
Mobile: 01712-151388, 01712-040573
How To Go Natore Green Valley (কিভাবে যাবেন)
By bus plying on Ishwardi-Bagha route from the capital Dhaka, get off at Bagha and from there take CNG to Lalpur. Bagha can also be reached by Charghat-Bagha bus from Rajshahi. Besides, buses to Lalpur are also available from Nato Bypass. And if you want to go by train, you have to get down at Abdulpur Railway Junction. The distance from Abdulpur Railway Junction to Green Valley Park is about 12 km.
Where Will You Stay (কোথায় থাকবেন )
There are quite a few decent residential hotels and boarding houses in Natore. Single or double cabin fare in Hotel VIP and Hotel Rukhsana is 250 to 600 taka. You can also contact Circuit House Natore, Natore Sadar Dak Bungalow, Hotel Prince, Natore Boarding, Hotel Raj, or Hotel Milla.
Where To Eat (কোথায় খাবেন)
One can have essential meals at various quality food hotels/restaurants in Natore. There are many hotels in Islamia for low-cost dining and nine hotels near the railway station have a good reputation for food. Also, don't miss the chance to eat Chalanbil and Rani Bhavani delicious fish while visiting Nato. You can also eat Natore's famous Kacha Golla.