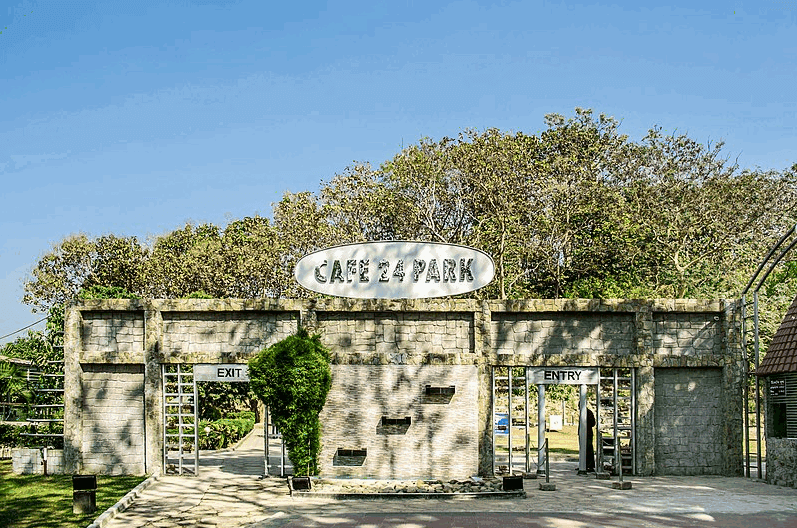 Cafe 24 Park is an army-run park in Bhatiari, Chittagong. Cafe 24 Park has located 7 km from Bhatiari to Hathazari and shortly before Chittagong Cantonment. There is a scenic park, a variety of rides, a restaurant serving international quality food items. Cafe 24 Park is a wonderful place to visit and the inside and outside of the park are neat and tidy.
The equipment used by the army during the training is made for the general public. Visitors will be able to get a good idea using these for a fixed fee. Cafe 24 Park is a complete exception to the rides at traditional children's parks or amusement parks.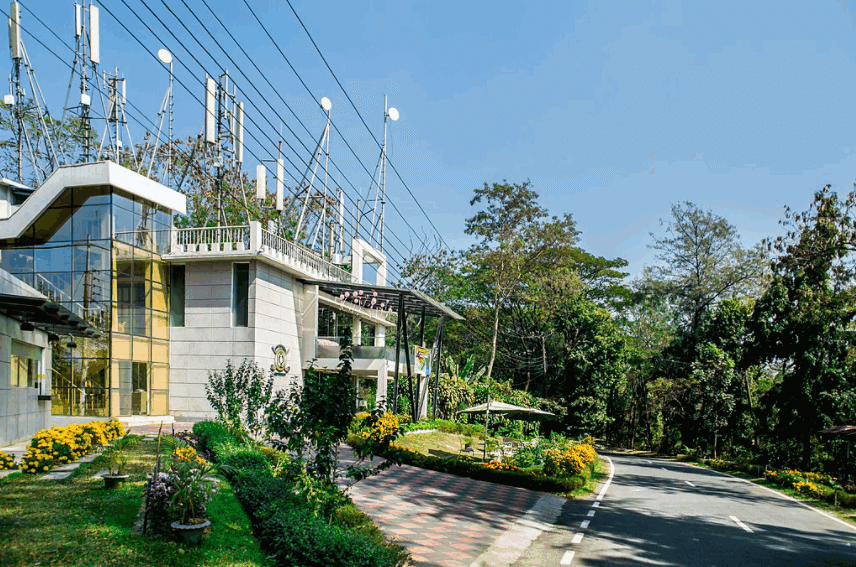 You can get up at any ride of Cafe 24 Park as many times as you like. Some rides here prohibit more than one ride together for safety reasons. You will feel strange thrillers while riding every ride. At the same time, there is a taste of thrill and a hundred percent adventure. And there is great joy!
On the right-hand side of the park, there are some houses like rural environment which includes Bengali houses as well as Chakma, Murang, Tripura type houses and on the left side, there is a huge lake with fishing facilities. In front is a hill 6 of Adventure Trail.
What's in The Adventure Trail
Net Way at the beginning of the Adventure Trail. Good to get up. Relatively flat, with a slight slope. You have to walk with the legs hanging along the lower rope holding the upper hanging rope. As soon as you step into the net, you will go down. Then it will be difficult to walk. Then you will get Spider Net. It's a lot like a spider's web. You have to walk to the front with your feet on the rope and conveniently hold the rope at a height.
There is a circular trail made of wood about 10 feet above the ground. You have to crawl through the sphere and move forward. The length of this sphere will be 25-30 feet. There are also air walkers. You have to walk on the hanging tires. You have to be very careful about this because if you put your foot on one tire, one tire moves a lot. Then stepping on it became a matter of balance. You can taste several more such trails on the Adventure Trail.
The Entrance Fee For Cafe 24 Park
50 Tks for Cafe 24 Park, 30 Tks for young children, and 50 Tks for Adventure Trail tickets. If you want to go to Cafe 24 Park from Dhaka to Chittagong, you can go to Chittagong by BRTC from Kamalapur Terminal and from Saidabad Bus Station by Saudia, Greenline, Silk Line, Sohag, Baghdad Express, Unique, etc. Greenline, Sohag, Saudia, TR, Hanif ordinary bus fare 400-500 Tks.
Chittagong can be reached by road and rail from Sylhet. Greenline transport AC, non-AC buses go to Chittagong by road. Apart from this, the Intercity Paharika Express leaves Sylhet Railway Station at 10:15 am every day except Saturday of the week, the Intercity Udayan Express at 9:20 pm every day except Sunday of the week, and the Jalalabad Express leaves the Chittagong Express at 10:30 pm every week of the week. Rent 175 to 1200Tks.
On The Chittagong Dhaka Route By Train or Rail
Mahanagar leaves Dhaka at 7:40 am, Chattala Express leaves at 9:20 am, Mahanagar leaves Godhuli Dhaka at 3 pm, Subarna Express leaves Dhaka at 4:20 pm and Turna leaves Dhaka at 11 pm. Rent 160 to 1100 Tks.
By air from Chittagong Dhaka to Bangladesh Biman (02-9560151-10), GMG Airlines (02-8922284) and United Air (02-8957640), Regent Air (02-8953003) can be reached directly from Dhaka to Chittagong by air. From the Oxygen Junction in Chittagong, take a CNG ride to the shores of Bara Dighi. The rent is 10 Tks per person. From there, take the Laguna or CNG of Bhatiari to Cafe 24 Park. If you go to Laguna, the fare will be 15 Tks per person and if you go to CNG, the fare will be 25 Tks per person.
Where to stay In Cafe 24 Park Chittagong
There are various quality hotels in Chittagong. Below are the names and addresses of some budget hotels. These are all standard but low-budget hotels.
Hotel Paramount, Station Road, Chittagong: Just opposite the new train station. In our opinion, this is the best hotel on a budget. Beautiful location, wide corridor, such a large corridor is not even in a five-star hotel. The rooms are good too. Rent for non-AC single 800 Tks, double 1300 Tks, AC 1400 Tks, and 1800 Tks. For booking: 031-2856771, 0171-3248754
Hotel Asian SR, Station Road, Chittagong: This is also a very nice hotel. Tidy, clean hotel. Rent: Non AC: Tk.1000, Non AC Single. AC: 1725 Tks. For booking – 01711-889555.
Hotel Safina, Enayet Bazar, Chittagong: A medium quality hotel with a family atmosphere. There is a beautiful restaurant on the roof. If you sit there at night, you will not want to come. Rent: Starting from 700 Tks. AC 1300 Tks. For booking – 031-0614004
Hotel Naba Inn, Road 5, Plot-60, O, R Nizam Road, Chittagong. A little more rented hotel. However, it is ideal for those who want to stay in Nasirabad / O and Nizam Road area. Rent: 2500/3000 Tks. For booking – 01755-564382
Hotel Landmark, 3072 Sheikh Mujib Road, Agrabad, Chittagong: Good hotel to stay in Agrabad. Rent – 2300/3400 Tks. For booking: 0182-0141995, 01731-886997.
Read More:
Frequently Asked Question About Cafe 24 Park:
cafe 24 ticket price
cafe 24 menu
vatiary cafe 24
cafe 24 vatiary chittagong
cafe 24 park chittagong contact number
cafe 24 chittagong food menu
cafe 24 contact number
vatiary lake