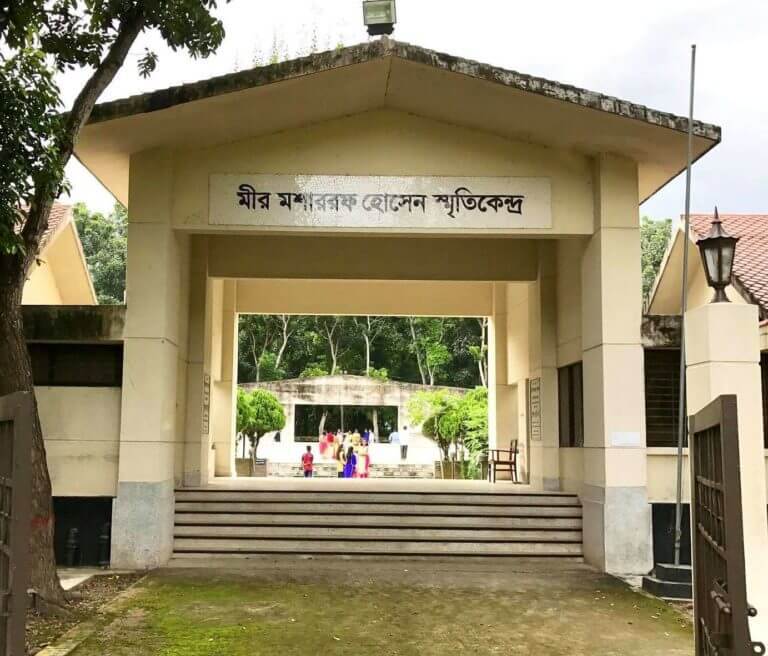 Mir Mosharraf Hossain, the immortal author of Bishad Sindhu, one of the greatest Muslim writers of the nineteenth century, was born on 13 November 1847 in a wealthy family in the village of Lahinipara, near the Gorai Bridge, three miles east of Kushtia. His father's name was Mir Moazzbem Hossain and his mother's name was Daulatan Nesha.
The lineage of Mir Mosharraf Hossain is Syed Sa'dullah-Mir Umar Daraj-Mir Ibrahim Hossain-Mir Moazzam Hossain-Mir Mosharraf Hossain. His predecessor, Syed Sa'dullah, first came to Delhi from Baghdad and joined the Mughal army. Later, he came to Sakra village in the Faridpur district, took water from the daughter of a Hindu Brahmin, and started living permanently in Padmadi village. Mir Mosharraf Hossain's father Mir Moazzam Hossain was a landlord of Lahinipara village in Kushtia.
Mir Mosharraf Hossain started his education in his first home as a child and later in the school of Jagmohan Nandi in the village. Then Kumarkhali M. N. School, Kushtia High School, and Padmadi School. Later, he was admitted to Krishnanagar Collegiate School. Probably, in the eighth grade, he studied for some time from the house of his father's friend Nadir Hossain in Calcutta. While staying at Nadir Hossain's house, he first fell in love with his first beautiful daughter Latifan and later got married.
However, at the time of the marriage, Nadir Hossain married his second ugly and ignorant daughter Azizjannesa instead of his first daughter (19 May 1865). Mir was seriously injured when Latifannesa committed suicide as a result of this incident. He could not forgive his wife Azizannesa. Mir's first marriage was not happy, so eight years later he married Kali alias Kulsum Bibi, the daughter of a widow from Santa village. In this incident, his monogamy with Azizjannesa is further intensified.
After that, Mir Mosharraf Hossain could not live in Lahinipara and became the manager of one side of Ghaznabi Estate in Tangail district and started living with Bibi Kulsum in Tangail's 'Shantikunj'. Azizannesa lived a lonely life for several years due to disrespectful negligence and died in Lahinipara. No child was born in her womb. Mir Mosharraf Hossain's five sons and six daughters were all born to Bibi Kulsum.
Name of Mir Mosharraf Hossain's children: Raushan Ara, one daughter (name not known), Ibrahim Hossain, Amina, Saleha, Salema, Ashraf Hossain, Omar Daraj, Mahbub Hossain, Rahela, and Mostaq Hossain. When Mir Mosharraf Hossain died in Padmadi village on 19 December 1911, he was buried next to Bibi Kulsum's grave.
Read More: Kollayan Dighi