Winter from the beginning Jahangirnagar University Campus guest bird's  Calcutta has a face. From Dhaka, you can go easily from the Campus to the clear nature. This Jahangirnagar University Campus place among the green nature. Covered in the tress this green Campus chest there are quite a few pounds.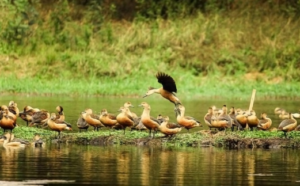 For several years take this place as a bird sanctuary. There are about almost 22 pounds in Jahangirnagar University. In it in front of the Administrative building, two ponds behind, Jahanara Imam Hall, Pritilota Hall, and Al beruni Hall adjoining pond. There is a red waterlily in the pond. In the middle of waterlillys red Carpet would love to. Various types of birds are here.

Something will be kept to watch the birds. It has given importance the sanctuary by University Authorities. So it is important to follow the rules
The best time to watch bird's is winter morning and winter afternoon.  So you can go morning for the whole day and can spend your time here. You can eat at the hotel at noon. 
How You Will Go Jahangirnagar University 
From Dhaka gulistan, farmgate, Kolhapur-which bus go Manikganj, you will ride that. For visit to University, Campus rickshaw is better.