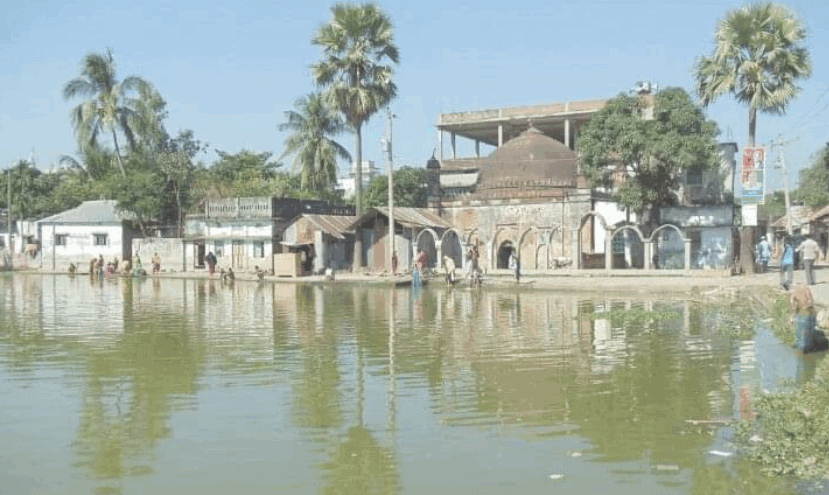 Narayanganj was a prosperous district of ancient Bengal. Many ancient installations here show the importance of this area. Bandar Shahi Mosque is one of them. It is located in the Bandar municipal area, about one mile south-east of Kadam Rasul in the Narayanganj district. It is a mosque that is many centuries old. It is thought to have been built around 1482 AD. According to that, its age is about five hundred and fifty years. However, for this reason, it has been neglected just as much as it was supposed to be cared for as a historic installation.
Bandar Shahi Mosque
This mosque was built in 1482 AD by Malik Al-Muazzam Baba Saleh, a senior royal official of Sultan Jalaluddin Fateh Shah. The size of this magnificent mosque is about 6.20 meters on the inside and 9.70 meters on the outside. There are octagonal minarets at the four corners and a large hemispherical dome placed on two black stone pillars on the wall.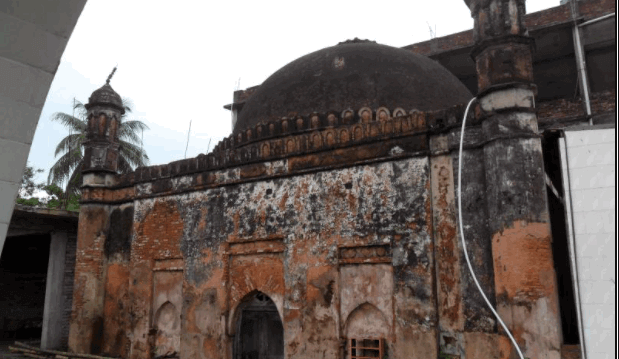 The base of these two pillars is square, the top of which is carved at that time and the middle is of many octagonal works. Surrounding the base of the dome is an enclosure surrounded by beautiful lotus flowers and jugs. The installation of the dome on top of the Marlan decorated drum at the top of it seems to have been part of the renovation of the mosque during the Mughal period. There are three entrances on the east side of the mosque. The middle one is wider and has a height of 2.20 m and a width of 1.37 m. The other two entrances to the south and north are about 2 m high and 1 m wide. The side entrances are approximately the same size as the front middle entrances.
The mosque has a total of three semi-circular mihrabs. The middle of them is the biggest. The mihrab on the north side is now being used as a cupboard. The mosque has been reconstructed and its perimeter has been significantly increased by adding verandas to the east, south, and north. The mosque is made of bricks and limestone. Although the whole mosque was built on the foundation of Kashti stone, these foundations are no longer visible in the soil and weeds.
How to get there:
The farmers of Narayanganj have to go by bus or train from Dhaka first. From there you have to go to the ferry ghat by rickshaw. You will cross the ferry ghat by boat and reach Shahi Mosque by renting a rickshaw for 20/25 Tk.
Read More: Saptarshi Resort