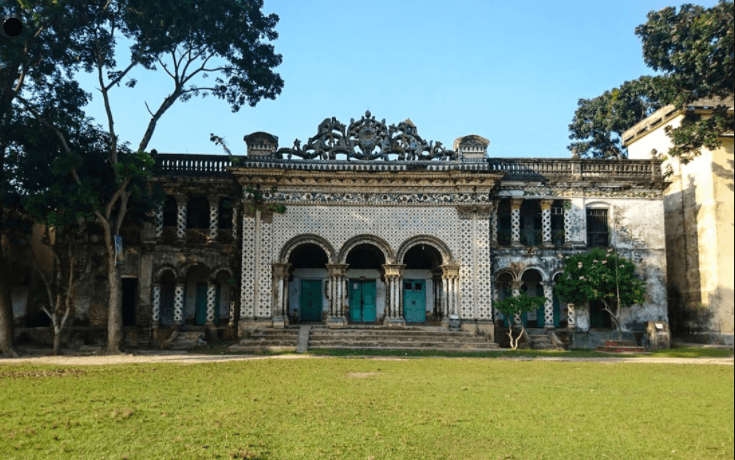 Tangail, the largest district in the Dhaka division, has many interesting places to visit. Tangail is easily accessible due to its proximity to Dhaka. There are several ancient zamindar houses here. These zamindar houses attract the attention of travel-thirsty people for their architectural style and beauty. If you want, you can return from Dhaka by visiting these zamindar houses in one day.
Hemnagar zamindar house history
Hemnagar Zamindar Bari is one of the most attractive zamindar houses in Tangail. This ancient zamindar house is very rich and beautiful in terms of architectural style. Don't forget to visit this Hemnagar Zamindar Bari on your trip to Tangail. The Hemnagar zamindar's house stands tall as a witness to history in Hemnagar, Gopalpur, Tangail. Hemnagar is about 15 km from Gopalpur Upazila Sadar. This historic manor house is known to the locals as the fairy building. Hemchandra Chowdhury, an influential zamindar of Tangail, built this beautiful house in 1890.
The 124-year-old zamindar's house is built in the eighteenth-century style of architecture. It is known from history that Kalibabu Chowdhury, the father of Hemchandra Chowdhury, the zamindar of Hemnagar, was a businessman. Kalibabu Chowdhury bought the zamindari of Shimulia Pargana under the Sunset Act.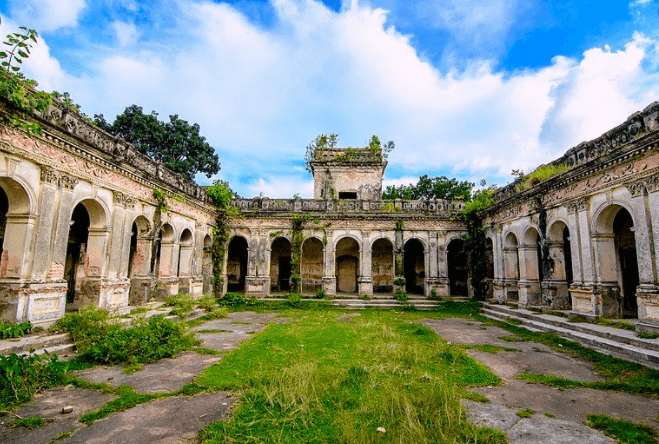 Hemchandra Chowdhury was the eldest of Kalibabu Chowdhury's four sons and four daughters. After taking charge of the zamindari, he built a zamindar house at Ambaria Estate under Madhupur Upazila of Mymensingh district and started managing the zamindari.
But the zamindari of a large area from Umberia to the east bank of the Jamuna and from there to Madhupur Garh became difficult for him to manage. So he built a second zamindar house in a village called Subarnakhali in Gopalpur Upazila. Later, when Subarnakhali was disappearing due to river erosion, he built this zamindar's house in Shimlapara village and named the area after himself as Hemnagar.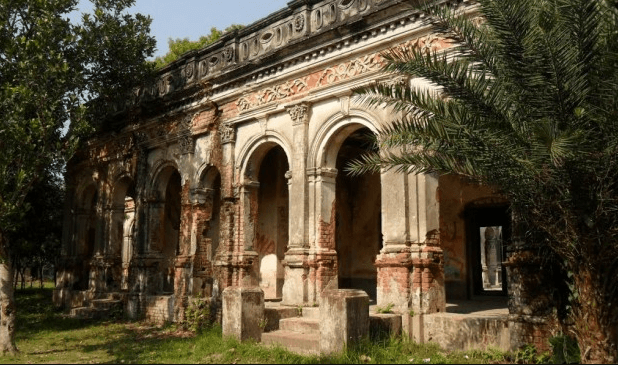 Illustration of Hemnagar zamindar house
This two-storey building still stands proudly with that old tradition. There are two fairy statues on the roof in front of the house, which is why it is called the fairy building. The 100-room house is built on about 30 acres of land. The entire palace is divided into three parts. The first part is a two-storied court. And behind him is the inner court. There are two parts of the inner palace, both of which have one floor.
The front of the manor house:
There is a huge field in front of the zamindar's house. Beyond this field, the front building was also the courthouse of Zamindar Hemchandra. The quadrangular zamindar house is built with rows of houses on either side. The zamindar's house is surrounded by three feet wide walls and there are two large ponds at the back of the house. These ponds have excellent paved ghats.
The front of the manor house is the most interesting. This part shows a nice mix of Islamic Arch and Greek Quarantine Pilal. Its beauty has been multiplied by the decoration of sugar cane. Sugar cane decoration is a lot like a mosaic. In this method, a variety of designs are embossed on the architecture using small fractions of porcelain and glass pieces. The building is mainly made of colored glass.
Starting from the front pillars, the walls, the doors, the window panels, every place had this decoration. The designs are mainly of flowers, stars, trees, and geometric designs. These designs have taken the beauty of the manor house to a unique height. There are 6 more picturesque buildings around the zamindar's house which Hemchandra Chowdhury built for his three sisters and four children. After the partition of the country, all the members of this zamindar family migrated to Calcutta. At present, there is a degree college in this manor house. Which is known as Hemnagar Degree College.
How to get there:
There are various transport buses from Dhaka to Tangail. These include Nirala Paribahan, Dhaleshwari Seating Service, Al-Rafi Paribahan, Sakal-Sandhya, Sonia Paribahan etc. You can reach Hemnagar by CNG or autorickshaw from Tangail for around Tk. 200. You can also reach Gopalpur or Bhuapur police station directly by bus from Dhaka's Mohakhali bus terminal. From there you can reach Hemnagar by CNG or autorickshaw.
Where to stay:
There are several hotels and guest houses in Tangail. Notable among these are Palash House / Night Odor Residential Hotel; Masjid Road, Tangail, Al Faisal Hotel Residential; Masjid Road, Tangail, Hotel Sagar Residential, Afrin Hotel; Masjid Road, Tangail, SS Rest House; Akuratakur Para, Tangail, Palli Bidyut Rest House, LGED Rest House (Government), Sugandha Hotel and Restaurant; Old Bus Stand, Tangail, Nirala Hotel; Nirala Mor, Tangail, Piasi Hotel; Nirala Mor, Tangail.
Read More: Weaving Life