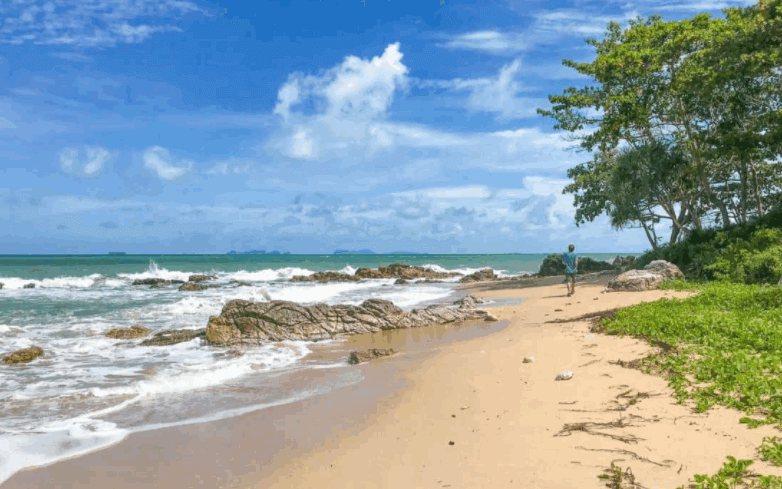 Koh Lanta is the perfect Thai island for us. It's not too developed or crowded but has enough facilities to live comfortably. We love the laid-back atmosphere, long empty beaches, jungle-covered mountains, and spectacular sunsets. There are plenty of places to eat and things to do in Koh Lanta and there's accommodation for all budgets.
Koh Lanta is quite a large island (27 km long) so having your own transport makes it easy to explore. The roads are mostly paved (although with plenty of potholes), there is no traffic, and it's hard to get lost when there's only one road that goes around the island and a couple that cut across it. If you rent a moped you'll be able to explore many of our Koh Lanta itinerary suggestions below, but it's also just fun to drive around enjoying the views and stopping off at quiet beaches.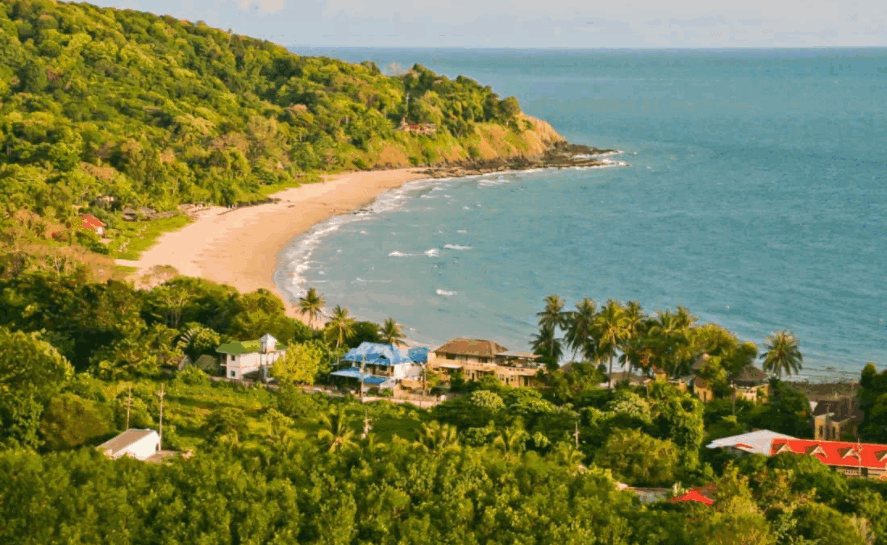 If you don't want to hire a motorbike, you could rent a car (much more expensive) or bicycle (but be prepared for the heat and big hills in the south). You could also take a local taxi—a tuk-tuk with a sidecar attached to a motorbike, but this will be more expensive.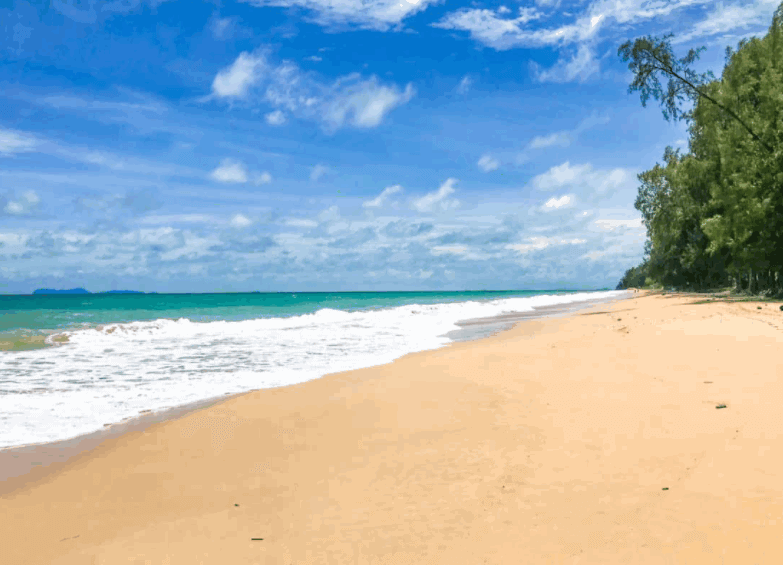 Take a Walk on Long Beach
Long Beach (Pra-Ae) is the longest and one of the most attractive beaches on Koh Lanta. It's in the north of the island and is a great place to stay if you want to be close to the action as there are plenty of restaurants and a wide range of accommodation—see our post on the best Koh Lanta hotels for recommendations.The golden sand is backed by casuarina trees and the warm clear water is perfect for swimming. It never gets too busy as there's plenty of space for everyone. We love walking here at sunset.
Just south of Long Beach you can find the lovely small bays Relax Bay and Lanta Secret Beach (also known as Beautiful Beach).
Koh Lanta beaches get quieter and even more beautiful the further south you go along the west coast. You can combine a trip to Waterfall Bay with a hike to the nearby waterfall.
For another beautiful empty beach keep driving even further south until you reach the end of the road at Koh Lanta's National Park. There's a 200 baht ($5.20) entrance fee, but you can then hike trails, visit the lighthouse, and relax on the beach.
Just watch out for the monkeys though—Simon got attacked by one that was trying to get into our bag in search of food. And please don't feed the monkeys and encourage this kind of behavior.
If you do get scratched or bitten by a monkey (or dog) you'll need to get a rabies vaccination straight away and then four more at intervals over the following month.
Stroll Around Koh Lanta Old Town
The west coast is where all the beaches are, but you can enjoy visiting the less developed east coast over the lush green mountains. It's quiet and peaceful here with a few small settlements of simple bamboo huts and the historic Old Town—a village of teak stilted houses overlooking the sea. There are only a few shops and restaurants so it won't take long to explore, but it makes a good break from the beaches.
The highlight of the 4 island tour was definitely visiting the Emerald Cave. Swimming through the cave the water really did glow emerald green before it became pitch black. When you will reach the other end of the cave we emerged into the sunlight to find a hidden white sandy beach surrounded by limestone cliffs.
Koh Rok
Another beautiful day trip from Koh Lanta is to Koh Rok.
The Koh Rok trips focus on snorkeling as it's known to have some of the best snorkeling in the area. It will take  you about two hours to get to Koh Rok, but as you will plenty of space to relax, either undercover or on the sunny roof deck, this will no problem.
During the day you will plenty of time at three different snorkeling spots, lunch on board the boat, and time to relax on a private beach away from the other tour groups.
It was a true beach paradise with soft white sand and crystal clear turquoise water. You can do camping trips to Koh Rok and it would be amazing to have this undeveloped island to yourself.
If you only have time for one boat trip, you can choose the Four Island trip to see the stunning Emerald Cave, but Koh Rok is also worth it.
A private day boat charter to Koh Rok with Freedom Adventures cost us 13,000 THB ($417) for 6 people. We can no longer recommend Freedom Adventures as they have sold their large boat.
A Koh Rok trip on one of the speedboats costs about 1700 THB ($54) per person.
Watch the Sunset
Watching the sunset is a must-do on Koh Lanta. you can see some truly spectacular sunsets on the island and made sunset walks along the beach a daily routine. Khlong Dao, Long Beach, and Khlong Nin are all fantastic places to watch the sun go down.
Where To Stay At Koh Lanta
We love the relaxed atmosphere and quiet beaches of the Thai island Koh Lanta. We've visited many times over the years staying in a wide variety of accommodation from luxury resorts to self-catering apartments.
There are two ways of deciding where to stay in Koh Lanta. You can choose the beach you want to stay on and find a hotel there or choose the type of accommodation that suits you (deluxe resort, mid-range hotel, beach bungalow, etc.) and find the best options on the island.
Koh Lanta accommodation prices are lowest from mid-April until October. It's the rainy season and very quiet on the island (many restaurants and some hotels close), but it doesn't rain every day and you can get fantastic deals of 50% off or more. This is the perfect time to treat yourself to a luxury resort!
There Are Some Hotels Name To Stay At Koh Lanta
Khlong Dao
Long Beach (Pra-Ae)
Khlong Khong
Khlong Nin
Kantiang Bay
Far South
Koh Lanta Old Town (East Coast)
Koh Lanta Hotels Map
Best Koh Lanta Luxury Resorts
Pimalai Resort (Kantiang Bay)
Rawi Warin Resort (Khlong Nin)
Layana Resort (Long Beach)
Crown Lanta Resort (Khlong Dao)
Best Midrange Koh Lanta Hotels
Oasis Yoga Bungalows (Khlong Dao)
Banana Beach Resort (Khlong Dao)
Lanta Castaway Beach Resort (Long Beach)
Coco Lanta Eco Resort (Khlong Khong)
The Narima Bungalow Resort (Khlong Nin)
Best Budget Koh Lanta Bungalows
Ok Chawkoh Bungalow (Long Beach)
Lanta Baan Nok Resort (Long Beach)
Lanta Andaleaf Bungalow (Khlong Khong)
Best Self-Catering Apartments and Villas in Koh Lanta
Malee Highlands (Khlong Dao)
Sai Naam Lanta Residence (Long Beach)
Malee Beach Villas (Long Beach)
Baan Kantiang See Villa Resort (Kantiang Bay)
Where To Eat
there is no food on Koh Lanta as good or as inexpensive as in Chiang Mai, but things have improved over the years and there are some excellent options.
Some Restaurant Name
Khlong Dao
Oasis Yoga Bungalows
Bajen Pizzeria
Two Scoops Gelato
Red Snapper
Yawee
May's Kitchen
Happy Veggie
Fruit Tree Coffee Shop
Escape Cafe
Le Colibri
Irie
French Bakery
Shanti Shanti
Drunken Sailors
Baja Taco
Self Catering on Koh Lanta
How To Get to Koh Lanta
Getting to Koh Lanta is fairly easy. Most people arrive on the island from Krabi on the mainland which you can reach by bus, train, or plane.
AirAsia runs cheap flights from Bangkok and Kuala Lumpur and Scoot has direct flights from Singapore. Search on Kiwi to find the best deals.
Krabi Airport to Koh Lanta
The nearest airport to Koh Lanta is Krabi International Airport (KBV). From Krabi you can take the ferry or shared minibus (350 baht) to Koh Lanta. Both take about two hours (longer if you are staying in the far south of the island). The minibus is more convenient than the ferry as they drop you off at your hotel. They are quite cramped and hot if you sit at the back though (the A/C didn't reach us very well). You can book minibus tickets at the airport when you arrive.
You could also get a private taxi (around 2500 baht), which would be a good option if you have a lot of luggage or have just arrived after a long flight. We did this on our most recent visit and it was much faster and more comfortable.
Koh Lipe to Koh Lanta
You can also travel to/from Koh Lanta by ferry to other islands in the Andaman Sea. We took the ferry from Langkawi, Malaysia to Koh Lipe, Thailand (2 hours, 135 MYR/ $42), spent the night there (although it is possible to continue on), and then took the Tigerline ferry from Koh Lipe to Koh Lanta (5 hours, 1530 baht/ $47) which was an easy and comfortable, if expensive way to travel. Ferries to other islands don't run in the rainy season.
Phuket to Koh Lanta
You can take a two-hour ferry from Phuket to Koh Lanta that stops at Koh Phi Phi on the way (one hour from Koh Lanta). Ferries depart Koh Lanta at 15:00 and cost 1500 baht.
When To Visit Koh Lanta
The high season on Koh Lanta is from November to March and this is when most people visit. The weather is dry and warm and the beaches look their best with calm water for swimming. Prices are at their highest (especially over Christmas) and there are more people around, but it never gets too crowded.
The rainy season (or green season as it's known here) is from May to September. It's very quiet and you'll find empty beaches and some hotels and restaurants close. Hotels reduce their rates by 50% or more. Some ferries and tours don't run.
The weather is mixed. Although there are days when it rains all day, it can also go weeks without raining (or just the odd shower at night). The sea is rougher at this time of year and lots of rubbish washes up on the sand.
April and October are shoulder months. We've visited three times in April and think it's the perfect month—not too much rain and the beaches look good, but prices start to drop in the middle of the month. It is particularly hot before the rain arrives though.