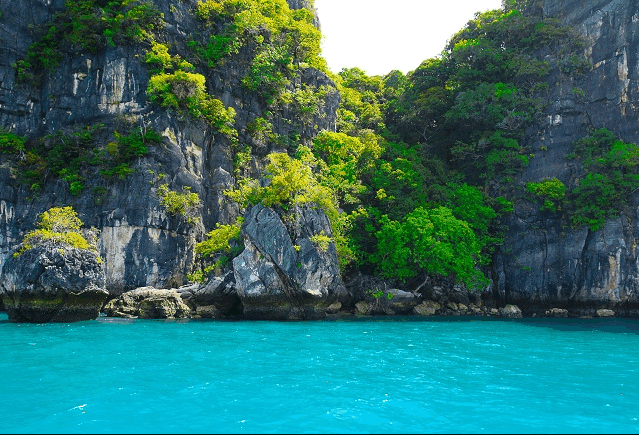 Koh Hong is a getaway island on the Krabi coastline. Spend your day doing nothing but lazing on virgin sands. This wonderful group of tiny islands offers breathtaking scenery, soft white-sand beaches, coral reefs, and a beautiful lagoon. It's where you can enjoy swimming, kayaking, snorkeling, scuba diving, fishing, sunbathing, hiking, and picnicking. Koh Hong is part of Than Bok Khorani National Park and it's only open for day visits with no overnight stays allowed.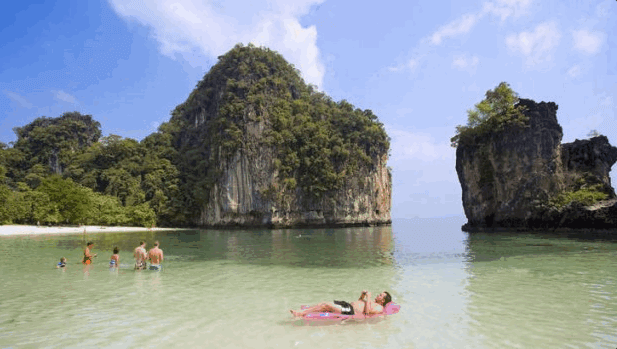 Highlights of Koh Hong
The Koh Hong archipelago consists of about a dozen islands but most are so tiny that they don't have beaches of their own but the biggest island has several lovely beaches. However, things rarely get crowded here as there's so much to do.
What puts Koh Hong on top of many visitors' itineraries is its spectacular rock formation and its breathtaking natural lagoon surrounding by majestic limestone formations. There is only one way to enter this inner lake; the entrance channel's width is about 10 metres, therefore you can easily get in with a long-tail boat or a kayak. The water is not deep, just about one metre, perfect for a leisurely swim.
Koh Hong (Koh Bele') There are both large and small islands. The main ones are Laga or Saga Island, Lao Riem Island, Pak Pie' and Lao Lading Island. These islands have great hollows inside them. Koh Hong is the largest island. It is a rocky island with coral formations in both shallow and deep water, which are great for diving, swimming, and kayaking. Boats can be chartered from Ao Nang (about 1 hour) or from Talan (1/2 hour).from koh yao (1/2 hour).
Good to know about Koh Hong
Tour companies usually include Koh Hong in their Krabi islands trip packages, it's likely that you will get to stop for lunch at Koh Hong as part of the trips and you can expect to spend plenty of time here afterwards.
You can also hire a boat from the Krabi long-tail co-ops for a day trip. They usually include a few different islands such as Koh Hong and Koh Lading. The cost is less than 3,000 baht for a round trip and they can take up to six people.
Koh HongOpening Hours:
Best time to go is November to April
Location: About five miles from the mainland Krabi Province.
Tel: TAT Krabi Tel: +66(0) 75-622163 or +66(0) 75-612811-2 or Than Bok Khorani National Park , Koh Hong Ranger Station Tel: +66 (0) 75 681096
Price Range: Admission Fee: 400 baht (adults) and 200 baht (children)
Details: There is no accommodation on Koh Hong
How to get there
You can hire a speedboat from Nopparathara Beach, Krabi. The trip will last only about 15 minutes. If you are going by a long-tail boat, it will take up to 40 minutes to get there.