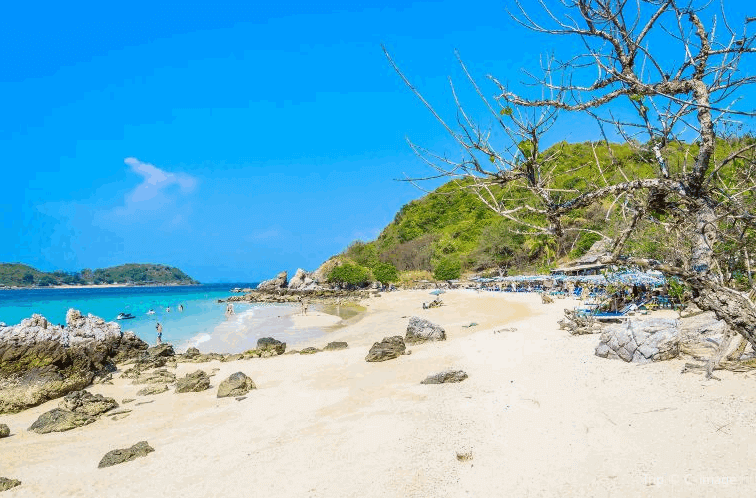 Pattaya's Islands offer an idyllic escape from the hustle and bustle of the busy coastal city. Few of them are particularly big and the vast majority are uninhabited, with many of them being ringed with beautiful sandy beaches and clear water. Here, you'll also find some great spots for snorkeling, diving, and fishing. With none of these activities or attractions being widely available on Pattaya Beach, the islands are extremely popular with those seeking seaside relaxation. Reaching the islands around Pattaya is quite easy. The inhabited ones have a regular ferry service available from nearby ports while the ones without a permanent population can be reached by chartering a speedboat or taking an island cruise. These all depart the main Bali Hai Pier or Ocean Marina Yacht Club in Na Jomtien.
The islands are separated into the 'Far' and 'Near Islands', depending on their distance from Pattaya.

1Coral Island (Koh Larn)
Coral Island near Pattaya is a little piece of paradise beyond the hustle and bustle of Pattaya. Although Thailand's famous beach resort town would not be your first thought when imagining a cerulean blue sea and a long stretch of pristine beach void of high-rise buildings and away from the claws of civilization, this little idyllic island offers exactly that and is just a short ferry ride away from Walking Street.
Also known by its Thai name of Koh Larn (and sometimes as Larn Island), Coral Island is situated 7.5 kilometres west of Pattaya Beach. It has long been an alternative retreat for those who have become jaded with Pattaya's overdeveloped and overcrowded beaches. Since the island is not so far away, visitors can easily go there in the morning, stay for several hours and then come back to Pattaya Beach in the late afternoon. The most convenient way of doing this is by taking a guided tour.
Fun under the sun
Endowed with several beautiful beaches and unspoiled natural wonders, Coral Island near Pattaya exudes a true tropical atmosphere and ample sunshine. If you didn't buy any tours on the ferry earlier, you can still delight in a host of activities offered on the beach. In addition to parasailing and speedboat riding, jet-skiing, banana boat riding, and, of course, swimming can also be enjoyed. Although not much coral left to be seen, the island's clear waters are excellent for snorkeling.
For the less energetic, the beach has plenty of sun loungers for you to laze and bronze on while being lured to slumber by the sound of waves lapping on the sand. If the lengthy ferry ride earlier left your muscles in knots, have them stretched and straightened by the readily available beach masseuses. Other passive, time-killing activities include having your body henna-tattooed and your hair braided. Lunch is served at 13:00 and is comprised of soup, steamed rice, four main dishes, and a platter of fresh fruits (a refill can be had if you want more). Drinks are not provided but can be bought from a nearby stall. Beach vendors do exist, but still very small in number compared to Pattaya Beach. Many shops and restaurants can be found along the beach, but remember that prices tend to be a little higher than normal.
Returning to Pattaya Beach
The glass-bottomed boat arrives at 15:00 to take the now-tanned visitors to the ferry back to Pattaya Beach. About an hour later, the ferry arrives safely at Bali Hai Pier, where the sun is now mild with the shadow of Coral Island lurking in the distance – seemingly beckoning us to return (as many of us have already planned to). If Pattaya's crowded beach is not what you envisage to spend your precious vacation on, this full-day getaway makes for a perfect substitute, ideal for family, couples, and a group of friends.
The tropical paradise within reach
This full-day tour begins with a 'songtaew' (a pick-up truck converted into a bus) transfer from the guests' hotels to a designated boarding point on the beach, where a flat-bottomed boat is waiting to take visitors to the two-leveled ferry floating offshore. This leg of the tour takes around five minutes before passengers continue on to the 45-minute ferry ride to the island. Onboard, the tour crew offers all sorts of fun-filled activity packages. The tip here is to always barter, and keep in mind that it's usually cheaper to buy a package (usually includes a few of the most popular tours) as opposed to an individual tour.
The ferry stops at a floating dock for those who have decided to have a go at parasailing. One by one, an aspiring daredevil is harnessed with a parachute and then dragged by a motorboat until airborne. The ride usually makes a circle around the dock and lasts about 30 seconds, but provides plenty of exhilaration. The less adventurous can stay on the ferry and watch the action. Depending on the number of people participating, this parasailing stop lasts around 15-20 minutes. Then a couple of people are dropped off at a speedboat for a quick tour around the island before the rest of the passengers are taken to the tour's final destination, Haad Tien (Tien Beach), one of the most gorgeous beaches on Coral Island near Pattaya.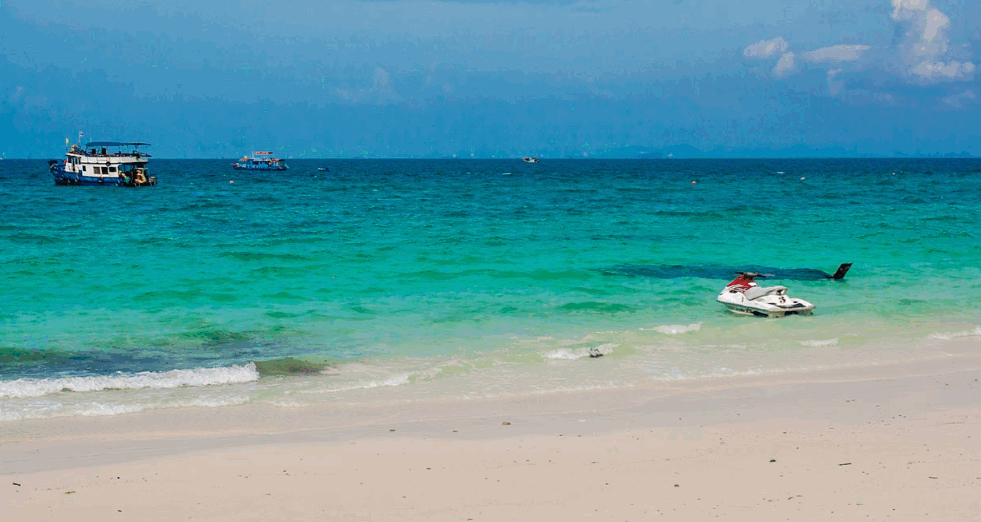 2Koh Sak
Koh Sak is a tiny horseshoe-shaped island about 10km west of Pattaya, just 600m from Coral Island (Koh Larn). Unlike its much larger neighbor, this idyllic little crescent of land has no permanent settlements but remains an extremely popular destination for tourists visiting the area because of its gorgeous white sandy beaches. The beach which lines the inside of the U-shaped bay is larger at 250m long, as well as being the more popular and home to a small restaurant where you can buy drinks and cheap Thai food. A concrete footpath runs the short distance through the wooded interior of the island to the much smaller (only 80m) beach on the other side.
Walking along this route, you will find some of the really fascinating histories of Koh Sak. It used to be an extremely exclusive resort island, with many famous visitors leaving their foot- and handprints in the concrete lining the path. This includes the Duke of Edinburgh, the Shah Reza Palahvi of Iran, former Presidents of the United States, and His Majesty the King of Thailand. Even Neil Armstrong and Buzz Aldrin left their footprints on Koh Sak, just a few months after having left them on the moon.
The island and the waters around it are particularly popular with divers and snorkelers. The sheltered bay makes a great training ground for beginners, with plenty of hard corals and interesting sea life including a few hawksbill turtles and several bamboo sharks. A little off the east coast, you will find the wreck of the HTMS Kut, which was scuttled by the Royal Thai Navy in September 2006 and now rests at a depth of about 30m. Access to Koh Sak is exclusively by speedboat transfer, which is available from Bali Hai Pier and costs about 1,000 baht for the boat, with a maximum capacity of 10-15 people. It is important to note that there is no fixed dock on the island, so you might have to wade for a short distance to get to dry land.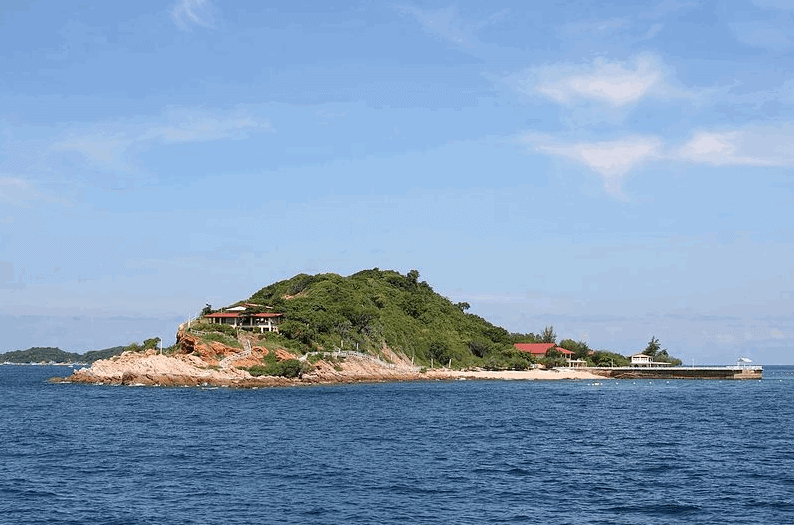 3Koh Krok
The closest of the Pattaya islands is one of the smallest – just 100m long, with a sandy beach along the eastern coast and a rocky shore to the west. The beach has dining options, sun loungers, jet skis, and banana boats, but no accommodation. The corals near the island are good for snorkeling and diving. Speedboat charter is the only way to reach the small pier on Koh Krok.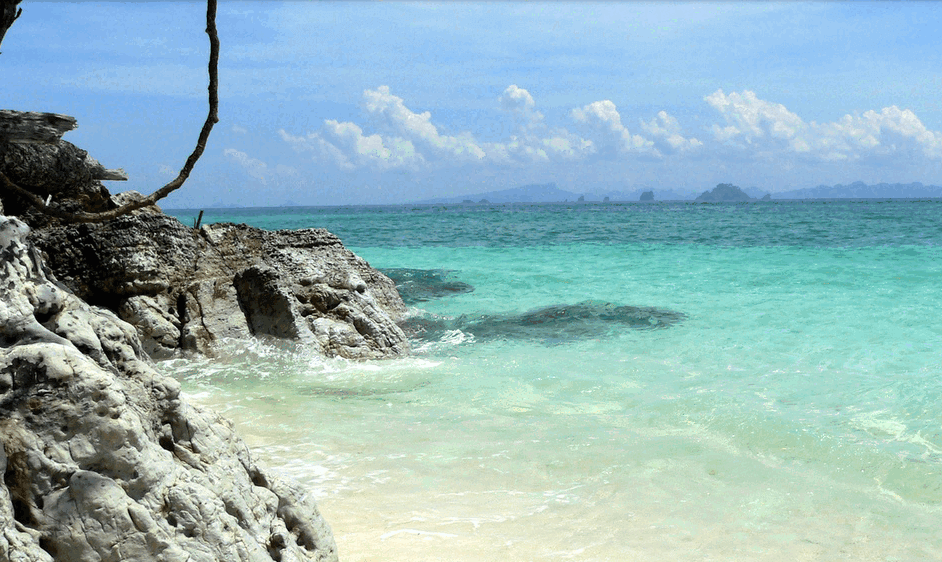 4Koh Phai (Bamboo Island)
Bamboo Island – or Koh Phai – is the biggest of a small island chain, which also includes Koh Klung Badan, Koh Luam, Koh Luam Noi, and Koh Man Wichai. Located about 23km from Pattaya, it can take as much as two hours to reach them. Koh Phai is under the supervision of the Royal Thai Navy, meaning that there are no permanent facilities there and visitors are not permitted to stay overnight. Sunbathing on the pristine beach and swimming or snorkeling around the excellent coral reefs is permitted.
The reefs around all of the islands in this chain and the nearby wreck of the HTMS Khram are among the best scuba diving sites around Pattaya. There is no ferry service operating to the Koh Phai islands, making the best way to reach them a speedboat charter from Bali Hai Pier.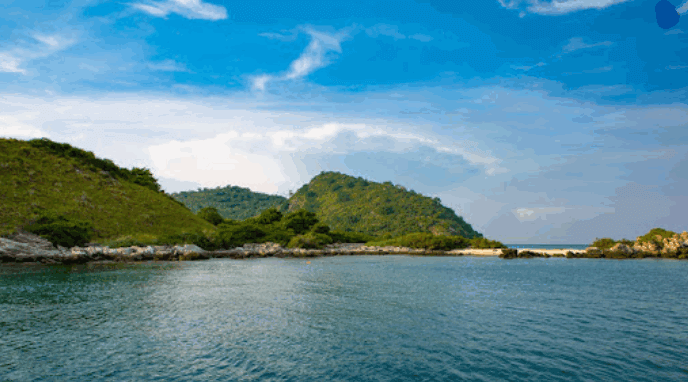 5Koh Rin (Gnat Island)
Gnat Island is a tiny piece of paradise that has perfect beaches, stunningly clear water, and beautiful coral reefs. Divers and snorkelers can also see a resident family of sea turtles and the occasionally used practice shell – the sea around the island is part of a Royal Thai Navy gunnery range! Don't worry; it is perfectly safe to visit and is, in fact, extremely popular with sun worshipers. More commonly known as Koh Rin, this spot is on the itinerary of most of the island cruises sailing out of the Ocean Marina Yacht Club and can also be reached with a speedboat charter.
6Koh Khram
The fact that the large Koh Khram is arguably one of the most beautiful Pattaya islands only makes it a greater pity that it is owned by the Royal Thai Navy and is therefore largely off-limits. The boat charter services from Ocean Marina Yacht Club sometimes make a short stop on the pristine beaches, but staying for any longer than an hour is generally impossible. The fact that there is literally nothing on the island makes it a real Robinson Crusoe experience.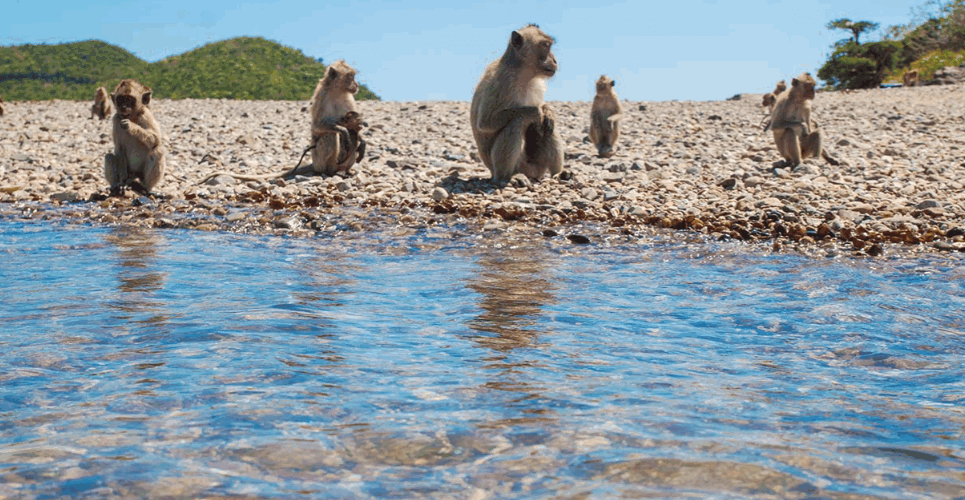 7Monkey Island
Monkey Island Pattaya goes by various names, including Koh Ling (Thai for "Monkey Island"), Koh Ped ("Duck Island"), and the official name: Koh Klet Kaew ("Crystal Shard Island"). True to some of its names, the tiny, jungle-covered lump of land is shaped roughly like a splinter of crystal and is famous for its large population of crab-eating macaques. There are no ducks, however.
The 24-hectare island just off the coast of Sattahip is home to hundreds of monkeys who have become accustomed to human contact as a result of daily visits from boats carrying tourists. The stony beach on the eastern end of the island is one of the most popular spots on the route of many of the island-hopping tours sailing from Ocean Marina Yacht Club in Na Jomtien, with visitors enjoying feeding and photographing the residents. Monkey Island Pattaya was once the home of quite a large white-handed gibbon population introduced by US Armed Forces scientists in 1967. They were part of a study into the feasibility of using isolated breeding colonies as a ready supply of subjects for testing potential malaria vaccines. However, the institute behind the program stopped using gibbons in their research a few years later and the gibbons were removed and released into the wild near Kanchanaburi.
The current residents are crab-eating macaques, also known as long-tailed macaques and locally as Ling Samae ('Ling' means monkey and 'Samae' is a type of crab). Their numbers have grown so large, thanks to being regularly fed by visitors, that the Royal Thai Navy has to provide food aid during the off-season to prevent mass starvation! The monkeys are so used to tourists that they will often swim out to meet approaching boats, eager to get at the fruit that most of them bring along. If you want to feed them yourself, bananas and nuts are good, but watermelon is their favorite. It is important to note that, while the residents of Monkey Island Pattaya are generally friendly and approachable and will even climb up on you if you are carrying food, they are still wild and can become aggressive without warning.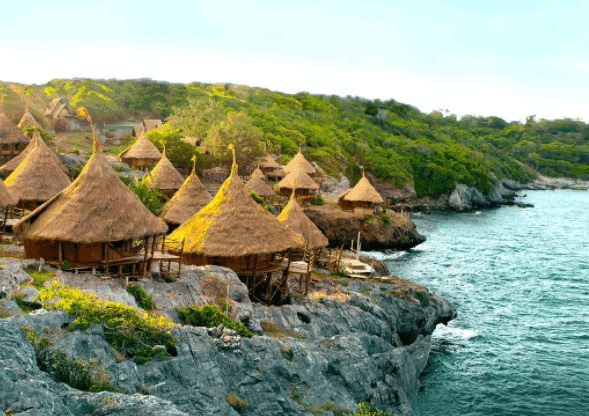 8Koh Si Chang
The closest island to Bangkok and a former royal retreat, Koh Si Chang is particularly popular with locals. Haad Tham Phang (Collapsed Cave Beach) is the favorite of the few stretches of sand you will find there. Other attractions include swimming and kayaking between the practically deserted coves and walking or cycling around the pagodas, shrines, temples, and the remarkable Yellow Buddha of Wat Tham Chakrabongse. The island has a range of excellent local restaurants and several accommodation options, which are great places to enjoy the island's peace and isolation and the quaint fishing-village vibe of the main town. There is a regular ferry service between the Sri Racha and Koh Si Chang, which costs 40 baht per person and takes about 15-20 minutes each way.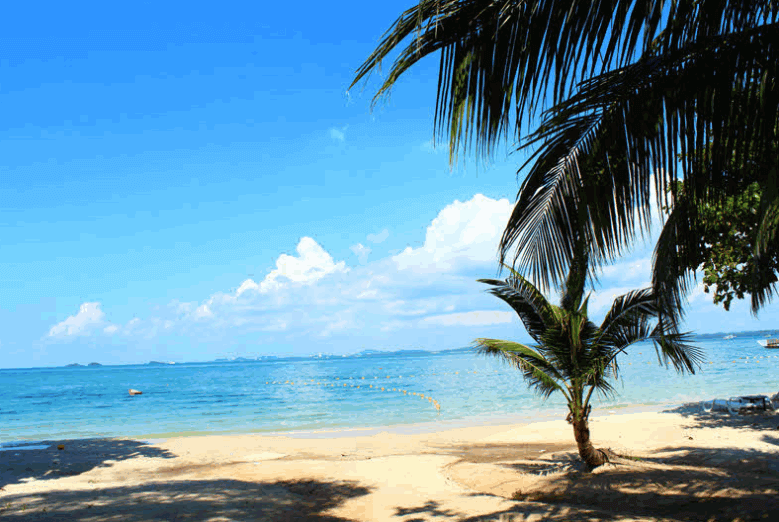 9Koh Samet
Named after the 'Samet' trees (Thai for cajeput trees), which grow on the island in abundance, Koh Samet offers all the essential elements that make up a fun-filled holiday escape – an endless expanse of turquoise blue sea, crescent bays with fine white sand, lots of water sports and a throbbing nightlife. Koh Samet has significantly less rainfall than other Thai destinations but visitors get soaked anyway – in the sea. Only a three-hour drive from Bangkok and about 45 minutes by ferry from Ban Phe Pier on the mainland, the island is usually packed with visitors on weekends and long holidays. A whole range of accommodations, from beachfront bungalows to cliff-top luxury resorts cater to equally diverse groups of tourists. Walk-ins are not advised on weekends, as the entire island's accommodation is usually fully booked.
Where To Stay In Pattaya
The best cheap hotels in Pattaya offer much more, per baht, than you might be expecting. Certainly, there are the really cheap guesthouses and hostels which are a little cheaper than what you will find here, but the drop in quality, for the sake of a couple of hundred baht, is enormous. Amongst our list of the best Pattaya cheap hotels, you will find swimming pools, basic recreational facilities, and impressive dining options alongside the amazingly low room cost.
There is absolutely no reason why a holiday in Pattaya should cost you a fortune. Many of the key attractions are quite cheap, the price for dining and drinking is lower than virtually any of Thailand's other resort towns and the selection of budget accommodation is extensive. We actually had a hard time narrowing it down to the 10 best as the competition to provide good facilities at better prices is so tough!
There are some hotels name-
Citin Garden Resort
Green Park Resort
Zing Resort & Spa
Hotel Vista Pattaya
March Hotel Pattaya
The Pattaya Discovery Beach Hotel Pattaya
Nova Gold Hotel
LK President
Pinnacle Grand Jomtien Resort
Tara Court Hotel
OYO 497 The Balagus Hotel
OYO 1126 Curve Boutique Pattaya
The Ninth Pattaya
Maigan Resort
The LD Pattaya
Le Vernissage Hotel
Diana Garden Resort & Lodge
First Pacific Hotel And Convention
Uplus Uhome Hotel
Nova Express Pattaya Hotel