Boga lake is one of the most beautiful natural lakes in Bangladesh. It is called Baga kain lake or also called Boga lake. It 18 km distance from Bandarban Ruma Sadar Upazila. 

This blue waters lake quite much fantasy story behind the creation. Maximum, visitors come winter in Boga lake to visit. When you will come Boga lake, you will see Bom and khumi indigenous peoples.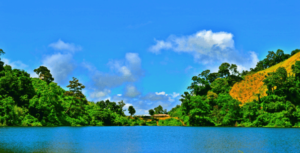 In Boga lake and outside of Boga lake you will see leads stone, it will surprise you. You can arrange campfire and entertain mind-blowing experience.
How You Will Go Boga Lake
Firstly you will go to Bandarban from Dhaka. You can go Bandarban by Ruma Chander Gari or u can go personal car also. You can go to Bogga lake by jip from ruma. Without you can go Boga lake winter season by the walk on foot. By walk on foot, it will take time to reach almost 6 hours.
How You Will Reach Bandarban
Dhaka to Bandarban has direct highway path. You can go there by bis directly from Dhaka. Dhaka to Bandarban these buses are running-

(1)S Alam services Ltd
Contact: 0341-62902

(2)Shamoly Transport 
Contact : 0443449934

(3)Saudia Transport 
Arambag counter, contact: -88-02-7102465 
Gubtoli counter, contact:- 88-02-8018445 
Where You Will Stay In Boga Lake 
There are hotel and guest house in Banderban.
There are-

Hill side resort
Address: Cgimbok sorak, Bandarban, 
Contact: 01730045083,
 02-9886938

Hotel Green Hill
Address: Main sorok, Bandarbaqn-4600,
Contact: +8801856699911

Hotel Purabi 
Address: VIP road, Bandarban sadar, Bandarban, 
Contact : 01823-346383, 0361-62531.
(4)Hotel Paharica, 
Address: Main sorok, Bandarban, 
Contact: 0361-62155


What Will Do In Traveling Time?
You can entertain from the beauty of Boga lake
You can took execute photo

Food Advantage
There are no available residential and unresidential hotel and restaurant in Boga lake, so you should collect food water and necessary items from local. You will get these a little price.

Travel Tips
You must take the rent a guide from ruma.