Village of water lily In Barisal, it looks like a state of waterlily. The red waterlily the red has been adjusted who is the sunshine of the sun.Its distance 60 km from Barisal Sadar. In the chest of nature, it is a nakshi katha. It stands by in Ujirpur district satla village.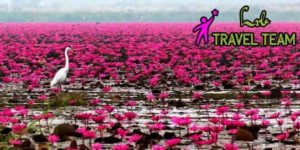 Local people know that is a shaplar bil. Aas far as u can go,u will see waterlillys red levels increase. There are three types waterlily is born. Red, white purple. But red waterlily more than.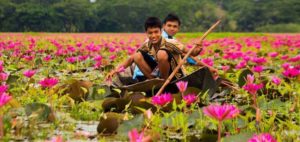 Across the whole village, waterlily is cultivated.70% percent inhabitant involved with waterlily cultivation and marketing. To take pictures it is an ideal village.
Time To Go Satla Village
Almost 9th months grow waterlilly.March to November till waterlily are available in this season.So if u go in this time,u will see waterlily. If u want to see waterlilly,u must have to go early morning. Because, aaafter 8 am flowers are muffled. Without it the hunters pick out waterlilly and sell to thre market. The best opportunity if u can stay at night in the village.
How You Will Go Satla
Bus or highway path to borisal:
By highway, Dhaka to borisal u will reach 6 to 8 hours. Daily morning 6am tonight 10 pm till gabtoly bus stand from some bus leave egalitarians borisal.Maximum bus go borisal transit patuwari ghat and some bus go borisal transit mauwa ghat.

Bus rent:
Ac bus rent :700 tk, None ac bus rent:500 tk, Local bus rent:250 to 300 tk.

By launch borisal:
Dhaka to borisal launches leave from sadar ghat 8 pm to 9pm. There are sundarban 7/8, Surovi, Parabat 11, Kirtonkhola 1/2. This launches are good for the journey. This launches reach borisal morning at 5am.

Launch rent:
Dek rent-150 tk,double cabin-1600 tk,vip-4500 tk.
Borisal to Satla
U can go north satla in many ways. Firstly u will go borisal by ride launch,thenu will go shikarpur by bus. Then north satla by auto. If u go by bus from Dhaka however u will be get down ojirpur notunhat, than u can go thereby auto. Another option, u can go there from borisal nothullabad bustand to satla bagdha village. It is direct survice for the bus. Almost 2 hours time to reached. Again u can go by mahyndra gari.

Where u will stay:
If u want to stay satla then must have stay in the schoolroom or household family. Hospitable peope will happy for in this work. If u want ,u can come back borisal. There are some residential hotels in borisal.

1. Hotel paradise to international,phone:+88-01717-072686,+88-01724853590.

2. Hotel grand plaza,phone:+88-01711357318,+88-01724853590.

3. Hotel Athena international,phone: +88-0431-651099,+88-0431-65233.

4. Hotel hauqe international, phone: +88-01718587698.