Mahasthanghar is old pundronagori. It's present name bogura. It is located in shibgonj thana. In this place 4 thousand old installations there. Strong mawra, gupta and various kings use this place as the capital. This destruction of Bogra cities whole Bangladesh carries the tradition.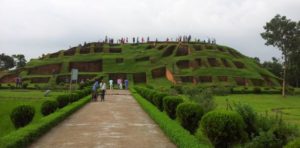 Tourist Places In Mahasthangarh
Boiragir vita: It has been for four decades. After digging the remains of the temple are found 2 statues inlaid clitoral pillar is stored.

Khodarapathar Sita: At Anjali stone inlaid great Buddha and his follower's portrait is preserved.

Kalidoho Sagor: On the west, there is a historical kalidoho sea and padmadevis residence. There is a ground castle named historical ghar joripa by adjacent kalidoho sea. The people of Hindu religion here worship.

Shiladevir Ghat: The east of ghar shiladevis ghat on shore of karataya river. Shiladevi was the sister of porshuram. Every year 1-day Hindu bathing and fair held here.

Jiouthkundu Kup: West of shiladevis ghat theres jiouthkundu kup.

Govinda vita: It stands in front of Mahasthangarh Museum. It is an excavated archaeological.

Totoram Pandits Ghat: It is situated in the basil house or known as milindera merit. Its location is gokul village 3km south distance from bogura sorok.

Ishkandar Dhap: This place is situated in the Baghpur village.

Khulannar Dhap: Chad saudagars wife khulnannas named after the Khulanna. It is situated by west ghar chengispur village.

Mahi Showar Mazar Sharif: Historical mahi showar mazar sharif here.

Vimar jungle: Beginning from north east of Bogura to east named damukdhar bitt location till this place wide. This place is similar as like samorik place.

Jogir vhavan: This place situated bybaghtahali and its distance from khetlal 3 miles west.

Arora: It is located in urrora village on masan dighi.

Teghor: It is located in east chadina hat.

Therae are something more visiting and historical place here.such as-rozakpur,mathura, mahasthan musium and porshurams place.

Mahasthanghar musuim: Sunday to monday morning this place is closed and daily noon 12:30 pm to noon 2:30 pm till noon break.

How you will go: From dhaka to bogura you can go very easy.From bogura cng,tempo,rikshaw are go mahasthanghar.These bus are go from dhaka to bogura-


T.R Travels:Morning 7 am to night 11:30 pm till every after 30 minutes this bus leave dhaka to apropos bogura.phone:gabtoly-01191-494865,mahakhali-01191-494865.

Shamoly paribahan: Morning 6 am to night 1:00 am till every after 1 hour this bus leave dhaka to apropos bogura.phone:asad gate-02-9123471,kolabagan-01711130862,sayedabad-01712596940.

S.R, Travels: Morning 7:30 am to night 11:30 pm till every after 30 minutes this bus leave dhaka to apropos bogura.phone:gabtoly-02-8011226,uttara-01552315318.

Hanif enterprise:Dhaka bus stand,phone: 051-60940,60803,01911-560882.
Where you stay
There are several hotels and motels is also to stay in among these are Natable-hotel Naz garden, Porjoton motel, Safeway motel, northway motel, century motel, motel castle mh, hotel akboria. You will get four-star hotels here. There are some high-quality hotel here:
Hotel naz garden:Silimpur,  bogura-5800,bangladesh.phone:88-051-62468,66655,63272,64197,78088.

Porjoton motel:Bonani mor,bogura,phone:051-66753.

Akboria hotel: Kazi nazmul islam road, thana road, phone:01716-179982.
Some Other Hotel Names:
Motel northway,sherpur road.

Hotel al-amin,nabab-bari road.

Hotel royal pales,uposohor.

Hotel sun vew,sherpur road.

Hotel safeway,shantahar mor.

Hotel rajmoni,bogura rajabazar.

Hotel hunny day, boro maszid len.

Hotel aziz,kabi nazrul islam road.