Golden Temple is located by named Bandarban Uposohors Balaghatastho Pull Para. This Temple addressed named Mohasukh Temple or  Budhho Dhatu Jadi Temple. Although its name Golden Temple, but there has no golden dev devis statue. It's color golden, so its present name Golden Temple. From Bandarban, zela sadar its far 4 km. It is a beautiful pagoda. It is a Holy shrine for Budhho religion.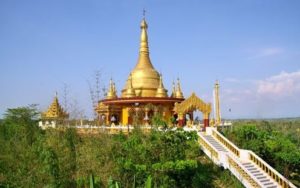 Here Buddha religion people come to pray from abroad. Largest of Bangladesh and South Asia's one of the most important this budhhu Dhatu Jadi. Built in contemporary times of Gautama Buddha some of the best in the world, there are 1 statue is here. It costs around 10 million to build it. This Pagoda is in South East Asia's one of the most important installation. There has a small Debota Pukur on the top of the hill. If you want to see this Pagoda you should come from 8:30 to 11:30am.
How You Will Go Golden Temple
Firstly you will go Bandarban. From Dhaka various type of transport leave for the purpose of Bandarban. Such as-Shamoly, Hanif, Unique, Salam, Dolphin. Night 10 or 11 pm you will get the bus from  Kolabagan, Sayedabad, Fokirapul. Non-ac bus apiece rent 550tk.Ac- 950tk.

You can go from Chittagong to Bandarban. From Boddarhat to Bandarban Pubali and Purbani transport go. 
apiece rent 220 tk.

Then from Bandarban bus stand to rickshaw or taxi can be used.Rikshaw-30-35tk and taxi 110 -130 tk. From morning 8 am tonight at 10 pm till transport move.
Transport Rent
Train from Dhaka to Chittagong: C -365-480 tk. Non-ac-150-165 tk.

 Bus From Dhaka to Chittagong: Ac-580-790 tk. Non-ac-250-250 tk.

From Dhaka to Chittagong direct:350 tk.

From Chittagong to Bandarban:70 tk.
Where You Will Stay
There are countless Resort, Hotel, Motel, and Resthouse. Where you spend your night tk from 600 to 3000 tk.
Holiday Inn Resort: Opposite side of Meghla Porjoton Complex Holyday Inn Resort is located at the top of the small Hill. There is huge Cottage. Phone:01361-62896.

Hillside Resort: It is located by Milonchory that's called 5 km place. It is an advanced environment for night spend. Mobile-01361-62466.

Hotel Three Star: It is located beside of Bandarban bus stop. Nilgiri gari leaves from in front of this hotel. Every non-ac flat 2500 tk, ac- 3000 tk.Phone:01353421080, 01813278731.

Hotel River Vew: It is located by river Sangu.Phone:0361-62707.
If you want, you will stay at Nilachol Scape Resort. There is 3 cottages were 6 rooms. Every room rent 3 thousand.Phone: 01777765789
Hotel Rent:
Nilachol Scape Resort: 3000 tk.

Porjoton Motel:750 tk to 2000 tk.

Hotel Four Star: Single-3000 tk, double- 600, Ac-1200 tk.

Hotel Three Star: Non-ac flat-2500 tk, Ac-3000 tk.

Hotel Plaza Bandarban: Single-400 tk, double-850, Ac-1200 tk.
Without it, there has a beautiful rest house in central Meghla Porjoton. You can spend your vacation time well and easily. For night spend, there are four rooms. Every room 2500 tk daily. Phone:0361-62741. 01361-62742.