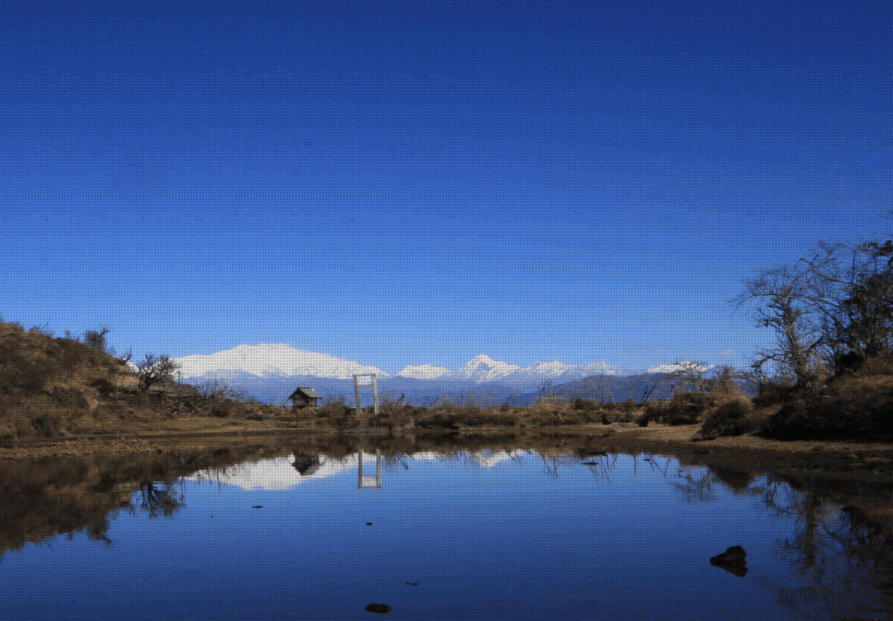 Although the Chintaphu Trek is not a virgin route, very few people have set foot on it. So many people know about Chintafur. Local guides call Chintafu Sandakfu's sister. Chintafur is only 33 meters lower than Sandakpur. The height of Chintafur is 3633 meters which are 11929 feet. The feature of Chintafu is that not only Chintafu to Kanchenjunga but also Everest, Makalu, and Lothas can be seen very well in the clear sky of October. This view is also not available from Sandakan. For those who are looking for short and short time trekking as well as hiking, the best option is to be thoughtful. Cost is less, the hassle is less, you have to take leave with Sat Robi for only three days. Trekking is also only up and down (4 + 4 = 8) 8 km. Age will not be an obstacle.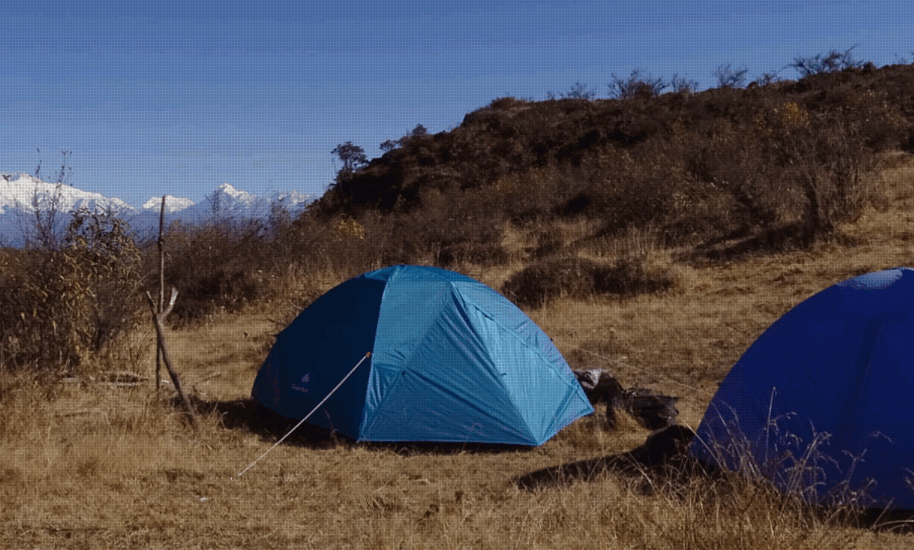 The best time to travel is on the Chintafu or Chintapur trek
From the end of March to April when you can see a variety of flower combinations, including lots of rhododendrons. Jungles, valleys, natural water bodies, waterfalls, if you are lucky, you will see Kanchenjunga and Saparishad Everest if you don't cover it with snow and clouds.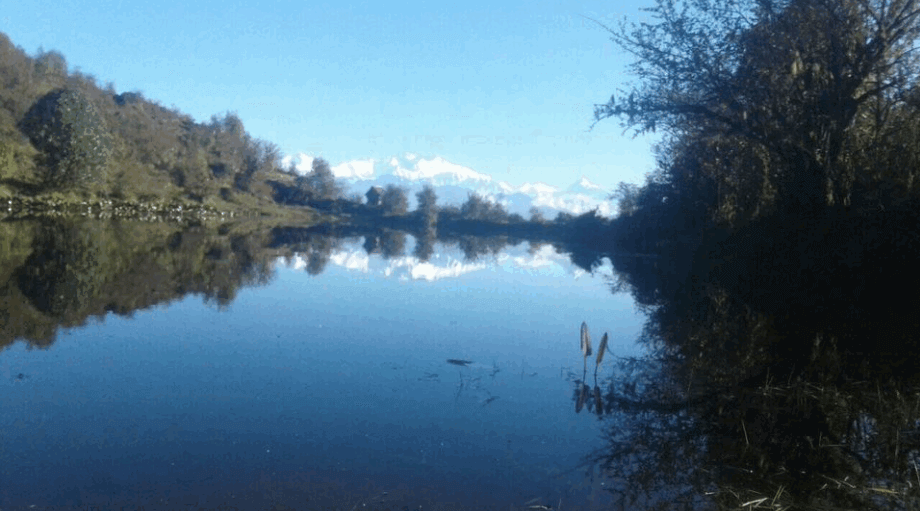 The way to go
From Siliguri to Darjeeling via Mirik is on the way to Pashupatinagar on the Nepal border. From Pashupatinagar, you have to take a car from Nepal to Maimajua in Ilam district in four hours. On the way, you will see a huge water body called Maipokhari covered with trees. This water body is very sacred to Nepalis. It would be great to walk around. But it is good to see the day of return. There will be no time to leave. Kamal Dajur will stay in Mimajua in his homestay. There are also very good fountains in Mimajua. You will see that later.
After spending 1 night, the next morning leave for Land Rover at Garualivanj, 12 km away. The beauty of the path is extraordinary. And after spending some time next to a small sacred water body, you will reach the village of Garuivalivhanj as shown in the small picture. The place to stay here is very ordinary but the surroundings are extraordinary. A road leads to Chintafu on the left and Sandakafu on the right. After tea and snacks, start walking with the guide porter for the purpose of thinking. If you want to stay overnight, you must take a sleeping bag with you. In this way, you will find extraordinary floral beauty and another small pond. After spending some time in creepy thoughts and without the presence of clouds, you can see Everest, Kanchenjunga, and come down to Garualivanj. And if you want to see the sunrise and snow-capped peaks in the morning sky, then spend the second night at the Chintafur Trekkers Market. Chintafu trekking route.
Wherever you spend the second night in Chintafu or Garualivanj, the third night will be spent again in Maimajua. You can buy organic tea, homemade ghee, some unknown mountain pulses from Kamal Daju of Homestead. Then come back to Pashupatinagar and Siliguri on the same road. On the way back, don't forget to spend some time with the camera next to Saurini and Gopaldhara tea gardens.
Route 2- From Manevanjan you can reach Chintafu via Lamedhura, Tumling, Jaubari, Mabu, Mayamajua, Gurwale. Chintafu is 6 km from Gurwale.
Route 3 – From Manevanjan to Dhotre. Tumling from Dhotre to Tonglu, then Sandakafu from there. And from there you have to walk through Al to a very inaccessible 12 km path, it took about 4 hours. After that, you can reach many reputed Gorwale villages. From there, Chintafu treks again for 6 km.
How to go from Bangladesh
Those who go from Bangladesh will have to take a transit visa from India if they want to enter Nepal by road. First, depart from Siliguri for Kankarvita. This Kankarvita is the area bordering India and Nepal. Arriving at Kankarvita, after completing all the formalities of entering Nepal, go to the shared bus stand at the Birtha junction bus stand. From there we will get a shared car to Ilam. Ilam is the capital city of the Ilam district in Nepal. After a long journey of 5 hours, Ilam city can be reached. On this day you have to spend the night in Ilm. The journey started in the trek from the morning.
The next morning, get up, have a fresh breakfast, and leave for Biplate. It takes 20 minutes to go from Ilam to Biplate. Must go to Maimajua from Byplate. Shared cars to Mimajua are available but leave them from the biplate after 1 pm. And if you want to walk from the biplate, it will take approximately 7 to 8 hours. If you want to walk from Biplate to Mayamajua, first you will reach a village called Jasbir. Run again with a short tea break there. After walking for an hour, you will reach Maipokhari. Pokhari in Nepali means pond. The locals come here to worship. With the help of a small temple, there is a huge tank and the softness around it is indescribable.
Start the journey again after visiting Maipokhari. After a long time, you will reach a beautiful hanging bridge of the Forest Regiment. After crossing it for another 40 minutes, you will finally reach Maimajua by afternoon. Kamal Daju (Kamal Gurung) 's a homestay in Maimajua is quite famous. After spending the night here, we have to leave the next morning for the purpose of Chintafu. After breakfast the next morning, leave for Garuwal in the morning, where you have to dance, and then leave for Chintafu. You will reach Garuwale around 12 noon. A small settlement in this Garuwale. Scattered a few houses. From Garuwale, turn right to Sandakafu and turn left to Chintafu. This is where the last water source is found. Then when we leave for Chintafur, there will be no drinking water anywhere else along the way.
After lunch, fill all the bottles with water and leave by noon for Chintafu. You have to cross the jungle of magnolia and rhododendron trees. After crossing some height, you will see a pond called Talpokhari. Beyond that, keep going up. You will reach Chintafu around 4 pm as the distance from Garuwal to Chintafu is 3 km.
Accommodation
Chintafu Top has a broken two-room trekkers hut and a small shed.