The first choice of many leisure travelers is the various archeological and ancient traditional installations. Hajiganj Bara Masjid is a significant sight for these people. Hajiganj Bara Masjid is located in the middle of Hajiganj Bazar in Chandpur district upazila. Hajiganj is one of the largest mosques in the subcontinent.
Haji Ahmad Ali Patwari established the mosque in 1337 BS and he was the first Motwalli of it. Around the eleventh century in Bengal, an old man named Makim Uddin (R 🙂 came to the present Hajiganj area of ​​Chandpur with his family from the holy Arab land for the purpose of propagating Islam. Haji Ahmad Ali Patwari is the masterpiece of his dynasty.
The capacity of this mosque of about 28405 square feet is about 10000 thousand worshipers. It is estimated to be the 6th largest mosque in the country. Also known as the largest congregational mosque in Jumatul Bida. It is noteworthy that as there was no brickfield in the area at the time of construction, he built a brickfield here next to the railway line. It can still be seen there. Besides, Haji Ahmad Ali Patwari rented a ship and brought iron beams and marble stones from Calcutta to build the mosque.
The use of bricks, terracotta, and tiles in the construction and decoration of this beautiful mosque can be seen. Besides, this huge two-storied mosque has 2 domes and 1 minaret. The height of the minaret is 188 feet. There are stairs to climb this tall minaret.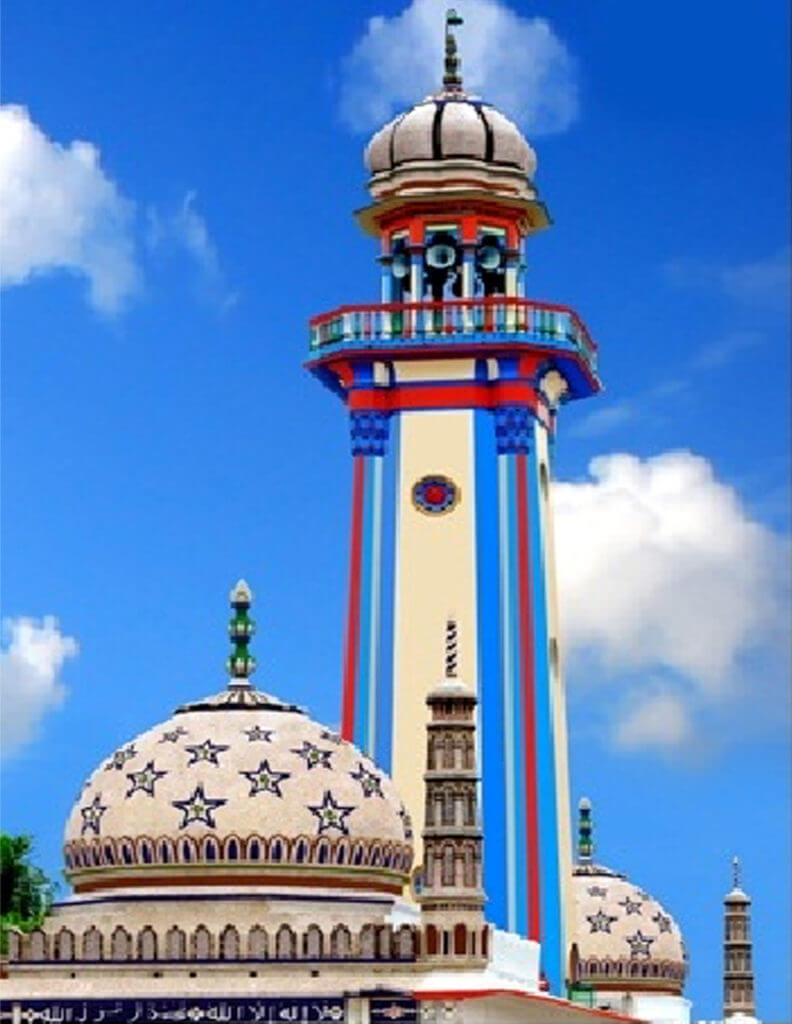 Besides the mosque, there are Alia Madrasa, Hafezia Madrasa, Forkania Madrasa and library. Apart from Alia Madrasa, all the other Madrasas are under the supervision of the Mosque Committee.
It is known that after the completion of the work of the mosque, the first Friday prayers of 10 Agrahayan of 1344 A.D. were called. Notable personalities including the then Chief Minister of undivided Bengal AKM Fazlul Haque, Hossain Shaheed Suhrawardy, Nawab Mosharraf Hossain, and Nawabzada Khwaja Nasrullah attended the Friday prayers. Pir Kamel Alhaj Hazrat Maulana Abul Bashar Jainpuri (R 🙂 led the prayers on that day.
Everything else to see in Chandpur:
1. Molhead – the confluence of the three rivers
2. Nunia Dutt's house is a worship temple
3. Shrine and Dighi of Hazrat Rasti Shah (R 🙂
4. Bloodstream
5. Hilsa Square
6. Promise
7. Oath Square
8. Arun Nandi Swimming Pool
Read More: Raktadhara