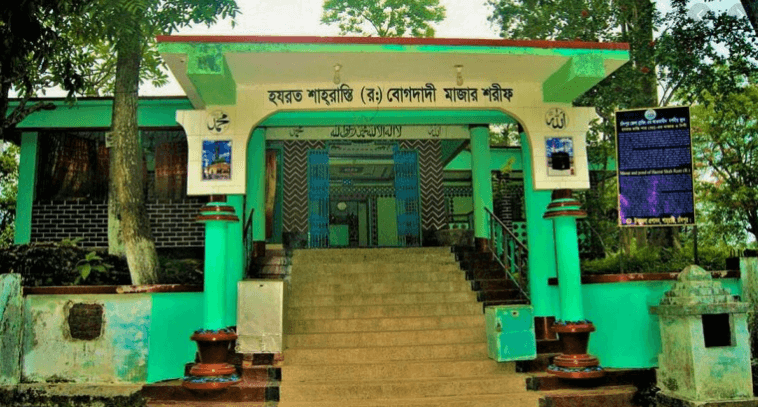 Hazrat Shahrasti Shrine is a famous area in Chandpur. Auliyas came from different countries to spread Islam in the subcontinent. Rasti Shah is one of the notable Auliyas. Shahrasti's shrine is located at Sreepur village in Shahrasti Upazila of Chandpur district. This Shahrashti Upazila is named after him. Hazrat Rasti Shah was born in 1,238 AD in Baghdad, Iraq.
He arrived in the subcontinent with Hazrat Shahjalal in 1,351 AD to spread Islam. Rasti Shah was one of the 12 Auliyas who came here with Hazrat Shah Jalal to spread Islam.
He devoted himself to the propagation of Islam until his death and died in Shahrasti in 1,388 AD. He left behind numerous followers and disciples before his death. After his death, a shrine was built around his tomb. The shrine is known as Shahrasti's shrine. A mosque was built at the site adjacent to the shrine. This mosque with 3 domes is still intact.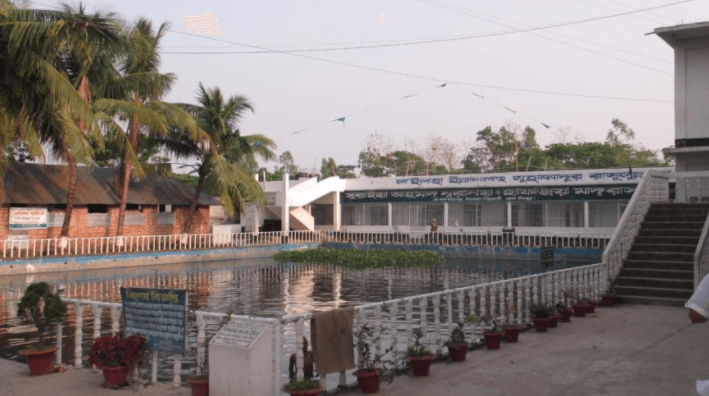 Hazrat Shahrasti Shrine
Three and a half hundred years after the death of Rasti Shah, it was built by Kazi Golam Rasul on the orders of Pari Bibi, daughter of Subedar Shaista Khan. It is known that during the reign of Emperor Feroze Shah Tughlaq, the government donated 64 acres of property to Lakheraj to meet the expenses of this shrine.
The British East India Company also paid an annual allowance of two hundred rupees for the maintenance of the shrine. However, if there was a dispute with the Deputy Commissioner of Comilla, it was stopped, and later when the dispute was resolved again, the allowance was introduced.
According to a board at the shrine, Rasti Shah was born in 1,238 in Baghdad, Iraq. He was a relative of the famous Barapir Abdul Quader Jilani; His father was the nephew of Mr. Barapir. '
There is a dighi on the north side of the shrine. Many legends can be heard about this dighi. It is said that when innumerable disciples of Rasti Shah came here, at one time there was a shortage of water. Dig the lake in one night with the help of the jinn. Here his family living in Miyabari look after the shrine and the adjoining lands.
Festival of Hazrat Shahrasti Shrine
The annual conference or Urs Sharif is held here on the last Thursday of the month of Magh every year. People come here from different places on the occasion of Oras.
Read More:
Frequently Asked Question About Hazrat Shahrasti Shrine:
Shahrasti news 24
Shahrasti upazila map
Shahrasti chandpur
Shahrasti news
Shahrasti thana
Shahrasti postcode
Shahrasti pourashava
Shahrasti union
Hazrat Sayed Shah Rasti Baghdadi Radiallahu
Early life Hazrat Sayed Shah Rasti Baghdadi Radiallahu
Hazrat Shah Ali Bughdadi R Mazar Sharif