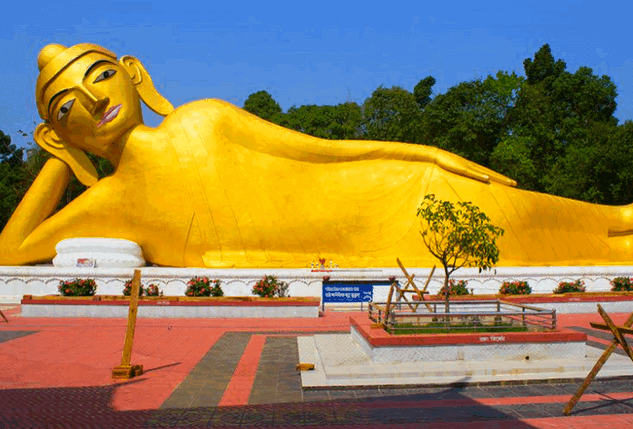 Ramu Cox's Bazar Bangladesh, Ramu is an Upazila in Cox's Bazar district in Bangladesh. Ramu, rich in traditional Buddhist antiquities, has numerous ancient historical monuments. Notable among these are the Ramu Buddhist Temple, the Vihara, and the Chaitya-Jadi. There are about 35 Buddhist temples or Kang and Jadi in Ramu.
Among the Buddhist traditions are Ramur Lamarpara Kang, Kendriya Seema Bihar (1808), Srikul Maitri Bihar (1974), Arpannacharan Mandir, Shasana Dhvajamhajyotipal Seema (1269 Bengali), Srikul Old Buddhist Monastery, Dakshinrangrang of Srikul, Sangrimar Kang Adjacent Temples, Ramkaut Banashram Bihar.
Notable are the temples adjacent to East Rajarkul Buddhist Monastery, Chatofa Chaitya Jadi, North Mithachari Pragya Forest Monastery. Bimukti Vidarshan Bhabna Kendra Uttar Mithachari 100 feet lion decorated Buddhist statue. Temples adjacent to North Fatehkharkul Vivekaram Buddhist Vihara, Eidgarh Buddhist Vihara, etc.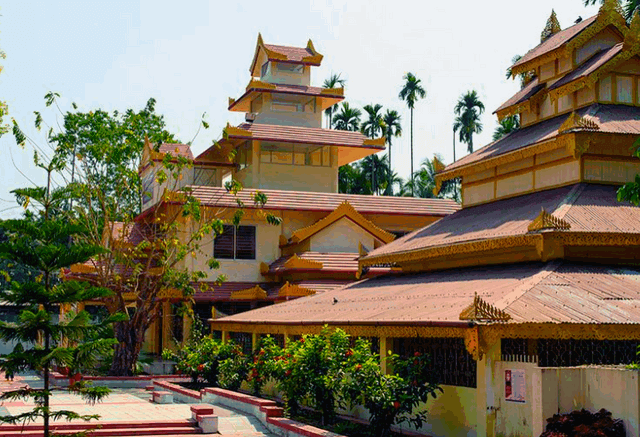 You have to stop to see the 100 feet tall statue of Gautam Buddha on the hilltop of North Mithachari. According to locals, it is the largest in Asia. Two kilometers away, the central boundary has been rebuilt in a unique architectural style. Slightly to the south are the eye-catching Lalching and Sadaching Buddhist monasteries. There are innumerable small and big Buddhist monasteries scattered around. This Buddhist tradition of Ramu (Ramu Buddhist Vihara) has been carrying glorious testimony from the past.
Visiting Buddhist monasteries and archeological monuments here attracts a large number of domestic and foreign tourists throughout the year. And being a tourist city, they are more attractive to tourists. Ramkot Banashram Buddhist monastery is located 3 km south of Chaumuhani station, on a hilltop in the Rajarkul area.
How To Go To Ramu Buddhist Monastery?
From Cox's Bazar city, you can take a taxi and a battery-powered autorickshaw or a tomtom to a Buddhist monastery. The rent will be 40 Tk per person. And if the reserve goes, the rent will be 200-250 Tk.
Where to stay At Ramu Cox's Bazar Bangladesh
You have to stay in a hotel in Cox's Bazar. Cox's Bazar has more than 450 residential hotels, motels, resorts and cottages for tourists. You can book by phone from Dhaka.
Motel Shaibal (Phone-0341-63284)
Star Quality Seagull Hotel (Phone No-0341-62460-91) operated by Bangladesh Tourism Corporation
Hotel C-Palace (Fan No-0341-63692, 83692, 73694, 63728)
Hotel C-Crown (0341-64895, 0341-64644, 01717 089420)
Hotel Media International: Ltd. (019374653) Notable.
There is a room here for a night stay priced from one thousand to a maximum of 60 thousand Tk. For those who don't want to spend so much to stay, there are also low-cost accommodation hotels. Hotels on the back road of the hotel Seagull, that is, on Kalatali Road, you can stay for only 500 Tk.
Read More:
Frequently Asked Question About Ramu Buddhist Bihar:
রামু মন্দির কোথায় অবস্থিত
কক্সবাজার থেকে রামু দূরত্ব
রামু বৌদ্ধ মন্দিরে হামলা
রামুর দর্শনীয় স্থান
সীমা বৌদ্ধ বিহার
কক্সবাজার দর্শনীয় স্থান
রামু উপজেলার মানচিত্র
লামার পাড়া বৌদ্ধ বিহার
Where is the Ramu temple located?
Ramu Upazila Parishad
Distance from Cox's Bazar to Ramu
Ramu Upazila Post Code
Ramu Upazila Executive Officer
ramu upazila map
Places of interest in Ramu upazila
Ramu Hospital