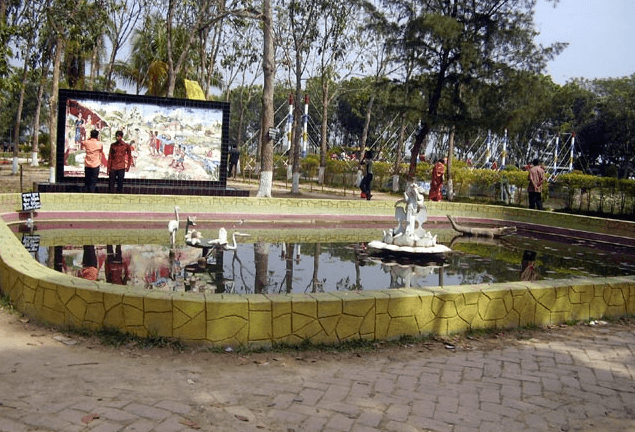 Numerous people from all the districts around Jessore visit here every day. At one time people from many distant districts including Sylhet and Chittagong used to come to visit this Jess Garden. An average of 20/30 picnic parties come here every day in the winter season.
The place is becoming very attractive to the visitors as the communication system with Jessore city is good. Especially for the enjoyment of children in the park. The horizon on both sides of the green crop field has further enhanced the beauty of the park. Numerous large trees stand tall around the park. On the one hand, these have enhanced the beauty of the park and on the other hand, they are giving pure shade to the visitors.
Mr. Habib's wife Ismat Ara Haque is currently in charge of the park. About 30 staff work here regularly.
Like other parks, you have to collect tickets and enter. The ticket price is only 10/15 Tks.
Park Attractions:
As soon as you enter the park, you will see an artificial pond where lotus flowers bloom, and in the middle of it, there is a sculpture, an artificial crocodile, and a few artificial falcons. There is a shrine next to it where the image of rural Bengal is displayed. Going a little further, you can see the parents walking in the water with the toy ducks in their stomachs. You can also see the carousel, chair wheel, horse wheel, and small train. Each rider needs a separate ticket to ride. Tickets are available inside. If you can't use all the tickets, you can return them
There are huge toy elephants, horses, tigers, lions, kangaroos, apes, and many more animals scattered in different parts of the park. The children get a lot of pleasure by riding on their backs. No tickets are required to board these.
Enter the park and you will see a big pond on the right side. In the water of the pond, the visitors can be seen walking around in a paddleboat. The view from the bridge can be enjoyed more beautifully. But be careful not to break the wooden bridge and fall into the water. Once some part of the bridge fell into the water of a broken pond and some decent women ate habudubu. There is no fear of falling into the water and dying, but there is a possibility of eating muddy pony from the pond in Petpur.
Read More: Mirjaganj Hammamkhana