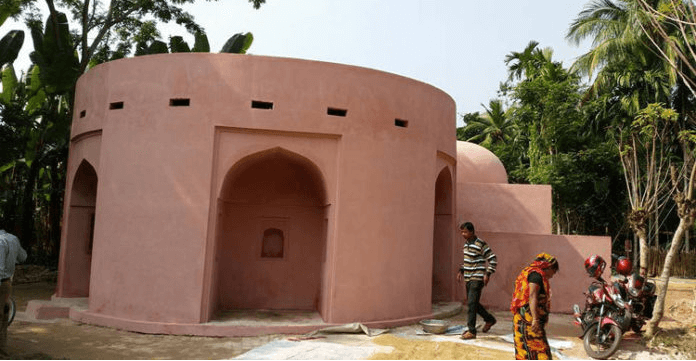 Mirza Safsi Khan, the son-in-law of Shah Shuja, Subedar of Bengal, was appointed Faujdar of Jessore in 1849. He is 6 km from Keshabpur. He lived at Trimohini, the confluence of the Kapotaksha and Buribhadra rivers in the west. The area is named Mirzanagar after him. The Nawabbari of Mirzanagar on the side of Trimohini-Keshabpur road is now in ruins.
Mirzanagar Hammamkhana Jessore
Nurullah Khan was appointed faujdar during the reign of Emperor Aurangzeb. He established a fort on the south bank of the river Buribhadra and lived there. It is long in the east-west. He dug a wide moat, surrounded it with an eight- to the ten-foot-high wall, and named it Motijheel. The fort was protected by artillery. A cannon at Mirzanagar is guarded at the Manihar intersection in Jessore.
Nothing is intact today except the hammam. The east-west hammam, with four long rooms and a well, was built in the style of Mughal architecture. The installation has four domes. To the west of it are two consecutive rooms. The rooms on the east side were used as two high basins. Its windows are made so high that the lower part of the body cannot be seen from the outside while inside.
Inside the wall enclosure on the east side is a deep well made of 9 feet diameter bricks. He would draw water from the well, store it in two basins on the roof, heat it in the sun, and supply it to the bathroom through a terracotta tube built into the walls. On the south side of the installation, there is a cistern and a tunnel which is supposed to have been a toshakhana. In 1997, the Department of Archeology declared it an antiquities and renovated it.
Visit More Places:
Frequently Asked Question:
Mirzanagar hammamkhana
যশোরের বিখ্যাত নদীটির নাম কি
যশোর উল্লেখযোগ্য স্থান
মির্জানগর হাম্মামখানা
কেশবপুর দর্শনীয় স্থান
যশোর জেলার ঐতিহ্য
যশোর ভাসমান সেতু
জেস গার্ডেন পার্ক যশোর