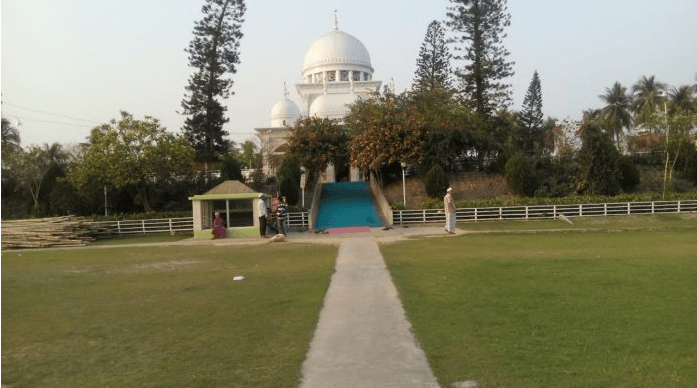 Bangladesh is a Muslim inhabited country. The state religion of Bangladesh is Islam. Throughout the ages, many saints, mashayekhs, and elders have been born in this country. Many religious men have come to this country to spread Islam and religion. Through whose efforts the flag of Islam has been flown in Bangladesh. Khan Bahadur Ahsan Ullah is one of the people who have spent their efforts for social reform and propagation of Islam in Bangladesh. He is a famous person of Satkhira and Bangladesh.
After his demise, various institutions have sprung up in different parts of the country besides Satkhira according to his name. Blessed by his memory, Nalta Sharif of Satkhira is now a place of interest.
Kaliganj is one of the upazilas of Satkhira district. Nalta is a village in this Upazila. This peaceful, green, and majestic village is widely known in the country and abroad today. Khan Bahadur Ahsan Ullah was born in this village. He has played a strong role in spreading education among the neglected and uneducated Bengali Muslim youth of Bangladesh. He has spent his whole life for the welfare of the people. Khan Bahadur Ahsan Ullah is the founder of the famous Ahsania Mission in Bangladesh. Khan Bahadur Ahsan Ullah was born on 27 December 1873 in an aristocratic Muslim family. His father's name is Munshi Mohammad Mufiz Uddin and his mother's name is Mosha: Amina Begum. After completing his education at a local school, Ahsan Ullah went to Calcutta for higher studies and obtained his MA in Philosophy from Presidency College in 1895. He was the first Muslim headmaster of Rajshahi Collegiate School. He was the first person to join the education department of undivided Bengal under the British government as a Muslim and was promoted to the post of Assistant Director. He was also a senator from Calcutta University.
Whatever you see
Built on 40 bighas of land, the complex includes shrines, mosques, offices, libraries, health centers, guest houses, ponds, and several open spaces. It looks like a high mound on about 4 bighas of land, surrounded by a spectacular flower garden. At the top of this garden is a beautiful mausoleum. Its construction style and construction materials are very attractive and valuable. There are three steps on three sides, including a wide and attractive staircase on the south side to ascend to the mausoleum. The monument is adorned with nine (09) domes. The central dome is quite large and spectacular. Besides, a museum has been set up at Nalta Sharif with items used by Khan Bahadur Ahsanullah (ra) and his family. A state-of-the-art mosque with a capacity of 20,000 people is under construction here.
How to go:
Satkhira can be reached by AC-non-AC transport from almost all bus stands including Kalyanpur, Malibagh, and Gabtali in Dhaka. Nalta Sharif can be reached by any vehicle (easy means of the bus) from Satkhira to Kaliganj. Location of Nalta Sharif next to Satkhira-Kaliganj road. Nalta Sharif is located at a distance of 8 km from Kaliganj Upazila.
Read More: Sonabaria Temple