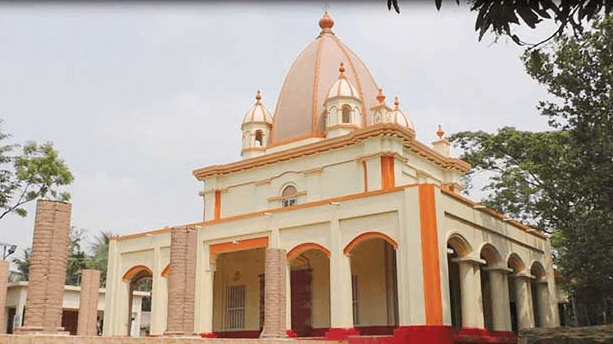 Jeshoreshwari Kali Mandir is a famous temple of Hindus in Bangladesh. This Shakti Peeth is located in Ishwaripur village of Shyamnagar Upazila of Satkhira. The name Jessoreswari means "Goddess of Jessore". It is a holy place of pilgrimage for Hindu devotees.
It is believed that the temple was built by a Brahmin named Anari. He built 100 doors of this Jessoreshwari Shakti Peeth. But it is not known when the temple was built. It was later renovated by Lakshmana Sen and Pratapaditya during their reign. Later, Pratapaditya started worshiping Kali and built this Kali temple. In the name of Kali Darshan, Senapati Man Singh took the design of Pratapaditya's fort. Later the Mughals attacked and won it. With the idol of Kali, Pratapaditya and his general and mentor Shankar Chattopadhyay were captured by Man Singh. The zamindar was located inside the house. The then zamindar Babu donated about 200 bighas of land in his mother's name. But today the influential land grabbers are occupying all the lands of the mother's temple by creating fake documents. Today the brick wall of the mother's temple is falling down.
How to go:
You can reach Satkhira in five to six hours directly by bus from Kalyanpur or Gabtali in Dhaka. The condition of the highway is good so you don't have to bother on the way. In Satkhira you can go from one place to another by rickshaw or van at low cost. On the way to Zamindarbari road, you will see Yeshoreshwari Kali temple. However, it is better to walk as far as possible to see everything better.
Read More: Nalta Sharif