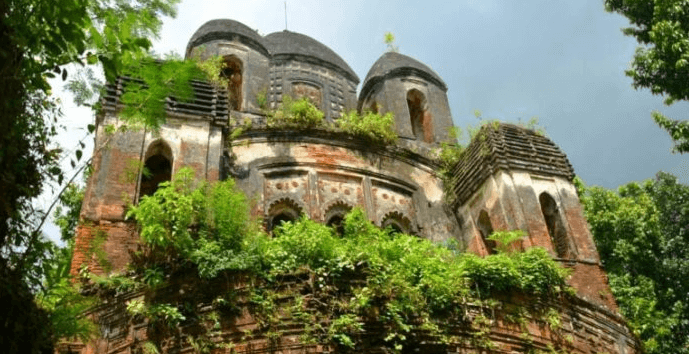 Sonabaria Moth Bari Mondir is a combination of a monastery and three temples located in the Satkhira district of Bangladesh which is more than four hundred and fifty years old. This beautiful archeological site was formerly used as a place of worship for Buddhists.
This group of temples is located in Sonabaria village of Kalaroa Upazila of Satkhira district in Khulna division of Bangladesh. This place is 9.6 km away from the headquarters of Kalaroa Upazila, bordering India.
Sonabaria Mathbari Temple Satkhira
It is mentioned in the second column of page 94 of the book 'Archaeological Survey Report Greater Khulna' written by Md. Mosharraf Hossain, former Deputy Director of the Department of Archeology, that this temple was built by Hariram Das (Durgapriya Das) in 1767 AD.
Which is also written in the book of Satish Chandra Mitra. The largest of these antiquities is the three-storied Navaratna temple. This is known as 'Shyamsunder Mandir'. Adjacent to it is Durga Temple and Shiva Temple. To the south of this temple complex is a square lake with unequal arms. At present this historic pond has taken the shape of an equator.
How To Go Sonabaria Temple Satkhira
Sonabaria is a border town of Kalaroa upazila. Signs of the zamindar rule are scattered all over Sonabaria 200 years ago. Sonabaria Math temple is the bearer of such an ancient tradition. The Shyamsundara temple, inlaid with terracotta plaques about 60 feet high, still stands today as a relic of ancient architecture.
More Traveling Place:
Frequently Asked Question:
সোনাবাড়িয়া মঠবাড়ি মন্দির
Moth Bari Temple
Sonabaria Mathbari Mandir
Sonabaria Mathbari Temple