Tetulia Tea Garden At Panchagar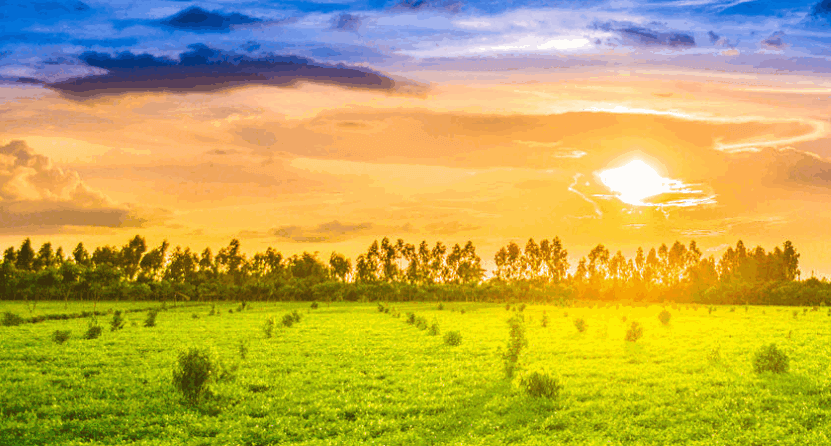 When it comes to tea gardens, it seems to be about Sylhet or Srimangal. Rows and rows of tea trees in his village surrounded by high and low green hills. But the fact that there can be tea gardens even in the plains cannot be understood without Panchagarh. Panchagarh, the northernmost district of the country, has a vibrant organic tea garden. Organic and Darjeeling varieties of tea are cultivated only in the gardens of Tentulia in this country. This tea has already gained a reputation outside the country. The distance from Panchagarh to Tentulia is about 35 kilometers. Most of the tea gardens of Panchagarh are located in this Tentulia. Among the tea gardens here, Kazi & Kazi Tea Estate, Dahuk Tea Estate, Salilen Tea Estate, Tentulia Tea Company, etc. are especially notable. Beautifully paved road on flat land. As you go along, the green will continue to fascinate you. The barbed wire of the border is also covered with green. Extensive green on both sides of the road. Go to the green ceremony at the moment.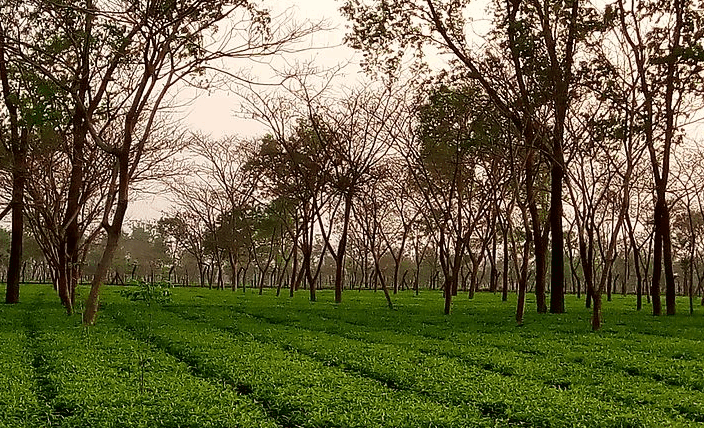 In groups, women are carrying white bags on their shoulders and carrying endless tea leaves. Beautiful view! The tea garden here is not as high and low as in Sylhet or Chittagong, it is very flat, it looks different. Green velvet sheets spread on both sides of the road. Near the edge of the garden, there are innumerable jarul trees with purple flowers. After the evening, a different home beauty comes down to these tea gardens. Ahamri she is beautiful. When the moon comes in the evening, it will feel as if you are floating in the land of the blue fairy. The magical form is created by the moonlight falling on the tea leaves. Fireflies decorate the garden in your mind. It will feel like a place other than mortal, a different world. Really like a fairy tale country. Come back in time, it will definitely be good.
The Way To Go To Panchagar
If you want to go directly to Panchagarh, you can go to Hanif or Nabil Paribahan. The rent will be between 400-500 Tk. You can go by bus. If you want to go by AC bus then you have Green Line, Arrival, T-R Travels buses. The rent will be around 750-800 Tk. But the problem is that these buses go to Rangpur. You have to take a separate transport from Rangpur to Panchagarh. It is better to rent a car or microbus from Panchagarh city to visit different places here. The reserve car fare for visiting these places for the whole day will be 2000-2500 Tk and the microbus fare will be 2500-3500 Tk. These rental cars will be available at Panchagarh Central Bus Station and Chowrangi intersection of the city.
By bus from Panchagarh to Tentulia all day, the fare will be 40 to 50 Tk. In addition, Hanif and Babul Paribahan buses run directly from Dhaka to Tentulia, with a fare of Tk. 500. There is no AC bus on the way to Panchagarh or Tentulia. It is better to rent a scooter to go down to Tentulia and visit Banglabandha land port, tea garden, or surrounding areas.
If you want to go by train
If you want to go by train, you can get off at Panchagarh directly from Dhaka's Kamalapur Railway Station by Panchagarh Express, Ekta, or Drutayan Express. 8 to 10 hours on the journey. The Panchagarh Express train will leave Dhaka at 10:45 pm every day and reach Panchagarh at 08:50 am the next day. The train will leave Panchagarh at 1:15 pm and reach Dhaka at 10:35 pm. This train from Panchagarh to Dhaka will stop only at Parbatipur, Dinajpur, and Thakurgaon stations. The fare of Panchagarh Express has been fixed – Shovon 550 Tk, AC Chair 1053 (Snigdha), first berth 1942 Tk.
Accommodation
As there is no residential hotel in Tentulia, the old post bungalow built under the supervision of the district council and the Tentulia Picnic Corner on the other side are the only means of spending the night. Although there is a Bonbit bungalow next to it, it is not being used due to various problems. You will have to pay Tk 200 per room in the picnic corner and Tk 400 for the district council post bungalow to spend the night. If you want to spend the night in these bungalows, you have to apply to the District Council Secretary, Panchagarh, or Upazila Nirbahi Officer Tentulia during office hours and make a booking a few days in advance. But most of the time these bungalows have two bookings so tourists are in trouble. Despite the strong desire of the tourists to spend the night, it is not possible to stay for a long time due to non-receipt of bookings. As a result, tourists have to go back to the residential hotel in Panchagarh district town to spend the night.
Read More: Tetulia Dakbanglo