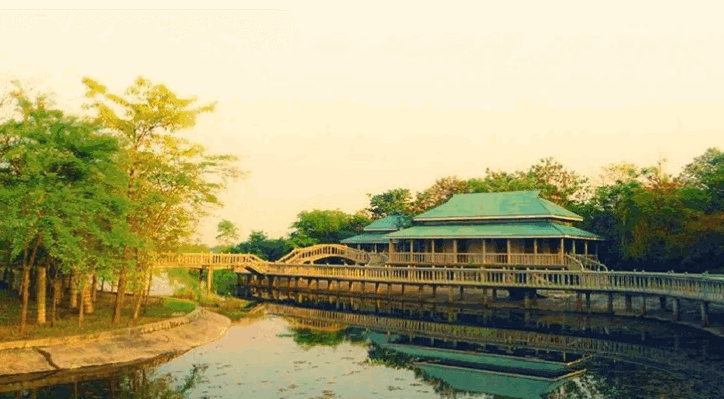 Kazi & Kazi Tea Estate Limited is located in Raushanpur village in Tetulia Upazila of Panchagarh district. The distance from the city to Kazi T Estate is approximately 55 kilometers. When nature and modernity merge, a primitive and unadulterated natural environment is created which you will see when you visit Kazi & Kazi Tea Estate. It is the only organic tea garden in Bangladesh.
One of the hallmarks of what people can do in luxury is the private bungalow and office space of Kazi & Kazi Tea Estate. As soon as you enter through the beautiful gate, a dark entrance in the shade of herbs is waiting for you on the right-hand side.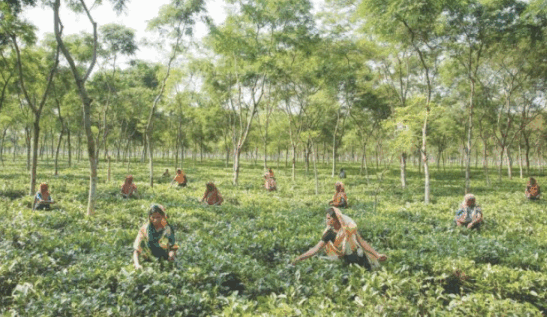 When you come to the end of that path, lost in the greenery all around, you will be greeted by some scenic cottages built in a modern style. There is also a lake inside, a few cottages next to it, and a bridge in the middle of the lake to cross the beautiful resting place.
You will be fascinated by such a beautiful cottage in the crowd of trees. From bridges to walkways, lakes, restrooms, bungalows, wooden cottages, you will find a clear impression of nobility and aesthetics. You will see some horses in the open field eating grass. There is also a flat tea garden.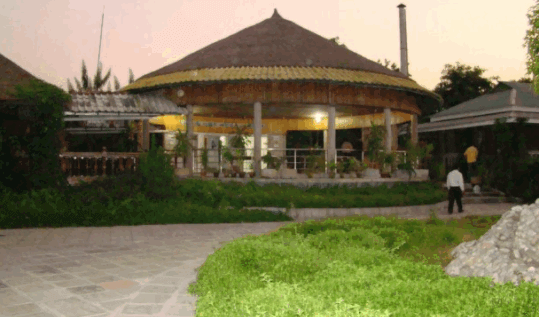 The Way To Go There (Kazi And Kazi Tea Estate)
The distance from Dhaka to Panchagarh is 458 km and from Panchagarh to Tertulia is 40 km. Panchagarh can be reached by road, rail, and air from anywhere in the country. You can go here directly from different districts including Dhaka, Chittagong, Sylhet. You will get a direct bus from the capital Dhaka to Panchagarh. Buses of various transport companies including Hanif and Shyamoli go to Panchagarh. Buses ply from Panchagarh to Tentulia all day. The rent will be from 80 to 100 Tk.
Shyamoli, Hanif and Babul Paribahan buses also ply directly from Dhaka to Tentulia. It is better to rent a scooter to go to Tetulia and visit Banglabandha land port, tea garden, or surrounding areas. However, you can also rent a microbus.
Where to stay At Tetulia
If you want to visit Tetulia, you have to prepare to stay in Panchagarh city. However, with prior permission, you can spend the night at Tetulia Post Bungalow. For this, you have to book the seat in advance. There is also a district council bungalow. You have to book in advance to stay there.
However, it is difficult to get seats in these in the winter season. There are several good residential hotels and rest houses in Panchagarh district town for overnight stay. There are two types of rooms: AC and non-AC. The rent is relatively low. There are many hotels in Panchagarh, the rent will be 300 to 600 Tk. You will get an AC room for one thousand Tks.
Visit Also:
Frequently Asked Question About Kazi And Kazi Tea Estate Limited:
ponchogor tourist spot
কাজী এন্ড কাজী টি এস্টেট
পঞ্চগড় জেলার খবর
পঞ্চগড় জেলার মানচিত্র
rangpur tourist place
resort in panchagarh, bangladesh
places to visit in thakurgaon
panchagarh tea garden
dinajpur tourist place
kanchenjunga from panchagarh
tourist spot in tetulia
panchagarh famous food
Kazi & Kazi Dairy Farm