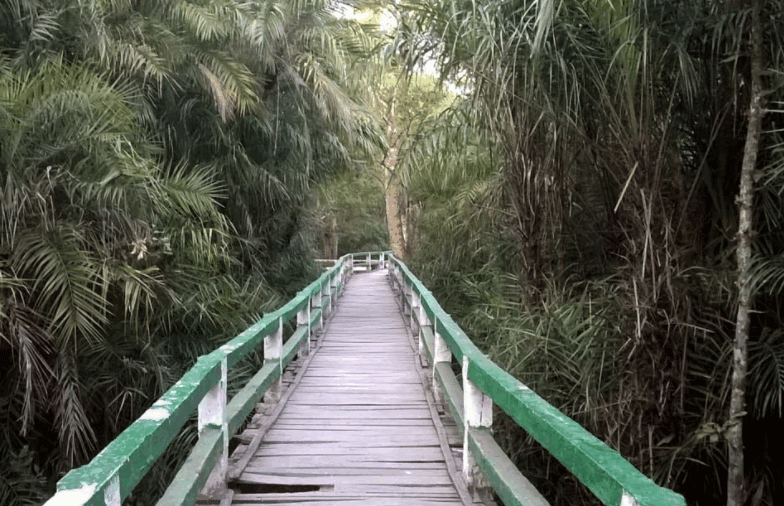 Karamjal Eco-Tourism Center is an awesome part of Sundarbans. Karamjal, an attractive tourist destination of the forest department, is located in the Sundarbans on a 30 hectare land on the banks of the Pashur River, a short distance from the Mongla seaport. Karamjal has been developed by the Forest Department as a model for the Sundarbans. Hundreds of tourists come here every day. Karamjal is the perfect place to visit the Sundarbans in one day and get an idea of ​​the Sundarbans.
The main attractions here are deer, crocodiles, monkeys, wooden trails, towers, boating, fishermen's fishing scenes. The only natural crocodile breeding center in the country is located here. The tourist center is located at a distance of about 80 km from Khulna and about 8 km from Mongla by the river.
In addition to an eco-tourism center, there are deer and crocodile breeding and rearing centers. If you take an engine boat from Mongla, you can reach Karamjal jetty in one to one and a half hours. The huge map at the beginning of the tourist center will give a good idea about the Sundarbans.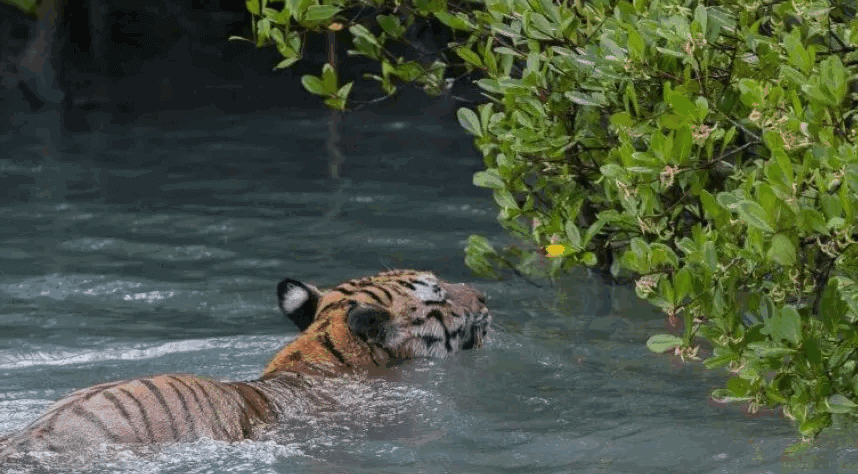 Karamjal Eco Tourism Center
Leaving the map behind, the crooked wooden walkway goes south into the forest. The name of the path is Monkey Trail. The selfishness of this name is found as soon as one steps on the trail. Rhesus monkeys, one of the inhabitants of the Sundarbans, can be seen throughout the trail. Dense jungle on both sides of the path. There are more bain trees in this forest.
After going some distance in the wooden path, the branch path on the left-hand side stopped on the bank of the animal. At the end of the river is a tent with benches. The main road goes about half a kilometer further and stops at the bank of a small canal.
Here is another shed at the head of the road. From there the wooden trail went west again next to the crocodile breeding center. An observation tower has been built in the middle of this trail. When you reach the top of it, you can see the surroundings of Karamjal well.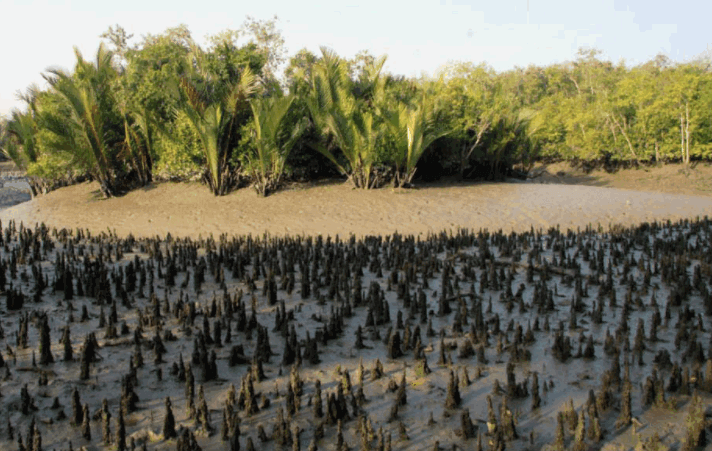 The crocodile breeding center at the very end of the wooden trail. Slightly west of there is a deer and crocodile breeding center. There are many small basins in front. In one of them is a baby crocodile hatching, in another, it is a medium-sized baby and in another, it is a little older saltwater crocodile. Romeo, Juliet, and Pilpil are in a large walled pond on the far south side.
The three saltwater crocodiles caught in fishermen's nets were brought to Karamjal in the Sundarbans in 2002. Romeo and Juliet are now 23 years old. The pair became fertile in 2005. For the first time in Bangladesh, they are the main contributor to artificial crocodile production. Juliet is slightly smaller in size than Romeo. This saltwater crocodile lives from eighty to one hundred years.
Juliet has laid a total of 482 eggs so far. From there, 284 cubs were hatched by the staff of the Wildlife Breeding and Conservation Center.
Pilpil is another female member of the Karamjal Wildlife Breeding and Conservation Center. So far she has laid 44 eggs, of which 33 have hatched.
Next to it, you will see an open space surrounded by a zoo. Chitra deer inside. Inside the cage is another small cage at the west corner. Inside are a few rhesus monkeys.
Ticket Price Of Karamjal Eco Tourism Center
Tk 20 per person for domestic tourists and Tk 300 for foreign tourists. Local students 20 Tk. Local researcher 40 Tk. Foreign researchers pay 500 Tk per person. Minors (under twelve years) ten Tk. 200 per camera for domestic tourists using video cameras. Foreign tourists 300 Tk. 15 percent VAT is applicable with all the above prices.
How To Go To There At Sundarban Bagerhat Khulna
You can go directly to Bagerhat from Dhaka. Many vehicles leave from Saidabad in Dhaka every day from 6 am to 10 am and from 7 pm to 10 pm – Meghna (01717388553), Banful, Paryatak (01711131078), Falguni, Ara, Baleshwar, Hamim, and Dola.
Besides, Sohag (01718679302), Shakura (01711010450), Hanif, and Eagle Paribahan left Gabtali. Rent 300 to 400 rupees. The journey takes about 6 hours. You can also go to Khulna by train from Dhaka. You can take the intercity train Sundarban Express and Chitra Express to Khulna and then take a bus to Bagerhat. It takes about 40 minutes to reach Bagerhat from Rupsha. You have to walk or take an autorickshaw to get off the bus.
You will get a launch from Rupsa from Khulna or Mongla port of Bagerhat. Besides, boats to the Sundarbans are available from Mongla, Morelganj, and Sharankhola in Bagerhat. Sundarbans and tourist service buses go directly to Mongla from Dhaka's Saidabad bus station. Rent from Tk 400 to Tk450. Karamjal will have to take an engine boat from Mongla.
The fare for an engine boat suitable for ten people is Tk 1,000 to Tk 1,200. These locomotives usually depart from the Mongla ferry terminal. Karamjal has to go by crossing the river of animals. This river is always more or less rough. So a good quality engine boat should be taken. Make sure in advance that the boat has an adequate life jacket and lifebuoy.
Where To Stay In Traveling Time Sundarban
Apart from tourist vessels, the Sundarbans Sanctuary also has accommodation at Nilkamal at Hiranpoint and Forest Department Resthouses at Kachikhali and Katka at Tiger Point. The fee for domestic tourists in Nilkamal is three thousand rupees per room, four rooms 12 thousand Tk. Kachikhali three thousand Taka per room, four rooms 10 thousand Taka. Katka two thousand takas per room, two rooms four thousand Taka.
In the case of foreigners, five thousand and 20 thousand Taka in Nilkamal, five thousand and 15 thousand Taka in Kachikhali, and five thousand and 10 thousand Takas in Katka. Besides, you can spend the whole day in Karamjal and stay at night in the port city of Mongla.
Here is the motel of Bangladesh Tourism Corporation (04662-75100). The rent for non AC double room is Tk 1,200 and AC double room is Tk 2,000. Economy bed 600 Tk. There are also some standard hotels in Mongla town. Rooms will be available at these hotels for Tk 100 to Tk 600.
Or a standard hotel in Satkhira next to the Sundarbans and a rest house and dormitory at NGO Sushilan in Munshiganj, Shyamnagar. Apart from quality hotels like Hotel Royal, Castle Salam, Hotel Tiger Garden, Hotel West Inn, Hotel City Inn, Hotel Millennium, etc., there are standard hotels in Khulna metropolis.
Note: Do not enter the forest without a forest guard. Do not feed any animal of deer and crocodile breeding center.
More Traveling Place:
Frequently Asked Question:
Sundarban travel guide
How to visit sundarban from khulna
Things to do in sundarban
Best time for sundarban tour
Sundarban paragraph
Sundarban tour cost
Sundarban tour package 2021