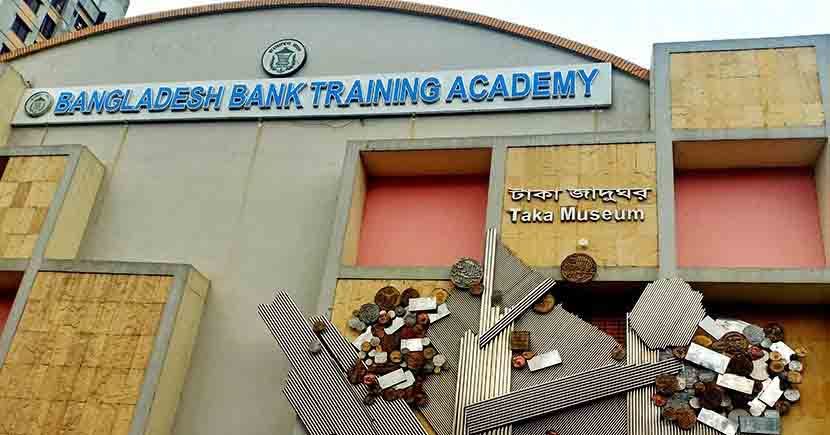 Taka museum is located in Mirpur on the 2nd floor of the Bangladesh bank training academy. It is established in 2013. Basically, in 2009, the currency museum is established in the main building of the Bangladesh bank. Taka museum is the updated and modern name of this currency museum.
From the ancient period to the modern period, different types of metallic and paper currency are situated here for display to the tourists. The ancient wood box and the iron ark of currency collection took place with that.
Taka Museum (Jadughar) Of Bangladesh Bank
The structure of the tree has been shaped like a tree on the building, and the structure has been decorated with different stamps. A little further in front, you can see the beautiful terracotta on the wall. A series of transactions has been erased from ancient times to modern times on terracotta.
Showcases from the first gallery showcasing the history of the evolution of currency used in the Indian subcontinent. The first showcase is the stamped silver coin used in the period from 4 BC to 2 BC.
Thus, agricultural coins used in the first century to the second century BC, the Harekal silver coins used in the seventh century to the ninth century, the coins of the Sultanate period of Delhi, the British period with the coins used during the reign of the independent sultans of Bengal, the Bangladeshi currency was kept in the glasshouse from the Pakistani period.
The exhibition of the number two gallery of the money museum has been arranged with a different country's currency. Notes and coins can be found here on paper in various countries of the world, including China, Afghanistan, Cambodia, Haiti, Bahrain, New Zealand.
The various designs and their presentation. After seeing the money of such countries, you can become a millionaire by printing your picture in a note of your own country.
The souvenir shop is in the money museum. Memorandum of currency and notes, money museum with museum publication, memorial published in Rajat Jayanti of Bangladesh Bank, the commemoration of World Cup cricket organized in Bangladesh, the commemoration of national poet Kazi Nazrul Islam's rebellious, commemorating the 40th anniversary of Victory Day, Japanese coin also Here. What is the value of a monument, it is stored on paper outside the store.
Ticket Prices And Schedules
Ticket prices and schedules are open daily from 11 am to 7 pm daily except Thursday and public holidays. It is open only on Fridays from 4 am to 7 pm. It does not require a ticket to visit or to enter, absolutely free. Weekly closed Thursday.
How To Go Bangladesh Bank Museum
From any place in Dhaka to go directly to Mirpur – 1 or Mirpur -10 golchattor. From there, you can walk on foot, rickshaw or on another local bus and leave the money museum. However, people know this place as Bangladesh Busnagoka Training Center. Rickshaw fare from Mirpur-1 or Mirpur-10 to Golchatabar is 15-20 Tk.
Read More Articles:
Also Read:
Frequently Asked Question:
Taka museum contact number
500 taka note
$ 1 = taka
Taka 10
200 taka note Bangladesh
Bangladesh 5,000 taka note