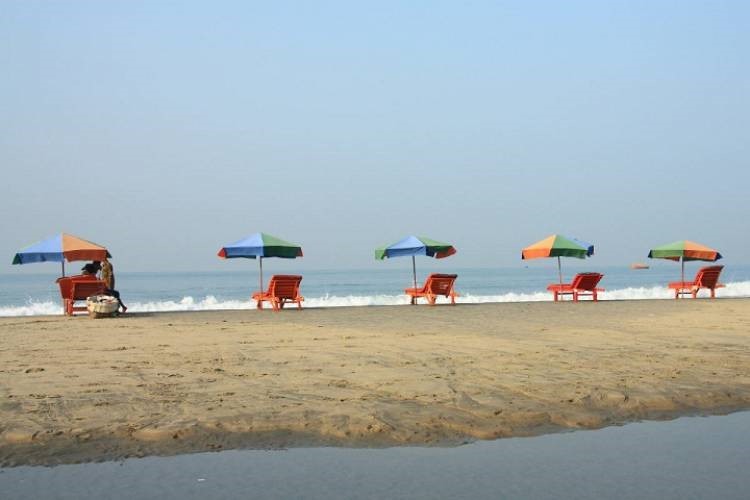 Cox's Bazar of Bangladesh is the longest sea beach in the world. It is one of the most beautiful sea beaches in the world. And the most crowded tourist spot also. Every day, there are lots of tourists who come to see the beauty of the sea and refresh them from boredom and tiredness.
Sugandha Sea Beach In Cox's Bazar
They come here with their family, friends, and relatives. To see the beauty of cox's Bazar, it is a dream of every person who loves nature and likes to travels. Most of the people in Bangladesh already visit this place. Even the foreigner also comes to see the beauty of this Sea beach.
This is the most favorite place for adventure lovers. Lots of beaches have around Cox's Bazar. Sugondha beach is one of them. It is one of the most popular beaches in Cox's Bazar. Most of the tourists are crowded here.
There are a lot of marine fish shops around the Sugondha beach, and even a dry fish shop. Among the fish, there are red corals, octopus, crabs, shrimps, rupchanda, tuna fish, and many different types. If you want you can sit there and eat fries.
For entertaining, there is a horse ride which will cost 250-300 Tk for every 30 minutes. There is a tubing system for floating over the water, which will cost 30Tk per hour. There is a bed arrangement for sitting on a tired body which will cost 30 takas per hour. You will experience horse and beach bikes, parasailing or horseback riding, beach boating, or surfing.
Sitting on a chair or you can travel hiking on the high hills. From a quiet morning to a lively afternoon or a full moon night, you can color yourself. At the same time, make yourself refresh in the sea baths. Your loneliness will go away! On the other hand, the Burmese Market for the purchase of Burmese products, the oyster market for the purchase of oyster products, the delicious local foods for dining, the cozy hotel and cottage for relaxation – all have made Cox's Bazaar a tourist destination.
Beach Photographers:
Hundreds of photographers will stand there to capture a picture. If you want to capture your favorite moments on the frame of the picture, you can hire a photographer to takes pictures of your beautiful moments. The price will be 2-5 Tk per picture.
How to Go From Dhaka to Cox's Bazar Beach
You can take a bus or plane from Dhaka to Cox's Bazar. Moreover, one can go to Cox's Bazar by bus from Chittagong by train. Traveling from Dhaka to Cox's Bazar will take about 11/12 hours. About 55/60 minutes by plane. There are two types of AC / non-AC buses. Bus / AC / NonAC fare will cost up to 800-2500 Tk. Every day, lots of famous buses depart from Dhaka directly to Cox's Bazar.
Hotels Near Sugondha Beach
There are many hotels and resorts with 5-star levels to stay. There are also 3 stars, 4 stars, and more low-quality hotels. However, most hotels around the beach are good-quality hotels. Most hotels and resorts are located around Sugandha Point.
Notable hotels to stay in Cox's Bazar:
Simon Beach Resort (09610777888, 034151350, 01755691917)
Ocean Paradise Hotel & Resort (019388467637, 0341-523709 )
Long Beach Hotel (01755660051, 0341-518436)
Seagull Hotel Ltd. ( 0176666530, 03416248090০)
Hotel The Cox Today (01755598449, 01755598450, 03415241022 )
White Orchid (0182593989)
Hotel Sea World (0193881750112, 0341-52226, 0341-51625)
Hotel Sea Crown ( 01817089420, 0341-64795)
Warning and Other Information Before Shipping
Make sure to check the tide before you get to the sea. There are also signboards and flags on various beaches at Yasir's Life Guard. It is safe to go down to the sea during tides. During this time, the tide is indicated, as well as the green flag. At dusk, anyone can be lost in an instant when the peril of the sea. So if you have a red flag with writing on the beach during this time, refrain from descending into the sea. Do not go away by any means. Seek help from Yasir Life Guard, who is tasked with tourist safety. Let them go to the beach.
Read More Articles:
Also Read:
People Also Search More About Sugandha Beach:
world largest beach
second longest beach in the world
laboni beach
4 longest beaches in the world
hotel near sugandha beach
2 longest beach in the world
longest beach in uk
sugandha beach cox bazar bangladesh