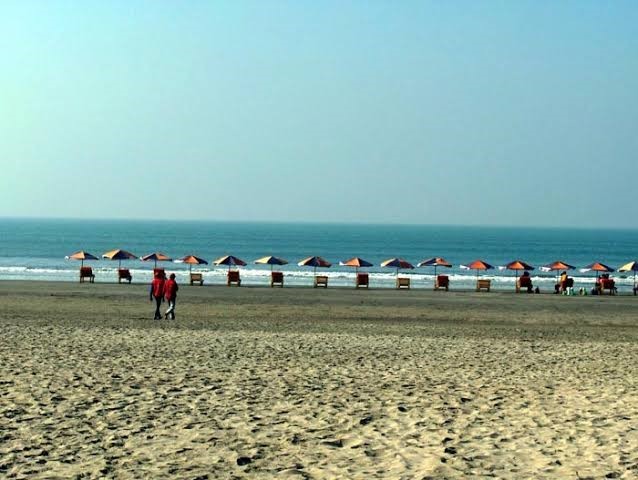 Bangladesh is the largest delta in the world. Cox's Bazar is one of the most fascinating places on this island. Laboni Point is located on the beach in Cox's Bazar. Every time hundreds of people come here to enjoy the natural beauty. Wide beaches, rows of jhaubans, huge waves of beaches can be seen here.
The sun rises beauty can be seen in the morning and sunset evening. Due to its closing proximity to the city of Cox's Bazar, Laboni Point is considered to be the main beach for tourists. It will take 15 minutes to walk from Laboni Point to Kalatali Beach.
Laboni Beach Point In Cox's Bazar
The oyster market will also be found at Laboni Point, as well as many small shops where various items have been arranged by shopkeepers. And these are added an attraction for tourists. In addition, there are several restaurants on the shores of Labani Beach, where you can watch the beautiful sunsets.
Walking across Laboni Beach goes straight to the Himchhari in the east. How far you go the beach will be more beautiful than before. If you come out in the morning this beauty will have an extra payoff for the fishing scene of the old fishermen.
If you want to enjoy the full view of the sea, you must spend the day at sunrise and sunset. You will surely be amazed by the different views of the beach in the dim light.
Here have bike rides for your entertainment. These bikes ride price is 50 Tk for 1 km. There are several speed boats operating in the Beach. From Maine Beach to Laboni Point Beach. Rent one round 100Taka. Apart from this, the speedboat operates with the help of the lifeboat fares at Tk 250.
Hotel Near Laboni Point:
Hotel Upol, Laboni Road, Cox's Bazar -0341-64258, 64246, 64258, 64246
Hotel coral, 0341-63211, 62635, 63211, 62635
Hotel Laboni, Laboni Point Road – 0341-64703
Hotel Long Beach -0341-518436০
Luxury Cottage Sagarika Phone – 0341-63274
Hotel Absar (Pvt) Ltd., Sea Beach Road -0341-63061
Panoa, east of Laldighi, 0341-63282,64382
Hotel Seabeech, Kalatalli -0341-64156,64550
Hotel Sea World, Kalatali Road, Cox's Bazar -0341-51625
Foods Restaurants Along Labani Point:
If you want to eat out in the afternoon and at night, you will find many restaurants in Cox's Bazar. Most restaurants are located on Kalatali Road. Notable restaurants are: Poushi Restaurant, Jhuban Restaurant, Live Fish Restaurant, Nirbili Orchid Club & Restaurant, Mermaid Café, Divine Sea Stone Cafe, Coal, Stone Forest, Taranga Restaurant, Kashwan Restaurant, Pankouri Restaurant, etc.
These hotels will get all kinds of food, starting from rice, various marine fish, meat, rice-fried, dried fish. However, before ordering a meal, you should know the price first.
Read More Articles:
Also Read: