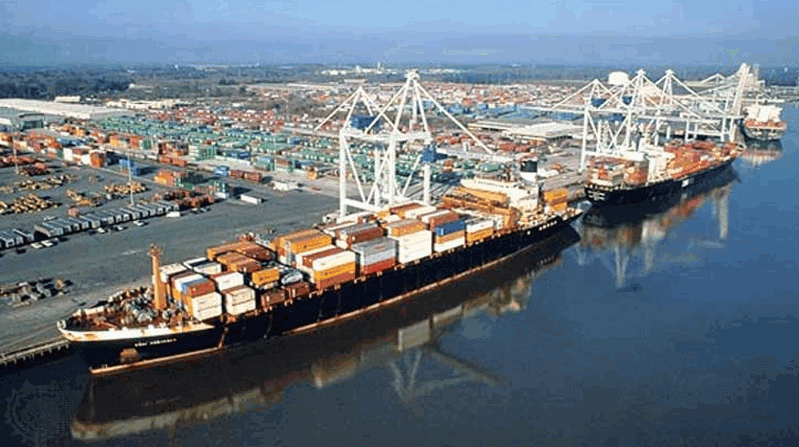 Mongla Port is located in the southwestern part of Bangladesh in the Bagerhat district. It is the second-largest seaport in the country. It is located 48 km south of Khulna city. The port was established on December 1, 1950. It is located at the junction of Pashur river and Mongla river in Selabunia mouza of Rampal Upazila of Bagerhat district. It is located 72 miles (100 km) north of the Bay of Bengal and is connected to major inland river ports and the railway terminal at Khulna. The port was built 11 miles (18 km) upstream of the Pashur River from Chalna. When the port was opened to foreign ships on December 11, 1950, a British merchant ship made its first anchor at the port. The port was shifted to Mongla in 1954 as it was more convenient for sea-going ships to anchor. At that time Mongla port came to be known as Chalna for a long time. During the Pakistan period, a port manager was entrusted with the administrative responsibility of the port of Mongla, which was headquartered in Khulna.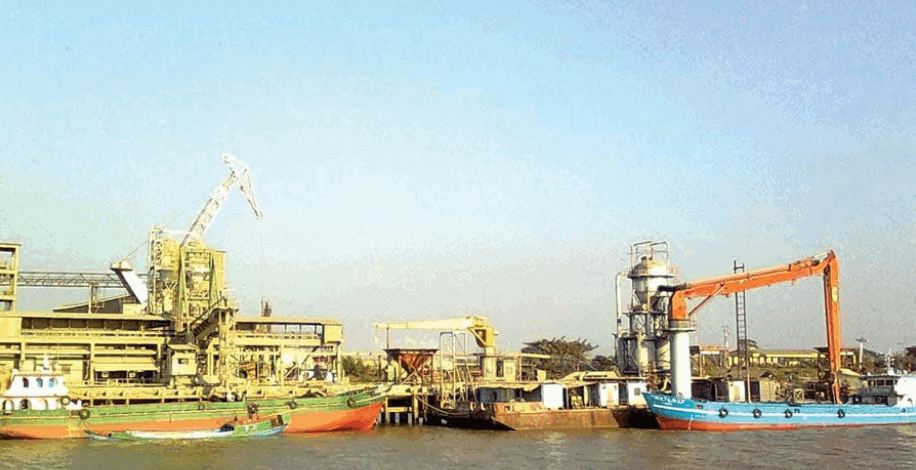 The port was frequently closed in later times, especially since the 1980s, due to the loss of suitable depth for ocean-going shipping, and was reopened to ship anchorage after each excavation. The port has connections to almost all major ports in the world, although most ships here come from Asia, the Middle East, Australia, Europe, and North America. Sometimes some ships come from Latin American or African countries. Currently, the port is open 24 hours a day, ships up to 225 meters long can enter the port for unloading goods. About 400 ships dock at this port every year and an average of 3 million metric tons of goods are imported and exported annually. The port has 11 jetties, 6 sheds, and 8 warehouses for loading and unloading goods. There are 12 floating anchorages deep in the river. Mongla Port Authority has built a rest house for sailors at Hiran Point.
On December 1, 1950, the second seaport of the country was launched at Mongla in Bagerhat under the name of Chalna Port. When the port was opened to foreign ships on December 11 of that year, British merchant ships anchored at the port for the first time. Details can be found on the official website of Mongla Port.
How To Go To Port
You can go directly to Bagerhat from Dhaka. Many vehicles leave from Saidabad in Dhaka every day from 6 am to 10 am and from 7 pm to 10 pm – Meghna (01717388553), Banful, Paryatak (01711131078), Falguni, Ara, Baleshwar, Hamim, and Dola.
Besides, Sohag (01718679302), Shakura (01711010450), Hanif, and Eagle Paribahan left Gabtali. Rent 300 to 400 rupees. The journey takes about 6 hours. You can also go to Khulna by train from Dhaka. You can take the intercity train Sundarban Express and Chitra Express to Khulna and then take a bus to Bagerhat. It takes about 40 minutes to reach Bagerhat from Rupsha. You have to walk or take an autorickshaw to get off the bus.
Where to stay
There are various hotels in Bagerhat Sadar. There are also government guesthouses. Here you can stay at the Mumtaz Hotel on Rail Road. The hotel has fewer facilities but the quality of the service is quite good and the cost is a bit high. There are also a few more hotels to stay in the vicinity of this hotel. Moreover, you can stay at Hotel Avi on the main highway in front of Khan Jahan Ali's shrine. Rent 400 rupees. Phone: 01833742623.
Apart from this, for staying in Bagerhat, Hotel Al Amin (0468-63168, 01718692737, AC dual room Tk. 1000, non-AC room 100 to 400 Tk) and Hotel Mohana (0468-63075, 1722858313 in Karmakar Patti) There are non-AC rooms for Tk 100 to Tk 400. It takes 1 hour to reach Bagerhat from Khulna, so you can stay in Khulna.
Read More: Ranobijoypur Mosque