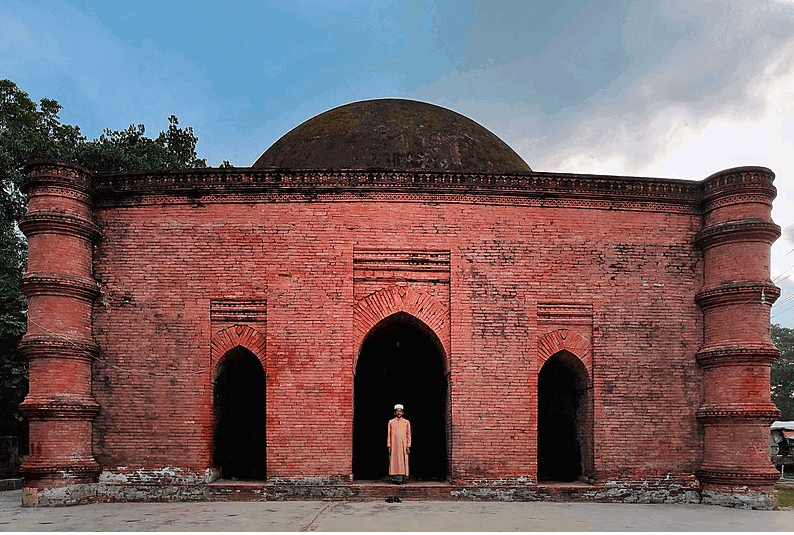 Another important building of Khanjahan style is Ranbijaypur Mosque. About half a km along the road to the north from the shrine of Hazrat Khanjahan (Rah :). This mosque is located inside. About 3.5 km west of Bagerhat district headquarters and 1.50 km from Satgumbaj Mosque. Ranbijaypur Mosque is a one-domed mosque in Ranbijaypur village of Satgumbaj Union. It is also known as Fakir Bari Mosque. It is the largest single-domed mosque in Bangladesh. It is known that the original name of the mosque was Darya Khan's Mosque. Judging by the architectural style, it is considered to have been built during the time of Hazrat Khan Jahan Ali (ra) (1459). The brick mosque is made in a square. The one-room mosque is covered with a semicircular dome at the top. The walls of the mosque are quite thick. There are three entrances on each wall except the qibla wall.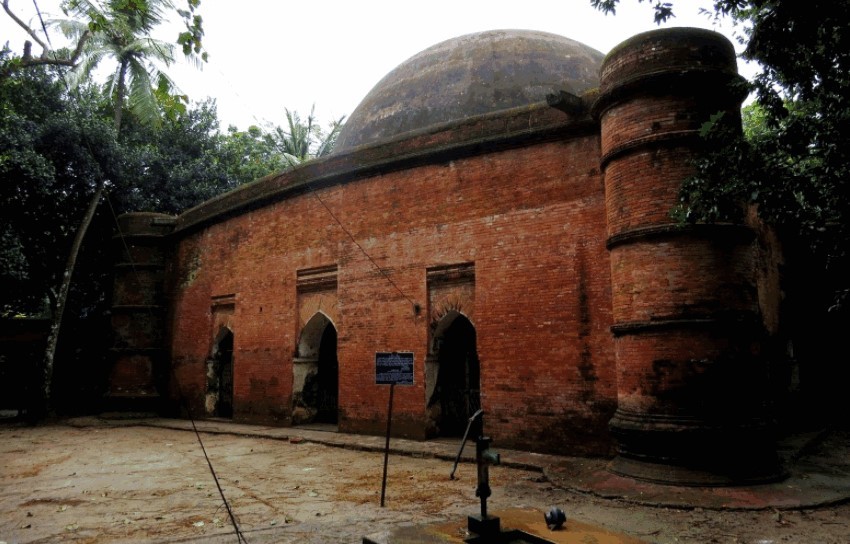 There are three mihrabs on the west wall along with the three entrances to the east wall. The central arch is larger than the other two. There are four minarets in the four corners outside the mosque. Which are one of the examples of Khanjahani architecture. In 1971, Ranbijaypur Mosque has declared a protected structure and renovated. This mosque is named after Ranbijaypur village. The idea is that there was a war here at some point. Ranbijaypur is the name of this place in memory of the victory in that war. It is 56 square feet on the outside and 36 square feet on the inside. The wall of Ranvijaypur Mosque is about 10 feet wide.
How to get there
You can go directly to Bagerhat from Dhaka. Many vehicles leave from Saidabad in Dhaka every day from 6 am to 10 am and from 7 pm to 10 pm – Meghna (01717388553), Banful, Paryatak (01711131078), Falguni, Ara, Baleshwar, Hamim, and Dola.
Besides, Sohag (01718679302), Shakura (01711010450), Hanif, and Eagle Paribahan left Gabtali. Rent 300 to 400 rupees. The journey takes about 6 hours. You can also go to Khulna by train from Dhaka. You can take the intercity train Sundarban Express and Chitra Express to Khulna and then take a bus to Bagerhat. It takes about 40 minutes to reach Bagerhat from Rupsha. You have to walk or take an autorickshaw to get off the bus.
Where to stay
There are various hotels in Bagerhat Sadar. There are also government guesthouses. Here you can stay at the Mumtaz Hotel on Rail Road. The hotel has fewer facilities but the quality of the service is quite good and the cost is a bit high. There are also a few more hotels to stay in the vicinity of this hotel. Moreover, you can stay at Hotel Avi on the main highway in front of Khan Jahan Ali's shrine. Rent 400 rupees. Phone: 01833742623.
Apart from this, for staying in Bagerhat, Hotel Al Amin (0468-63168, 01718692737, AC dual room Tk. 1000, non-AC room 100 to 400 Tk) and Hotel Mohana (0468-63075, 1722858313 in Karmakar Patti) There are non-AC rooms for Tk 100 to Tk 400. It takes 1 hour to reach Bagerhat from Khulna, so you can stay in Khulna.
Read More: Chandra Mahal Echo Park