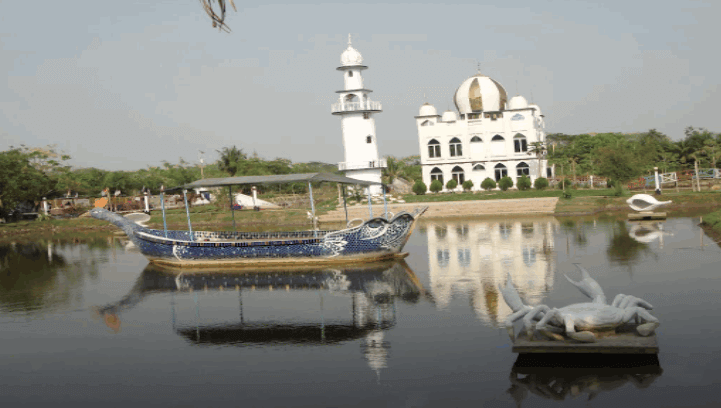 There is a picnic spot near Ranjitpur village in Fakirhat Upazila of Bagerhat centered on a building called Chandra mahal. This is actually a nice art pattern. Chandra mahal built in the style of the Taj Mahal. Selim Huda, the founder of Chandramahal in 2002, built the eco-park on about 30 acres of land named after his wife Nasima Huda Chandra. Any tourist will be fascinated by the beauty of Chandra mahal. Especially when the bright sunlight shines on the golden part of the upper part of the palace, it looks like the palace is made of precious metals. The palace is surrounded by water. A paved road has been taken from under the water to reach the palace. As soon as you go in the middle of the road, you will see big fish on the opposite side of the thick glass. The idea of ​​the locals is that millions of people come to see the Sundarbans in the winter season. Due to the location of Chandra Mahal on the way to the Sundarbans, a large number of visitors to the Sundarbans come to see Chandra Mahal. That is why Chandramahal is a bit more touristy than other parks.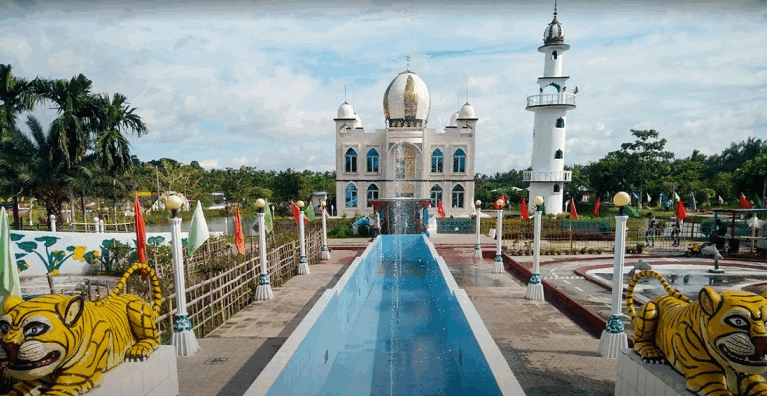 Statues of people and animals of various stone industries, pottery, bash, and cane industries have been constructed here for tourists. Various relics of rural culture have been created by the soil, abstract pictures of the life of rural women have emerged in this art. The pottery industry has been created to give an idea of ​​the medieval life of rural people like fishermen, farmers, laundresses, and other professionals. There are bamboo huts and restaurants on the water, small ponds with fish farms, brick-cement crabs and oysters in the ponds, pansy boats, artificial gallows for the 1971 Razakars, dinosaur statues, artificial rail lines, tiger-horse-deer Statue. There are picnic spots for tourists. A large wooden house with all the cooking facilities next to it. This arrangement has been made keeping in mind that the visitors can have a picnic in their own way. Scattered all over the eco-park is a variety of vegetable cultivation, and many fruit trees have been planted.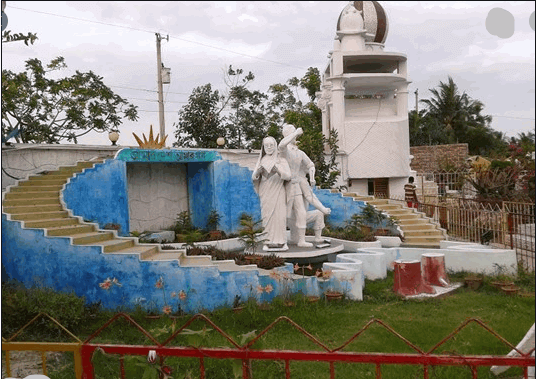 There are different species of mango cultivation. Numerous coconut trees have been planted around the park. And the cultivation of these different types of trees and vegetables has created a natural environment in the eco-park. Many species of animals and birds have been brought here to get acquainted with the wildlife. Among the monkeys, wild cats, deer, partridges, turkeys, white peacocks, deer, different breeds of dogs, eagles, Madan bald birds, white doves, owls, bejis, pigeons, quails, crocodiles, etc. are notable. Various archeological sites have been kept in the main hall of the park. These include old local and foreign coins, postage stamps, weapons of war, watches made long ago, prayer ornaments, religious antiquities, vermilion vases, stone furniture, stones of different colors, hundreds of years old calligraphy, smallest gramophones, rare manuscripts, bamboo. Insects, different species of pottery, different types of small insects, leaf insects, brass haircuts of 1700-1800, silver teapots, the world's smallest Qur'an Sharif, cross flute, etc. are notable.
Schedule:
The Chandramahal Ecopark is open daily from 7 am to 8 pm.
Ticket price:
Tickets costing Tk 40 are required to enter.
Eating
To meet the needs of tourists, 8-10 different types of restaurants have been set up in the eco-park.
How to get there
From Saidabad in Dhaka, every day from 6 am to 10 am and from 7 pm to 10 pm many vehicles leave – Meghna (01717388553), Banful, Tourist (01711131078), Falguni, Ara, Baleshwar, Hamim. Besides, Sohag (01718679302), Shakura (01711010450), Hanif, and Eagle Paribahan left Gabtali. Rent 300 to 400 Tk. The journey takes about 6 hours. You can take the intercity train Sundarbans Express to Khulna and then take a bus to Bagerhat. It takes about 40 minutes to reach Bagerhat from Rupsha.
Chandra mahal is located in Ranjitpur village next to Khulna-Mongla highway. You can get off at this village by bus. Speaking of Chandra Mahal, the bus driver will drop you off at the right place. You can also rent a battery-powered vehicle to get to and from Bagerhat city. Or you can take a bus from Bagerhat to Khulna and go to Chandra mahal. Where to stay: There are various hotels in Bagerhat Sadar. There are also government guesthouses. Here you can stay at the Mumtaz Hotel on Rail Road. The hotel has fewer facilities but the quality of the service is quite good and the cost is a bit high. There are also a few more hotels to stay in the vicinity of this hotel. Moreover, you can stay at Hotel Avi on the main highway in front of Khan Jahan Ali's shrine. Rent 400 Tk. Phone: 01833742623.
Apart from this, for staying in Bagerhat, Hotel Al Amin (0468-63168, 01718692737, AC dual room Tk. 1000, non-AC room 100 to 400 Tk) and Hotel Mohana (0468-63075, 1722858313 in Karmakar Patti) There are non-AC rooms for Tk100 to Tk 400. It takes 1 hour to reach Bagerhat from Khulna, so you can stay in Khulna.
Read More: Bibi Begoni Mosque