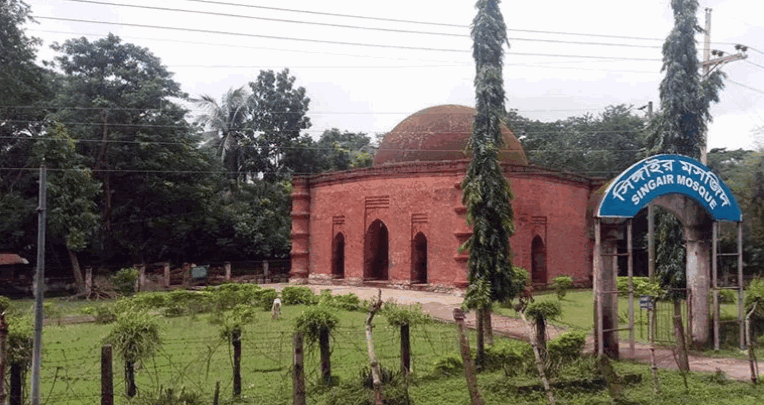 The Singair Mosque is about three hundred yards southeast of the sixty-domed mosque at Bagerhat. This mosque has a single dome that is solidly built and wide. According to Khan Jahan Ali's own style of architecture, the dome stands on a thick wall with a curved cornice at the top. Each arm of the mosque is 39 feet long on the outside and 25 feet long on the inside.
The walls of the brick mosque are about 6 feet wide. There are three entrances to the mosque on the east side. There are three ornate mihrabs on the west wall along the entrance. However, the central mihrab is relatively large and well-appointed. Historians believe that the construction of Singair or Singra Mosque took place in the middle of the fifteenth century.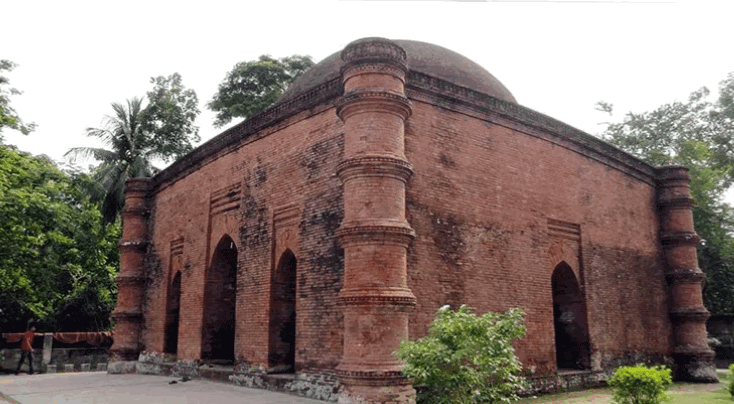 How to Go Singair Mosque Bagerhat
From Saidabad in Dhaka, every day from 8 am to 10 am and from 6 pm to 10 pm many vehicles leave – Meghna (01717388553), Banful, Tourist (01711131078), Falguni, Ara, Baleshwar, Hamim.
You can take the intercity train Sundarbans Express to Khulna and then take a bus to Bagerhat. It takes about 40 minutes to reach Bagerhat from Rupsha. Khan Jahan Ali (Rah.) The mausoleum is located 3 km southwest of Bagerhat city and 22 km southeast of Khulna city.
Its location is 300 yards away from Khulna-Bagerhat highway. You have to walk this way to get off the bus. The nine-domed mosque is located west of Khan Jahan Ali Dighi. You have to go to the right side of the shrine.
Where to Stay Traveling Time In Bagerhat
There are various hotels in Bagerhat Sadar. There are also government guesthouses. Here you can stay at the Mumtaz Hotel on Rail Road. The hotel has fewer facilities but the quality of the service is quite good and the cost is a bit high. There are also a few more hotels to stay in the vicinity of this hotel. Moreover, in front of Khan Jahan Ali's shrine, you can stay on the main highway at Hotel Avi. Rent 400 Tk. Phone: 01833742623.
Apart from this, for staying in Bagerhat, Hotel Al Amin (0468-63168, 01718692737, AC dual room Tk. 1000, non-AC room 100 to 400 Tk) and Hotel Mohana (0468-63075, 1722858313 in Karmakar Patti) There are non-AC rooms for Tk 100 to Tk 400. It takes 1 hour to reach Bagerhat from Khulna, so you can stay in Khulna.
Read More:
People Also Search More About:
Tetulia jame mosque

Shat gambuj mosque composition

Khan jahan ali passage

Shat gambuj mosque paragraph

History of bagerhat

What gombuj mosque pic

Which city is called the city of mosques