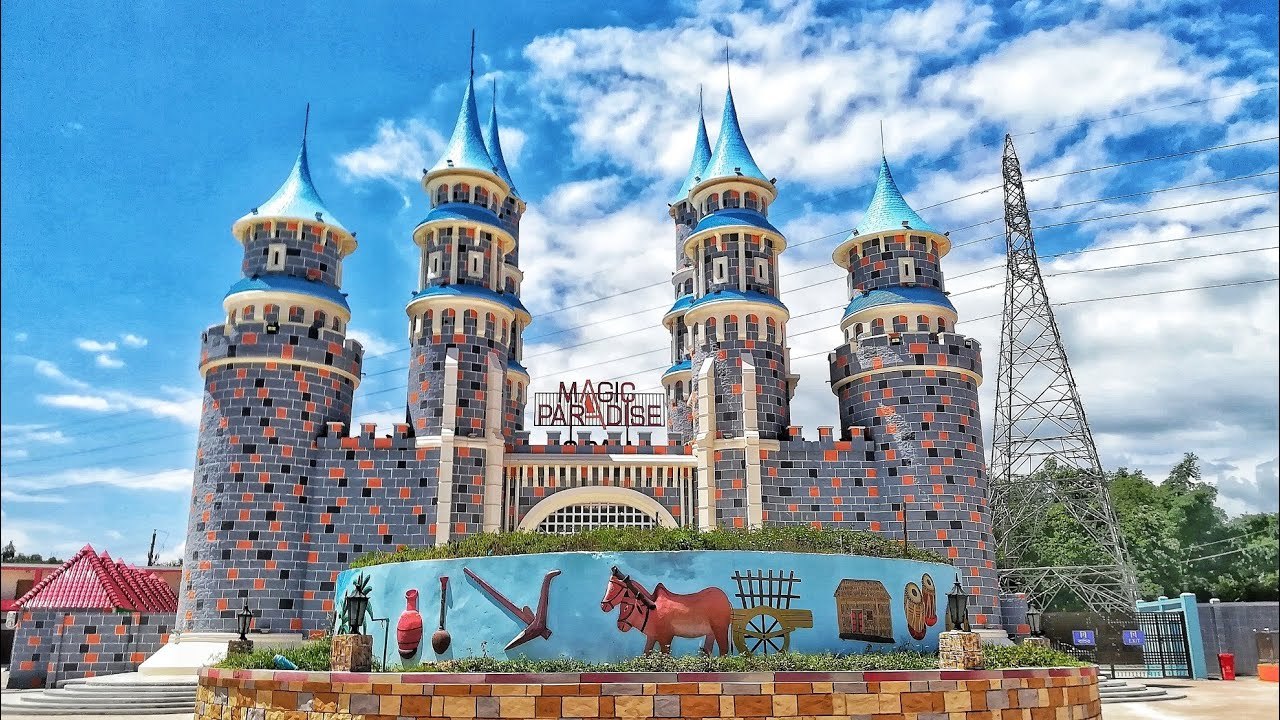 Magic Paradise Park is a recreation center located in the Kotbari area of the Comilla district near Dhaka. If you go about one kilometer in front of Comilla University, you will see a new empire in the Kotbari forest. The huge gate is modeled like Disneyland (the largest theme park in the world).
Magic Paradise Park has a water park, more than 20 different rides, dinosaur parks, picnic spots, and this is one of the amusement parks in Bangladesh.
Magic Paradise Park Of Comilla
The monotonous park is a combination of simple green nature and artificial touches. A huge merry-go-round as soon as you enter. It's like sitting on the top and watching the whole park. Besides, there are various rides for children and teenagers including trains and roller coasters in the park.
The park claims to be the largest artificial wave pool in Bangladesh. Loud songs, the joy of jumping in the waves can not explain by telling. There are also special arrangements in the water pool for children.
There are three water rides on small hills that you will love. However, for those who had been gone to the Water Kingdom of Fantasy / Nandan, the ride will seem comparatively less for them.
Dinosaurs will be called as soon as they climb the stairs of the mountain. The dinosaurs have been moved through sensors and sound effects have also been arranged. When small children see this, they will be scared. If you climb up without noticing, you too may be scared to think that you have gone to the age of dinosaurs which is thousands of years old.
There is adequate security including food and drink, place of prayers, excellent sanitation, and separate arrangements for men and women. Above all, a captivating environment. You can spend a day with friends or with the kids at this park. However, if you want to be submerged in water, you must take extra clothes. The park is still under construction.
Tickets Price Of Magic Paradise Amusement Park:
Entry Fee – 200Tk
Water Pool – 300Tk
Any Ride – 100Tk
If you go to the package you get – entry + any three rides of choice + water pool. In that case, you will save 300 Tk.
How To Go Magic Paradise Amusement Park
From Dhaka, take a bus to Comilla Paduar Bazar and get off at Kotbari Bishwaroad. In this case, AC bus fare will be 250Tk and the non AC bus fare will be 150/200 Tk. It will take 20-25 minutes to reach the park gate by auto / CNG from Kotbari. The rent will be 25-30 Tk per person or 150-160 if reserved.
On the way back you can visit Mainamati Museum, Bird, Buddhist Temple. Your one day tour will be forever memorable.
Related Topic People Search More About:
magic paradise park location
magic paradise park contact number
magic paradise park entry fee
magic paradise opening time
Comilla dinosaur park ticket price
magic island ticket price
amusement park in Bangladesh
the best park in Bangladesh
Related Article: