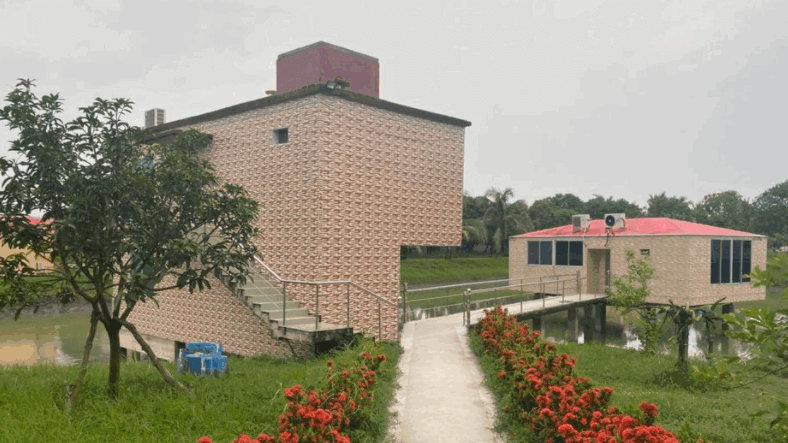 Mozaffar Garden & Resort Mozaffar Garden & Resort is a resort located at Kharibila, just 4 km from Zero Point in Satkhira city, also known locally as Mr. Montu's Garden House. Situated in a picturesque natural setting, the resort is spread over approximately 120 bighas or 40 acres of land.
The resort is quite open and full of many species of plants. There are 9 buildings for guests to stay in, one of which is located on top of a lake. Where there are more than 60 rooms. These well-crafted rooms have all modern amenities like air conditioner, television, intercom, etc. The green land of this resort has walking and seating facilities as well as swimming in the ponds here.

You will also be able to paddle around the lake and spend time fishing. There are playgrounds, three-dimensional zoos, and various interesting sculptures for the young guests who come here. The biggest attraction here is the zoo located at Badminton and Table Resort for the guests of the resort.
The country's largest private zoo has a wide variety of animals and birds that are a great way to entertain visitors. 105 picnic spots, conference rooms, zoos, swimming pools, 30 residential cottages to stay in, mosques, various tree gardens, ponds, and many more fun rides. In fact, it is a theme park.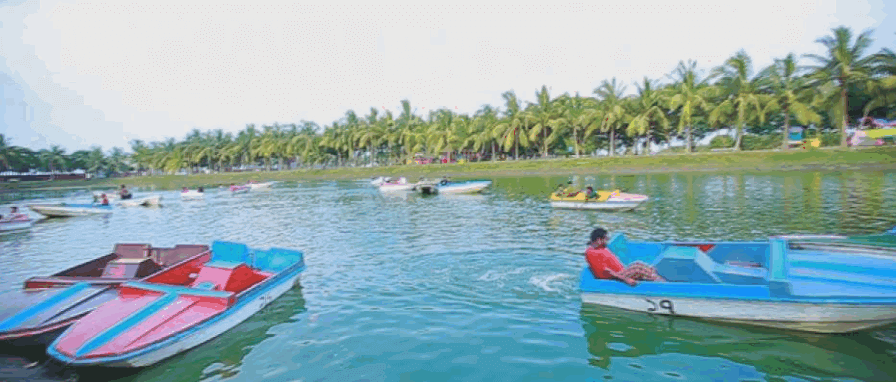 The current entrance fee of Mozaffar Garden & Resort is only Tk 50 which allows you to see their zoo.
Mozaffar Garden and Resort Facilities
Restaurant and Conference Building: A beautiful 3-story building has been constructed inside the Gardette with a restaurant on the ground floor and a meeting/conference facility for approximately 240 people on the 1st and 2nd floors.
There is a dining hall for the guests staying at the guest house where a variety of delicious food is served by the organization's own waiter in a nice and clean home environment at very reasonable prices. In their own kitchen, their chefs cook Bangladeshi / Chinese food. Orders were also taken to supply food to the esteemed party outside.
In the winter season, picnics are arranged inside the garden where travel-thirsty people from different districts of the country come and enjoy picnics or picnics. A total of 105 picnic spots have been set up. There is a separate room for Fresh Up / Changing for men and women who come for a picnic.
There are separate parks for children's entertainment. In the wide lake, there are wonderful arrangements for boat trips by paddle boat. The children's park is decorated with various toy items. There are also toy car arrangements for children at individual spots which are extremely fun and enjoyable for them.
Inside it, there are 6 large ponds/lakes, 1 of which has been prepared as a Natural Swimming Pool. Where guests can enjoy the time by swimming comfortably. Lots of fish are cultivated in all these reservoirs.
There is also the fascinating and spectacular aspect of eating Feeder by fish which is eagerly enjoyed by people who are thirsty for travel. There are 2 types of swimming pools Fish Aquarium. So that the fish of Rang Berang is getting decorated.
Inside the tourist center, there is a mini-zoo with a variety of domestic and foreign species of animals and birds.
There are 625 delicious mango trees, 620 coconut trees, and 628 mahogany trees in the garden. Also, litchi, apple, orange, palm tree, and cool trees have been planted.
For the convenience of the visitors, the required number of bathrooms, drinking water, and beautifully tiled benches have been made.
Two beautiful Panjegana mosques have been built to facilitate the prayers of devout Muslim men and women.
The organization has its own security personnel always working to ensure the safety of the visitors. Especially if necessary, the cooperation of the police is taken.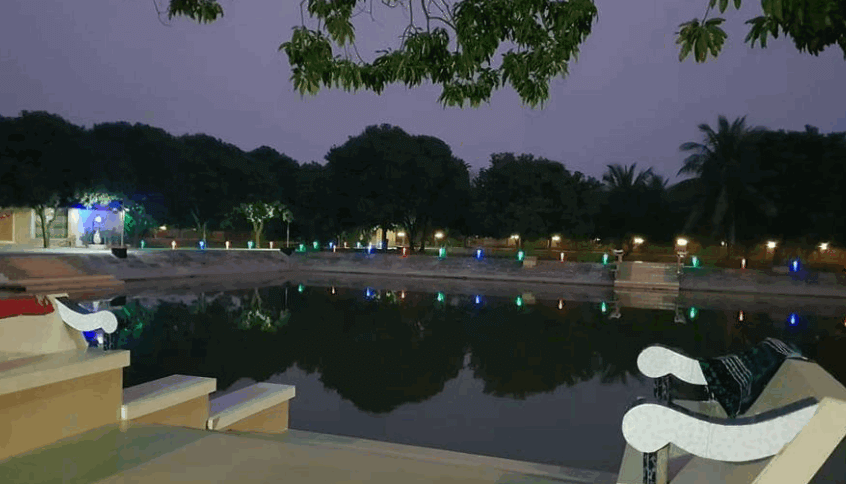 Accommodation Of Mojaffar Garden Resort
Mozaffar Garden & Resort has 6 cottages with the internet, TV, fridge, geyser, and other facilities:
Raktakarbi,
Dolan-Champa,
Bagan Valley,
Sandhya Malati,
Kanak Champa and
Honeymoon Cottage.
In addition to the cottages, there are many common rooms, including 18 air-conditioned rooms. Honeymoon Cottage Package Tk. 500 to 2,500 per day for other cottage rooms.
Eating – Drinks Facilities
Eating – Drinks are available at restaurants located inside the resort. In addition to local food, Chinese, Moghlai and other dishes are also available at the resort's multi-cuisine restaurant. There are also barbecues and garden banquet facilities.
Way To Go The Resort & Garden
There is a bus from Dhaka to Satkhira. Sohag Paribahan, Satkhira Express, SP Golden Line, Hanif Enterprise, AK Travels, Green Line, Eagle Paribahan, Mamun Enterprise, Saudia Paribahan have AC and non-AC buses from Kalyanpur, Malibagh, and Gabtali. The resort is located 5 km away from Satkhira city. So you can easily go by rickshaw/auto.
Contact:
Mozaffar Garden 93 Suhardi Avenue, Baridhara, Dhaka 01712104439
Resort Address:
More Traveling Places: 
Frequently Asked Question:
Resort in satkhira
Mojaffar Garden in Satkhira
মন্টু মিয়ার বাগান বাড়ি, সাতক্ষীরা।
মোজাফফর গার্ডেন।