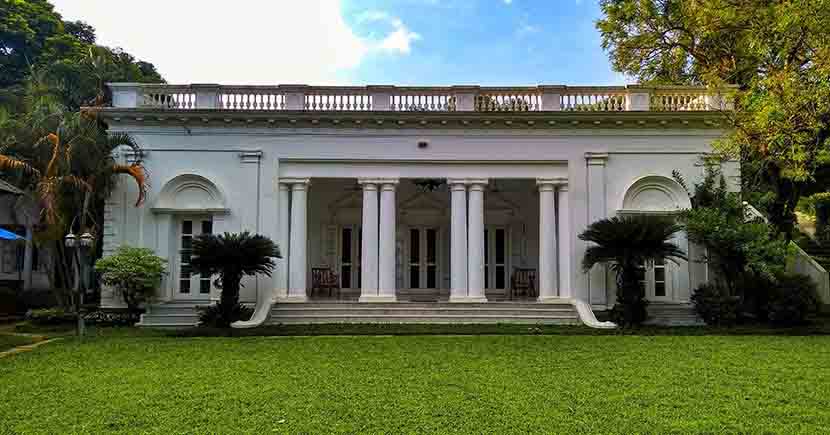 Monu Mia Zamindar Bari is located at Ghorashal in Palash upazila of Narsingdi district. For strangers, it is easier to find Manu Mia's zamindar house than Ghorashal zamindar's house. The locals know this name well. Although Monu Mia is called Zamindar Bari, Ghorashal Zamidar Bari consists of three separate houses.
The three adjoining houses are Maulvi Abdul Kabir's house, Nazmul Hasan's house and Monu Mia's house. However, Monu Mia is known as a prominent person of the area. The age of this historic installation is about 247 years. The house was built in 1176 BS. Its founder was Zamindar Sajda Mia.
The successor of this dynasty was Ahmadul Kabir Monu Mia, son of Abu Yusuf Lutful Kabir alias Fenu Mia, the zamindar of Ghorashal.
Born in 1923. Salimullah was the sports secretary of the Muslim Hall in 1942-43 and the first vice-president of the Dhaka University Central Student Parliament Daksh in 1945-46.
Monu Miya Zamindar Bari
He graduated in Economics and joined the Reserve Bank of India. In 1950, he joined the Ministry of Commerce of Pakistan. In 1954, he became the managing director of the daily Sangbad. In 1972, he became the news editor. He became the editor-in-chief in 2001 and served until his death.
In 1979 and 1986, he was elected Member of Parliament as an independent candidate. He died at the age of 80 in 2003 at the Apollo Glengale Hospital in Kolkata.
There is no way to understand from the outside of the Monu Miya zamindar's house, which is spread over an area of ​​about 10 acres, what amazing beauty is waiting inside. As soon as you enter, you will see the mosque on the left side first. Each house has wonderful craftsmanship and is painted in white.
At the same time, the green grass and the expanse of trees give a unique beauty. Inside there are two ponds paved in an allison way. There are numerous lamp posts. There are also many flowering plants and 4 types of wood rose flowering plants. Monu Miya's open environment and trees are the main feature of this house.
Looking at the interior environment, one can understand how tasteful and comfortable the owner of the house was. This open and tidy house of Monu miya will fill your mind with peace. You won't have much trouble seeing houses 2 and 3, but go and get permission to enter and take pictures. And if you want to see the house No. 1, you will enter the gate with the permission of the doorman.
How To Go Monu Miya Zamindar Bari
If you want to go by bus from Dhaka, you have to take the bus to Narsingdi and get off at the bus stand at Panchdona turn of Narsingdi. Then gorashal by CNG / bus ride. When you reach Ghorashal, you have to ask the locals and they will show you the zamindar's house. CNG fare is 50-60 Tk.
Besides, those who want to go from Tongi or Abdullahpur, they have to get off at Ghorashal Bridge on their way to Narsingdhi via Tongi Abdullahpur. Go down the stairs from the bridge and go straight to Monu Miya Zamindar's house by renting an auto or CNG for 10 Tk. From Dhaka's Mohakhali bus terminal, many buses including PPL, Badshah, KTL, Chalanbil leave for Narsingdhi every hour. Rent 70-80 Tk.
Besides, those who want to go by train, take the local train from Dhaka (Kornafuli train) and get off at Ghorashal railway station. The rent will be 20 tk. Ghorashal zamindar's house can be easily reached by rickshaw or auto from the railway station.
Read More Articles:
Also Read: