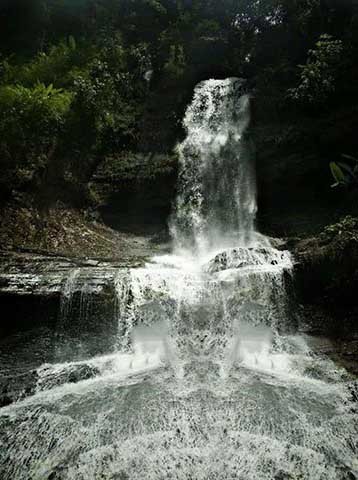 Gaskata Waterfall is located in Bilachhari Upazila of Rangamati district. It is also known as Dhondtang Jharna. In a word, it is extraordinary towards beauty.
The trail of this fountain is quite beautiful, and there are some quite large cascades. Interestingly, in addition to the tree-lined fountains, you can see muppochhara, dhup pani, n-cata. You can cover everything in 2 days.
Gaskata Jharna Of Rangamati
Those who visit Bilaichhari come back after seeing the highest muppochhara, dhup pani, n-cata fountain, but no one goes to see such a beautiful fountain as Gachakata.
The biggest thing is that next to its fountain there is another fountain which is a bit smaller in size but beautiful. It will take about 4-5 hours to go to the waterfall.
Must Have For Travel:
Voter ID Card (1st priority)
Otherwise photocopy of College / Varsity ID, Card or Birth Certificate / Passport
Adequate Polythene
Trekking Shoes / Sandals
How To Go Gaskata Fountain
You have to take a direct bus from Dhaka to Kaptai at 10 pm. The fare is 550 Tk. So that you can catch a local boat from Kaptai to Bilaichhari at 8.30 am. Because the next local boat is at 10:30. You can also take a reserve boat if you want. In that case, the rent is 1000-1500 Tk.
After arriving Kaptai in the morning, have breakfast in the morning, and get a return ticket at 8:30 the next night. Because this is the last bus from Kaptai to Dhaka. Kaptai Ghat is just a short walk from the bus stand. The boat leaves at 8:30. The rent is 55 Tk.
In this boat journey of about 2 hours, the beauty of Kaptai Lake will make your night bus journey forget a lot. The first check post of the army will be on the way. You have to show your national identity card there. You will reach Bilaichhari between 10:30 am and 11 am.
From there you can go straight to the hospital ghat. There you will find 'solitary boarding' to freshen up. Double bedroom for 4 people 500 Tk and a single bedroom for 2 people 300 Tk.
Then fix the boat for two days. Boat rent for 4 fountains in 2 days is 2800-3500 Tk. Get ready in 15-20 minutes at the hotel and get on the boat. Before leaving, take a packet of lunch from the hotel called 'Bhatghar' (fried eggs + Alu Bhorta+ Dal+ rice = 65 rupees).
After 30 minutes of leaving the trawler, you will reach the top of Muppochhara Trail (Bangalkata). If you tell the boatman, the boatman will fix the guide (500 Tk). After trekking for about 1:30 hours you will reach Muppochhara. On the way, you will see 5/6 small fountains. You will come by boat to see the beauty of Muppochhara waterfall.
After walking for a while, you can get off the boat and walk for another 1:30 hours to see the tree-lined fountain. In this case, no guide will be needed because the boatman will take you, talk like that. In this way, you will return to the hotel after completing the first day's journey.
Let me say here that if you do not take advantage of the time, you will not have time to visit the Gaskata / Dhand Tang fountain. In this case, you can spend time in the afternoon by boat around Kaptai Lake.
Root Plan Of Gaskata
Dhaka – Kaptai Jetty – Gaskata Army Camp – Dochharipara. From here you have to trek to Dhandatang / Dhandatarang Jharna.
Where To Stay:
In Bilachhari, a residential hotel called "Swapna Bilas" where you can stay in 200 Tk. In addition, you can stay in solitary boarding at the hospital dock.
Attention While Travling:
You must move with the times. Because of the local boat here, the return bus from Rangamati (8:30 pm) leaves at the right time. There is no SIM network other than Teletalk and Robi. And must take the first aid box and some medicine with you.
More Traveling Place:
Frequently Asked Question:
Rangamati tourist spot
Rangamati resort
Rangamati kaptai lake
Rangamati boat service
Hanging bridge rangamati
Shuvolong waterfall rangamati
Rangamati khagrachari