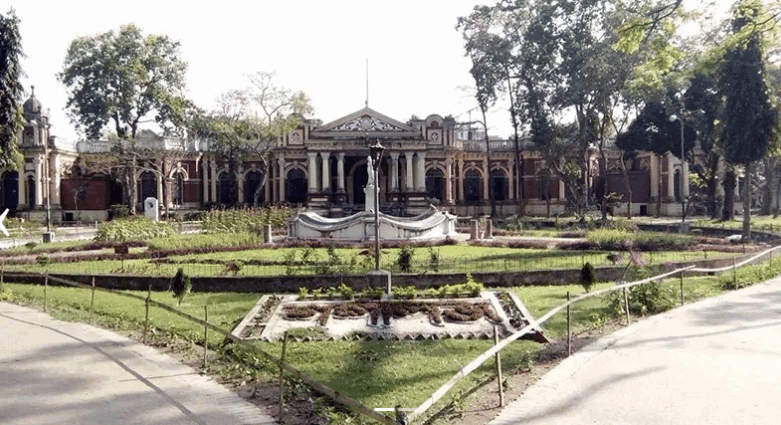 Shashi Lodge is a wonderful creation of Maharaja Shashikanta Acharya Chowdhury. Which is also known as Rajbari of Mymensingh. Upon entering the main gate of the Shoshi Lodge, the Greek goddess Venus, made of marble, stands in the front courtyard as if to greet her with both hands. Suryakanta Acharya Chowdhury was the original founder of this palace established on 9 acres of land. The two-story building was named after his son Shashikanta Acharya Chowdhury Shashi Lodge.
This famous building was completely destroyed by the Great Indian Earthquake in 1897. In the same place, his adopted son Maharaja Shashikanta Acharya Chowdhury started construction of the new Shashilaj in 1905. In 1911, he completed some more renovations in the beautification of Shashi Lodge. At present, the Shashilaj building is being used as Mymensingh Mahila Tirchas Training College. Although Shashilaj does not have that previous Shri, it has retained its previous tradition.
Shoshi Lodge Zamindar Bari
Shashi Lodge with 16 huge houses. The building with verandah and corridor will not be less than 50,000 square feet. The floor of the whole building is made of marble stone. There is a carved iron staircase to climb to the roof. Running water lines are drawn throughout the building. There are also modern toilets inside the building. Much of the building has not yet been demolished as it was used as a teacher training center. There is a pond at the back. A small two-story building for breathing air on the bank of the pond. The stairs are decorated with many features. Two toilets with commodes on each side on each floor. Now there is no commode. But there are still pipes, water tap lines, commode lines. There are 2 round pillars inside the pond on both sides of the paved stairs.
Seeing this pillar wrapped in marble stone, it seems that once upon a time, people used to sit here and breathe air. There is a round cloth changing house on the bank of the pond. Around the lodge, there are still some elaborate trees standing as witnesses of the period. The boundary wall built more than 100 years ago is still almost intact.
How to Shoshi Lodge Zamindar Bari
You can travel from Dhaka to Mymensingh by both road and rail. There are two types of buses from Mohakhali in Dhaka, local and gate lock. Get off the bus at the Masakanda bus stand. From there you can go by auto or rickshaw. Besides, rickshaws/autos can be taken from any part of Shashilje town located in the big market of Mymensingh city. If you ask the locals, they will show you this once famous building. If you want to travel to Mymensingh by train from Dhaka, Teesta Express (8:30 am), Mohanganj Express (2:20 pm), Jamuna Express (4:40 pm), Brahmaputra (6:00 pm), and Haor Express (which is your preferred train at 11:50 pm) You can go to Mymensingh. The rent varies from 120 to 360 Tk. It will take 3 to 4 hours to go. You can go to Shashi Lodge by renting a rickshaw from the railway station for 20-25 Tk.
Where To Stay At Mymensingh
You don't need to stay where you are. You can come day by day. However, there are several hotels in the city to eat at. You will find all kinds of good, medium and cheap hotels. Choose anyone as per convenience.
City Vehicles For Traveling:
There are rickshaws, battery-powered autos, tempos, private cars, and microbuses for commuting within the city. Rickshaws and autos are a bit more in the city so the traffic is a bit more.
Visit More Traveling Places:
Frequently Asked Question:
Mymensingh teachers training college admission
Shoshi lodge wikipedia
গৌরীপুর লজ
ময়মনসিংহ মহিলা টিচার্স ট্রেনিং কলেজ ভাস্কর্যের ইতিহাস
মুক্তাগাছা জমিদার বাড়ি
আলেকজান্ডার ক্যাসেল
ময়মনসিংহের জমিদার
শশী লজ ময়মনসিংহ
শশীলজ কোথায় অবস্থিত