Pattaya is a beach city in Thailand. It is one of the most popular tourist destinations in Thailand and a major hub for the country's tourism industry. Let's know about Pattaya Thailand Travel Guide for traveling safely.
Pattaya has a long history dating back to the 17th century. The city was once a fishing village, but it transformed into an international tourist destination in the 1960s with its white-sand beaches and blue water. Pattaya has grown from just being a small town with few buildings to one of Thailand's most cosmopolitan cities today.
Pattaya is home to some of the most luxurious hotels, resorts, and spas in Southeast Asia as well as some of the best restaurants that offer international cuisine from all over the world.
Pattaya is a city located about 156 km from Bangkok, Thailand. Pattaya is known as one of the honeymoon spots in Asia. A colorful city with a different view of the sea. And the beauty of Pattaya attracts millions of tourists every year in this beautiful beach town of Thailand.
More Traveling Places For Visit:
Traveling Places In Pattaya Thailand
Pattaya is a perfect destination for those who want to relax and enjoy the sun on the beach, as well as for those who want to enjoy the nightlife in this city.
The name "Pattaya" is associated with all the entertainment arrangements. What is not in this city? If you want, you can relax in the deckchair of the sea beach and look at the sea from the village or you can eat all kinds of tempting food from the restaurant next to the beach. If you want, you can also enjoy the thrilling experience of paragliding, and you can also enjoy a sunny day bath.
There is no shortage of places to visit in the whole city if you do not lack time and money. Although Pattaya Beach is the main attraction of the city, there are many places to visit in the middle of the city. Places to visit in Pattaya are:
Nong Nochtropical Botanical Garden: Everyone from young to old would love to visit here. The garden is actually a combination of several gardens, including the 17th century French Gardens, the European Renaissance Gardens, and a variety of different gardens, the Orchid Flower Gardens. There are also live shows where you can enjoy sword fighting, traditional Thai dance, and Thai kickboxing.
Nong Nochtropical Botanical Garden, also known as the Pattaya Beach Garden, is a botanical garden in Thailand. It is located on the southern end of Pattaya Beach in Chonburi Province.
It was originally established as a public park in 1983 by the City Council of Pattaya. The garden covers an area of 2 hectares and includes a wide variety of plants and flowers from all over the world.
The garden has been well-known for its beautiful landscape and has been used to film various movies, TV commercials, and music videos.
Sanctuary of Truth: This whole architectural art is made of wood. This beautiful building has been constructed for the purpose of paying homage to ancient religion and philosophy. By visiting this place you can see Thai cultural events, Thai boxing as well as speed boats and elephant or horseback riding.
Jomtien Beach: Located 4 km from the city, this beach offers sunbathing as well as thrilling experiences like jet skiing, kits surfing, parasailing, and windsurfing.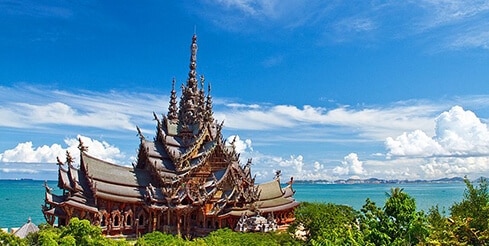 Sanctuary of Truth is a spiritual retreat that has been built on the beautiful shores of Pattaya Beach, Thailand. The center is open to all faiths and religions and offers meditation, a library, and peace.
The Sanctuary of Truth is not just about spirituality. It also offers an array of holistic treatments for the mind, body, and soul, with an emphasis on Ayurveda. Guests can enjoy spa sessions, yoga classes, or even a Thai cooking class – all in a tranquil environment with stunning views over the sea.
Khao Chi Cyan (Buddha Mountain): This mountain is a religious symbol for the devout people of Pattaya. There is a picture of Gautam Buddha carved on this mountain. The nature of the side of this mountain is also beautiful to see.
Khao Chi Cyan or Buddha Mountain is a small and serene Buddhist temple that offers a great view of Pattaya Beach. It is situated on top of the hill, which is about 2 kilometers away from the beach.
The best time to visit this temple is during sunset. The sunsets are always beautiful and often provide breathtaking views of the beach below.
Big Buddha (Wat Phra Yai): An 18-meter-tall Buddhist statue built on Pratumnak Hill in South Pattaya, 100 meters above sea level. At the top of this hill is Pattaya View Point. It offers beautiful views of Pattaya City and the sea.
The Big Buddha is a large statue of the reclining Buddha located on the beach in Pattaya, Thailand. This statue is one of the most popular tourist attractions in Thailand, and it has become an iconic symbol for the country.
The Big Buddha statue was built in 1996 on land donated by a Thai businessman and was completed in 1997. The construction was funded by donations from Buddhists around the world, as well as other sources of funding. The statue weighs over 550 tons and is made from cast concrete faced with marble imported from Italy. It is 55 meters long and 27 meters wide, which makes it one of the largest statues of a reclining Buddha in the world.
Underwater World Pattaya: Thailand's first modern underwater aquarium, where you can see carp, sharks, and sharks up close as if you were floating in the water with them.
Pattaya is a coastal city in Thailand. It is located on the Eastern Gulf Coast of the Gulf of Thailand. Pattaya's beaches are well known for their clear water and white sand, making them among the most popular tourist destinations in Thailand.
Underwater World Pattaya was opened in 2016 and it has been a huge hit with tourists ever since. This aquarium has more than 20,000 sea creatures from more than 200 species and it is one of the largest aquariums in Southeast Asia. The aquarium has three floors and visitors can explore its underwater world through interactive exhibits, touch pools, live shows, feeding sessions, games, and more.
Koh larn Island (Coral Island): Another beautiful beach like Pattaya Beach is Coral Island. There are basically a few beaches together so if you leave in the morning you will get a good view of the island. The ferry leaves Coral Island from the end of Walking Street, taking 40 to 50 minutes. The island is also accessible by speed boat from Pattaya Beach.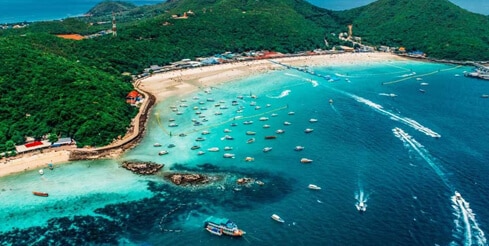 Koh Larn Island is a small island in the Gulf of Thailand and it's about 12 km from the popular resort town of Pattaya. The island is famous for its beautiful white-sand beaches, blue water, and its friendly atmosphere.
The island has a small village that is home to many Thai families. Koh Larn Island has many hotels, resorts, restaurants, and bars. You can also find many shops that sell souvenirs, clothes, and other items.
More Visiting Places In Thailand Pattaya
Mini Siam: From this Mini Siam you can come back to see the wonderful creations of the world including Thailand. It is home to the Victory Monument in Bangkok, the Wat Arun, the Statue of Liberty in New York, the Tower Bridge in London, the Opera House in Sydney, and the Arc de Triomphe in Paris. However, booking has to be done one day in advance.
Repleys Believe It or Not Museum: All the strange, beautiful and responsive things of the world are displayed in this museum. This museum in Pattaya is a place of special interest to everyone. The entry fee here is 350 baht per person.
Million Years Stone Park & ​​Pattaya Crocodile Farm: This park is surrounded by various bonsai trees, colorful flowers, rocks, and water fountains. Crocodile shows are held innumerable times every day according to the needs of the audience. There are many other animals besides crocodiles.
Walking Street: This walking street is the center of entertainment in the city of Pattaya. The walking street, which is silent during the day, takes on a different look at night. Here you will find a colorful city with a variety of entertainment facilities.
Art in Paradise: It's basically an illusion museum and a perfect place for photo lovers. Art in Paradise is a contemporary art gallery located in Pattaya Beach Thailand. It features a wide range of artworks from various artists and styles.
Art in Paradise is the first contemporary art gallery to open in Pattaya Beach, Thailand. The gallery is well known for its diverse selection of artwork, which includes paintings, sculptures, and photography. The gallery hosts a number of exhibitions throughout the year.
Pattaya Floating Market: In this floating market you will find various things. The Pattaya Floating Market is a must-visit destination for those who want to experience the traditional Thai way of life. It is located in the heart of Pattaya, Thailand.
The market has been operating since 1983 and attracts more than 100,000 visitors each month. It is open from Wednesday to Sunday from 08:00 to 18:00 hours and can be reached by taking a boat from the Walking Street Pier or the Pattaya Beach Pier.
Pattaya Floating Market is a bustling marketplace with vendors selling fresh produce, flowers, clothing, food, and souvenirs. Visitors are also able to see how locals live on their boats as they walk through this maze of boats that are connected by wooden walkways over water.
Tiger Park: Here you can participate in a fun game-like catching tigers through different packages. Pattaya Tiger Park is the largest zoo in Thailand. The park was opened in 1994 and it has been a popular tourist attraction for both Thai and international visitors.
Pattaya Tiger Park offers a variety of attractions for guests to enjoy, including a safari ride, elephant show, crocodile farm, monkey show, bird shows, and more. The park also houses animals from around the world including tigers, lions, leopards, rhinos, and elephants.
There is no shortage of clubs throughout the city of Pattaya. Some of the notable clubs are Mix Discotheque, Planet Earth Beach Club, Club Insomnia, Limalima, Airport Club, FFlic Cliff & Pool Club, The Pier Disco Club.
There are many types of parks in the city where children and adults can have a lot of fun. Such as Chan Siam Park, Ramayana Water Park, Cartoon Network Amazone, Amazon Fishing Park, and Three Kingdom Park. There are also various cultural and festival shows in the city throughout the year.
For example – Alangkarn Pattaya Show, The Tiffany Show. Watching these shows will give you a good idea about the culture of Thailand. You can also visit places like Elephant Village, Teddy Bear Museum, Central Festival Pattaya Beach, Anek Kusunsala, Konlanta Island, Pattaya Park Tower, Wat Yansangwararam, Pattaya Dolphin World, Mimosa Pattaya.
How To Go Pattaya For Traveling
Pattaya is a seaside resort city in Thailand. Pattaya is also a popular tourist destination. The best way to travel to Pattaya is by air. There are several airlines that offer flights from Bangkok and other major cities in Thailand to Pattaya. The most popular airline for this route is Thai Airways, which offers flights from Bangkok and Phuket every day of the week.
There are also buses that go from Bangkok and other provinces near Pattaya. Just make sure you book your tickets ahead of time or else you might not be able to get any seats left on the bus!
The distance from Bangkok to Pattaya in Thailand is 156 km. From Bangkok to Pattaya you can take a Thai domestic plane or bus. It takes about 1.5 hours to reach Patta by plane and about 4 hours by bus. By bus, tickets to Pattaya are available at Level 1 of Level 1, Suvarnabhumi Airport. The rent is 300 rupees in Bangladeshi rupees and 120 baht in Thailand. A big advantage is that you will get an hourly bus service till 10 pm. If you want to go around in a group, you can go to Pattaya from Bangkok city by renting a car. In that case, it will take about 2 hours.
Traveling Cost Of Pattaya Beach
The Pattaya region is a popular destination for tourists. The city has a lot to offer with its beautiful beaches, shopping malls, and nightlife.
The cost of traveling to the Pattaya region depends on how you get there. If you are coming from Bangkok, then it is going to cost you about $160 USD for roundtrip airfare. If you are coming from Chiang Mai or Chiang Rai in Thailand, then it will cost about $120 USD.
If you are coming from the United States or Europe, then it will cost about $400-500 USD for roundtrip airfare and accommodations.
Travel Cost From Bangladesh: If you buy a flight ticket from Dhaka 1-2 months ago, you will have to pay 16000 to 18000 rupees including a return ticket. If you stay in a hotel with 3/4 people, you will get a hotel within 1200-1500 baht. There is a separate cost for parasailing and snorkeling. Exciting rides cost 500 baht per person and snorkeling costs 1200 baht per person. It will cost 34000-36000 rupees to visit Pattaya city of Thailand for 4/5 days alone. And if the group of 4/5 people matches, the cost will be between 26,000-30,000 rupees. But of course, personal expenses are different.
Hotels, Resorts, and Costs
There are several hotels in the Beach Area and Walking Street to stay in Pattaya. For example, you will get a room for two people between 1000-1500 rupees in Golden Sea Pattaya Hotel, Pattaya Garden Hotel, Jing, Jumten Morningstar Guest Room, Pattaya Blue Sky Hotels. And if you go to Pattaya with 4/5 people, you can get a good 4-star hotel between 2500-3000, in that case, the cost will be quite low and you will get many additional benefits of a 4-star hotel. There are also several hotels to stay in on Coral Island.
Where to Eat and What to Eat
The food of the locals in Thailand is mainly Chinese and Thai. However, this Chinese food is very different from the type of Chinese food that we are usually accustomed to eating in Bangladesh and there are many differences in taste. So only those who are accustomed to eating the original Chinese food can eat this food. However, you can try to get a taste of different foods. There are also pizza huts, McDonald's where you can easily eat a variety of fun chicken items.
And there are several restaurants near Pattaya Beach. Here you will find various types of seafood such as. And on the side of the road, you will find some brand new strange food here. There are a variety of insects, from fried snakes to snakes, which the locals love to eat. And if you want to eat Bengali food exclusively, then there are several Bengali restaurants along Walking Street or Beach Road. You will also find super shops like 7 Eleven and Family Mart on the side of the road, here you will find good food at low prices. The Tom Yum soup here is pretty fun.
Shopping In Thailand Travel
Here you can buy local handicrafts, silk clothes, jewelry, bags, shoes, and various types of electronics. At Pattaya Night Market you will find a variety of Thai items. This market is good for buying souvenirs or warm clothes.
Pattaya's Main Attractions
Pattaya is a city in Thailand that is most famous for its nightlife. Pattaya's main attractions are the beaches, the nightlife, and the shopping.
The beaches in Pattaya are some of the best in all of Thailand. They are clean, safe, and well-maintained. The nightlife in Pattaya is legendary. The city has a wide selection of bars and clubs that cater to every taste and budget. Shopping is also a big attraction for visitors to Pattaya because it offers everything from high-end department stores to street markets with knock-off goods at bargain prices.
Thai spa, paragliding, snorkeling, sunbathing, and the night Pattaya town. The para-sailing hall will tie you to a parachute with a rope and then take you across the sea in a speed boat. For those who love thrill and adventure, a ride parasailing is definitely worth a look.
Again, if you want to know the unknown secrets of the sea, you can go snorkeling or scuba diving. It is a thrilling experience to go deep into the sea and see all kinds of aquatic animals, fish, and plants through an experienced guide. They have the necessary security measures as well as the opportunity to take pictures, video and.
Pattaya Travel Tips
Pattaya is not a place you want to miss out on. This city is full of charm, culture and beauty. It has everything you need for a perfect holiday. Here are some of the best tips for your Pattaya travel:
Start your day with the best breakfast at one of the many cafes in town.
Visit Jomtien Beach and have a swim in the clear blue water.
Go shopping at Walking Street or Central Festival Pattaya Beach.
Visit Saen Sabai Market to get an authentic Thai experience.
It is best to take a Thai currency bath with you when leaving Bangladesh. The added benefit is that it is easier to buy a new SIM at the airport, and also to hire a taxi.
You can take someone with previous experience as a traveling companion, it will cost a lot less.
Everything in Thailand costs a lot. So try to buy a little negotiating.
Locals in Thailand understand English less. So you can learn some simple words or keep a small notebook with you, it will be convenient to talk.
It is very hot in Pattaya. For this, go around with suitable sun protection.
You have to walk a lot to see the city and enjoy the real beauty of the beach. For this reason, after a while, a massage shop will be seen in Pattaya city. You can try foot massage and head massage.
However, you must take care of your important things at your own risk because many people lose or steal things while massaging.
It would not be right to paralyze someone with a weak heart. In that case, it is better to skip parasailing or paragliding.
Scooty rental will take you around Coral Island to see all the beaches.
If you want to go to Coral Island, you have to book in advance for the package. The package includes food and drinks from Pattaya to Coral Island. So you have to book one day before the day you go.
To go to the temple in front of the Buddhist mountain, one has to wear proper clothes so that the legs are completely covered from the shoulders of the body.
This is the complete guide for traveling in Thailand Pattaya. if you have more to know about Pattaya Thailand then let us know in the comment section.
FAQs:
Which Airport for Pattaya Thailand?
Pattaya is a coastal city in Thailand. It is the country's second-largest city and an international tourist destination.
There are two airports in Pattaya, both of which are located outside of the city. The nearest airport to Pattaya is Suvarnabhumi Airport, which is about 30 kilometers away from the city center. The other airport near Pattaya is U-Tapao Airport, which is about 45 kilometers away from the city center.
How Much Would It Cost to Travel to Thailand?
The cost of travel to Thailand depends on the type of travel and the length of your visit.
There are four types of travel: business, short-term leisure, long-term leisure, and retirement.
Business travelers would spend an average of $1,500 per week for a 3-week visit. Short-term leisure travelers would spend $2,000 per week for a 3-week visit. Long-term leisure travelers would spend an average of $3,000 per week for a 6-month visit. Retirement travelers would spend an average of $4,200 per month for a 6-month stay in Thailand.