Nagarpur Zamindar Bari (Nagarpur) which is known to the locals as Nagarpur Chowdhury Bari. Jadunath Chowdhury started zamindari in Nagarpur on the basis of zamindar Subiddha-Khan on about 54 acres of land in Nagarpur Upazila of Tangail district. Jadunath Chowdhury has three sons – Upendra Mohan Chowdhury, Jagadindra Mohan Chowdhury, Shashank Mohan Chowdhury. The British government conferred the title of Roy Bahadur on Satish Chandra Roy Chowdhury, the eldest son of Upendra Mohan Chowdhury, in recognition of his services to the common people. The younger son Suresh Chandra Roy Chowdhury is relatively westernized. He was a man of fancy nature than many. He was very sporty. He was the founding secretary of the East Bengal Club, the famous football team of the sub-continent.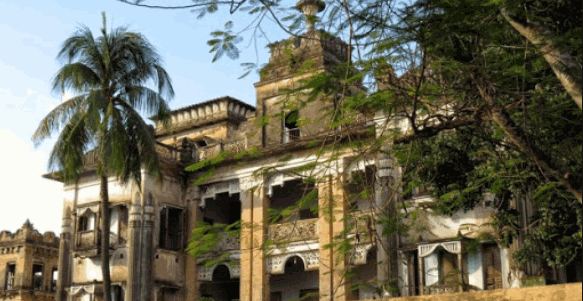 After the partition of the country in 1947, the then government acquired all the assets of the Chowdhury House. The entire interior of the building is built of lovely white stone. At present Nagarpur Women's Degree College has been established in this main building of Chowdhury Bari.
Structure Of Jamidar Bari
Living room: Nahabatkhana was above the living room building of the zamindar house, which was built in a mixture of western and Mughal culture. The Bhairabi sound of Sanai, which spread from there every morning, disturbed the sleep of the Chowdhury dynasty and the people of the area. It is said that Roy Bahadur's younger brother Suresh Chowdhury was planned to keep Nagarpur in the style of the entire capital Kolkata. There was a lovely zoo next to the Rangmahal of Chowdhury's house. There were decorations – peacocks, cockatoos, deer, carcasses, and finally, tigers (ketki) and lions (dyuti) took place in the zoo at the behest of the amateur Suresh Chowdhury.
Jhulan Dalan: In ancient India, the daily worship of the Mondit Chowdhury dynasty was performed in this Jhulan Dalan. Especially on the lunar day of Shravan in the year, besides religious ceremonies, various kinds of dramas and processions were staged there. It was here that Milon Devi (Milon Kartri), the last representative of the Chowdhury dynasty, was brutally killed by miscreants in the post-independence period while trying to protect the Chowdhury idol Vrindavan Vigraha.
Horse Building: Beautiful horses were kept in Chowdhury Bari for zamindari management and business needs. And this installation is inlaid with artistic craftsmanship to accommodate the horse and its supervisors. Which is known as the horse building of the zamindars.
Way To Go At Nagorpur Jamidar Bari
From Dhaka's Mohakhali bus station, exchange, Nirala, Dhaleshwari, Jhatika, etc. buses go to Tangail. Rent 120 to 160 TK. After boarding these buses, get off at the new bus stand in Tangail and add CNG baby taxis directly to Nagarpur Chowdhury Bari.
Where Will Stay
You can see the sights of Tangail in one day from Dhaka (Day Tour) and return to Dhaka. However, if anyone wants to see the time, you can stay in Tangail Sadar for one night. There are several hotels and guest houses to stay in Tangail. Notable among these are –
Palash House / Night Gandha Residential Hotel, Masjid Road, Tangail. Phone: 0921-53154
Al Faisal Hotel Residential, Masjid Road, Tangail. Phone: 0921-53917
Hotel Sagar Residential, New Market Road, Tangail. Phone: 0921-54306
Afrin Hotel, Masjid Road, Tangail. Mobile: 019182369
SS Rest House, Akuratakur Para, Tangail. Phone: 0921-55160
Palli Bidyut Rest House, Tangail. Phone: 0921-53390
LGED Rest House (Government), Tangail. Phone: 0921-54271
Sugandha Hotel, Old Bus Stand, Tangail. Mobile: 0174-34815
Nirala Hotel, Nirala Mor, Tangail. Phone: 0921-61363
Piasi Hotel, Nirala Mor, Tangail. Mobile: 01711-352493
Hotel for a while, Nirala Mor, Tangail. Phone: 0921-55219
Hotel Aditya (Residential), Madhupur, Tangail. Mobile: 01718-696075
Hotel Dream Touch (Residential), Madhupur, Tangail. Mobile: 0171621799
Shalban Residential Hotel, Madhupur, Tangail. Mobile: 01713482103
Islamia Guest House, Madhupur, Tangail. Mobile: 0191757234
Bhai Bhai Guest House, Madhupur, Tangail. Mobile: 01190985539
Jamuna Resort Limited, Kalihati, Tangail. Phone: 09239-6032-4
Elenga Resort Limited Residential Hotels, Elenga, Kalihati, Tangail. Phone: 02-974322.
Visit Also: Monu Miah Jamidar Bari