Tuinum Jhorna is located in Tuinum Jhiri, Ward 9, Kurukpata Union, Alikadam Upazila, Bandarban. The Mro community lives in the area. In their language "Tuinum A". In the Mro language "you" means water, "num" means black, and "a" means jhiri. That means "Tuinum A" means "black water jhiri". Bamboo is cut from the top of this fountain and rolled down on one side, so many people call it a long cart. However, it is better known as "Tuinum Jharna". If you go a little further from Poyamuhuri Bazaar to Matamuhuri, you will see Tuinum Jhiri on the left-hand side. If you walk 15/20 minutes along the Jhiri, you will see the fountain.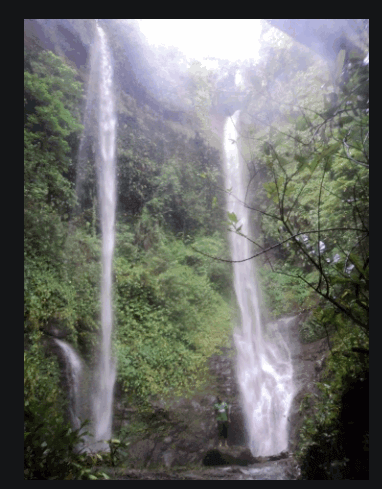 How To Go Tuinum Jharna
Alikadam bus goes directly from Dhaka. Besides, you can take a bus from Dhaka to Cox's Bazar and get off at Chakoria, the fare is not AC 650 TK. Get off the bus or jeep Alikadam. The bus will take 1 hour and 20 minutes. The fare is 60 TK per person. From the Alikadam bus stand, take an auto to the Matamuhuri river trawler wharf next to Alikadam Cantonment. From the ghat, the local trawler goes to Poyamuhuri Bazaar. The time will take about four hours. 300-350 TK per local person just going. Poyamuhuri Bazaar on Sunday. You will get a trawler to Poyamuhuri on Saturday and Tuesday, the day before the market. The return trawler from Poyamuhuri was found on Friday. Will be available on other days and at other times if there are more people. The reserve will take around 5000/6000 TK. When the water level in the river decreases, the rent increases. It is better to take the reserve because of the local go-to the Poyamuhuri market. You have to go further up the river. The biggest thing is to get permission from Alikadam Cantonment. There is no guarantee that you will get permission all the time. Even if you get permission, you have to go back day by day. So it is better to take a reserve and the sooner you can leave, the better. On the way, there will be two camps along the river where the trawler will enter the boatman and another camp above Poyamuhuri Bazaar. So it is better not to go without permission and face any untoward incident. You can also see two fountains before Poyamuhuri Bazaar and another one below Poyamuhuri Camp.
Visit Also: Sairu Hill Resort