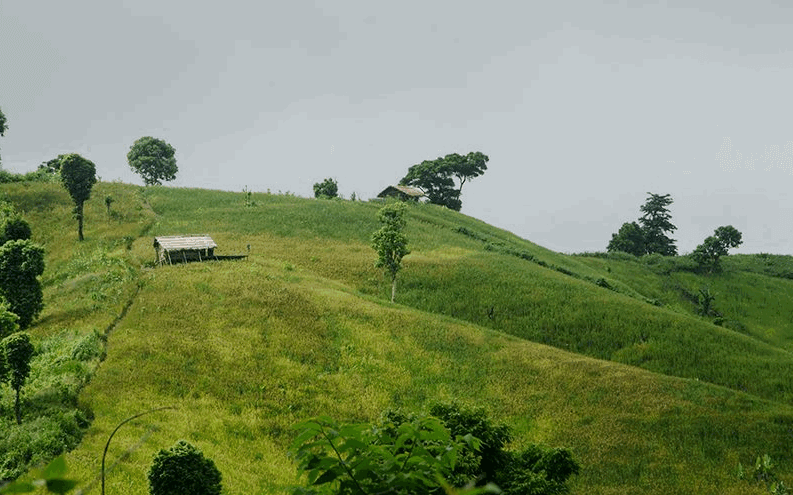 New Zealand Para is located 1.5 km south of Khagrachhari town next to Pankhai Para. The road from Pankhaiya Para to the village of Upper Perachhara is called the New Zealand Road. Greenfields on both sides of the road, this is the only flat land in Khagrachari. The combination of green fields and the hills behind it is an amazing aesthetic beauty. New residential areas are being formed in the hills. Inside the city, there is a combination of hills and paddy fields. The landscape of the area looks like New Zealand. That's why the local people named it New Zealand Para. In this case, it can be said that New Zealand Para consists of Pankhaiya Para and some parts of Perachara.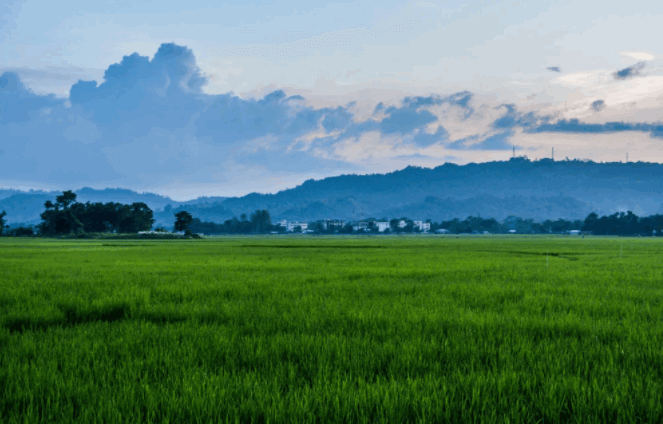 It is as if New Zealand has taken a place in Khagrachari, a piece of the Australian continent. Dark green hills in nature, murmuring rivers, waterfalls in the distance, blue sky above, occasional white clouds, the sound of rain in the rain, the moon-star in the night sky, and the red sun in the light of the day.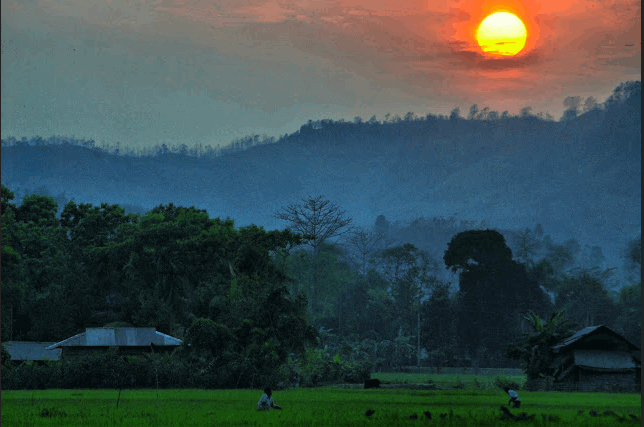 How To Go There Newzealand Para Khagrachari
From Dhaka, you can take Shanti, Shyamoli, Hanif, and other transport buses to Khagrachari. The rent will be 520 Tk. AC buses of BRTC and St. Martin Transport also go to Khagrachhari.
Contact: Saint Martin Paribahan – Arambagh: 01762691341, 01762691340. Khagrachhari: 01762691358. Shyamoli Paribahan – Arambagh: 02-7194291.  Kalyanpur: 9003331, 8034275. Asadgate: 8124881, 912454. Dampara (Chittagong) 01711371405, 01711377249.
Shanti Paribahan – Arambagh (Dhaka) – 01190994007. Oxygen (Chittagong) 01817715552. You can also go to Khagrachhari from Chittagong. BRTC AC Bus (Chittagong) Kadamtali: 01682385125. Khagrachhari: 01557402507.
From Khagrachhari city you can go to New Zealand by CNG or auto, the fare will be around 10 rupees. So if you plan a trip to Sajek, you can visit the New Zealand neighborhood in a short time. You can also see the Hazachara fountain.
Where to eat At Khagrachari
Traditional System Restaurant is located in Pankhai Para near Khagrachhari town. Here you can eat the traditional food of Khagrachari. Contact: 0371-62634, 01556773493, 01732906322.
Where to stay Newzealand Para Khagrachari
Khagrachari has various quality hotels including tourist motels. Tourist Motel: It will be worn as soon as you cross the Chengi River as soon as you enter the city. All the rooms in the motel have 2 beds. Rent: AC 2100 Tk, non AC 1300Tk. AC Suite Room 3,100 rTk. Inside the motel, there is a map of Bangladesh on the ground. However, the AC rooms are being rented as non-AC due to voltage fluctuations due to electrical disturbances in the entire Khagrachhari district.
Contact: 0371-6208485. Hotel Eco Chhari Inn: Located in a hilly environment next to Khagrapur Canterment. This is a resort-type hotel.
Contact: 0371-62625, 3743225. Hotel Shail Subarna: 0371-61436, 0119077612.
Hotel Jerin: 0371-61071.
Hotel lobbyot: 0371-61220, 01556575746, 01199244730.
Hotel artist: 0371-61795.
Read More:
Frequently Asked Question:
New Zealand Para
Pankhaiya Para,(khakhra Powchu)
খাগড়াছড়ির নিউজিল্যান্ড পাড়া