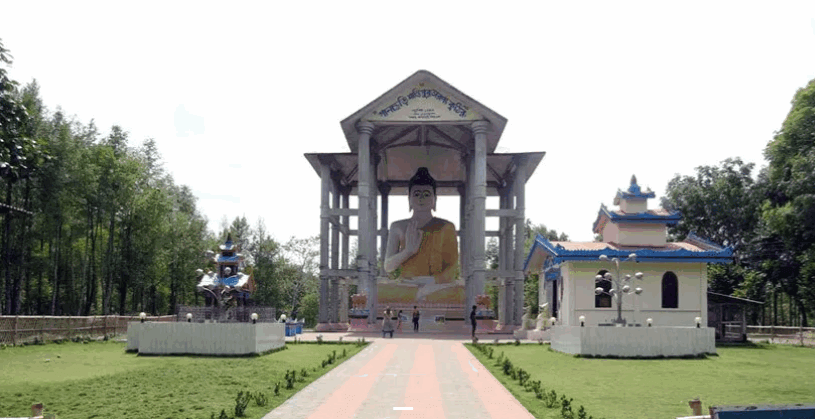 Shantipur forest hut in Panchhari of Khagrachhari district which is a holy place of pilgrimage for Buddhists. Panchari Shantipur Aranya Kutir is a well-known place of pilgrimage for Buddhists on a 65-acre site in the deep forested forest called Shantipur in Ultachhari Union, five kilometers south-west of Panchhari Upazila Sadar. Surrounded by hilly trees, Panchhari Shantipur Forest Cottage has the second largest Buddha statue in South Asia and the largest in Bangladesh. Built-in 1999, the 50-foot-tall Buddha statue took 3-4 years to build. The cottage has a clinic, library, VIP lounge, office room, charity restroom, and confectionery shop. Vast field on the right side of the brick-paved path. The ceremonial stage is being built on the east side of the field and there is a small fence on the north side. It is said that a Buddha devotee named Radhaman Dhanpati used to rest in such a house after collecting cotton. Then Ven would go home and knit. Since then it has been done symbolically. The small house is also made from that thought.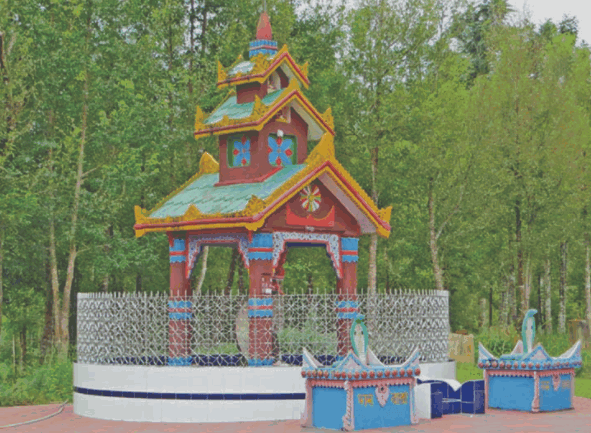 In the lighthouse here, devotees light candles with different kinds of desires. In front of the largest statue of Gautam Buddha is a well-arranged place of prayer. On either side of it are the Sibli temple and the Upagupta wooden temple. On the south side of the cottage is the residence of Mahasthavira, who is ruled by a large bhante, and the residence of the bhanteras who are practicing. Tourists are not allowed to enter the back of the largest Buddha statue. Because Bhantera sits in solitude in the 13 inner sadhana huts and does sadhana day after day. Access has been reserved without hindering their pursuit. Tourists can see more than 20,000 agarwood trees, mahogany trees, rubber trees, bay leaves, and 35,000 forest and fruit trees. Hundreds of pilgrims and tourists come here every day from Rangamati, Khagrachhari, Bandarban, Dhaka, and Chittagong. Every year on the Buddhist full moon, Asadhi and Pravarana full moon, Buddha Puja, or festival is held here. But the most important and interesting festival is the donation of solid chibar.
History:
Sravak Buddha Sadhanananda Mahasthavira, the principal of Rangamati Raj Banavihar, was born on 9 September 1975, one of the disciples of Mahasthavira Banabhanta. His (Suryaban Chakma) father's name is Subal Chandra Chakma, mother's name is Khazabi Chakma. A few months after passing the HSC, when the monasticism arose, with the permission of Suryaban Chakma's parents, the principal of Rajban Bihar, Sravaka Buddha Sadhanananda Mahasthavira, took up the property from Banabhanta. Apart from being a follower of Buddhism, he is revered by all communities as a Buddhist monk, a highly revered devotee, and a great enlightener.
In 1996, Panchhari of Khagrachhari, Shantipur, meditated in the beautiful greenery of uninhabited nature, with its lush green, fresh, vibrant youthful mountain range and the shade of green forests all around. Every morning in the Shantipur area, he does pindcharan (rice and curry) and does deep austerities in this uninhabited place without eating. When the news spread around the Shantipur area, the people of Shantipur first made a tent with polythene at Bhante's meditation place. After 3-4 months, the locals built a machang house with big bamboo.
How to get there:
Those who want to travel from Dhaka or Chittagong can reach Khagrachhari directly from Dhaka or Chittagong by bus, CNG, or motorbike. After crossing the 25 km road from Khagrachhari district town via Khagrachhari-Panchhari road and reaching the Panchhari market, after crossing the five-kilometer road on the south side, one can see the Shantipur forest hut standing in the bosom of nature. It will take you maximum of 30 minutes to go from Khagrachhari Sadar to Panchhari. Panchhari can be reached directly by peace transport from Dhaka.
Where to eat:
Traditional System Restaurant is located in Pankhai Para near Khagrachhari town. Here you can eat the traditional food of Khagrachari. Contact: 0361-62734, 015573493, 01732906322.
Where to stay:
Khagrachari has various quality hotels including tourist motels.
Tourist Motel: It will be worn as soon as you enter the city and cross the Chengi River. All the rooms in the motel have 2 beds. Rent: AC 2100 Tk, non AC 1300 Tk. AC Suite Room 3,100 Tks. Inside the motel, there is a map of Bangladesh on the ground. However, the AC rooms are being rented as non-AC due to voltage fluctuations due to electrical disturbances in the entire Khagrachhari district. Contact: 0361-6207465.
Hotel Eco Chhari Inn: Located in a hilly environment next to Khagrapur Canterment. This is a resort type hotel. Contact: 0361-62725, 3643225.
Hotel Shail Subarna: 0361-61436, 01190612.
Hotel Jerin: 0361-61081. Hotel lobby: 0361-61220, 01556575847, 01199244830.
Hotel artist: 0361-61895.
Read More: Hatimatha Or hatimur