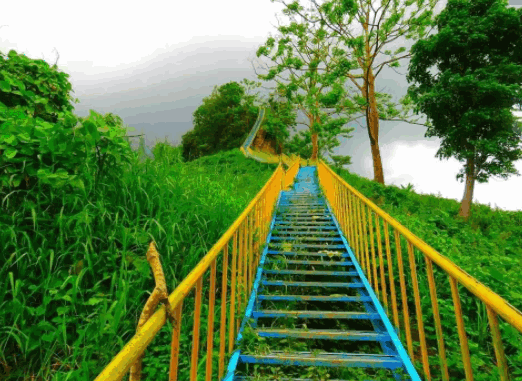 Mayung Kapal / Hatimura in the Perachhara union of Upazila Sadar of Khagrachhari district is a hilly high road. Many locals call it the elephant head again. In the Chakma language whose name is – Edo Sire Mon. Many call it the ladder of heaven. People from 15 villages travel on this inaccessible road by climbing steep hills.
Bhangamura, Badalchhara, Makhan Taisa Para, Kinapa Para, Haja Para, Bagra Para, Keshab Mahajanpara, Sadhupara, and Kaptalapara villages bordering Sadar Upazila and Matiranga Upazila have been constructed with 308 feet long iron stairs to make their life easier.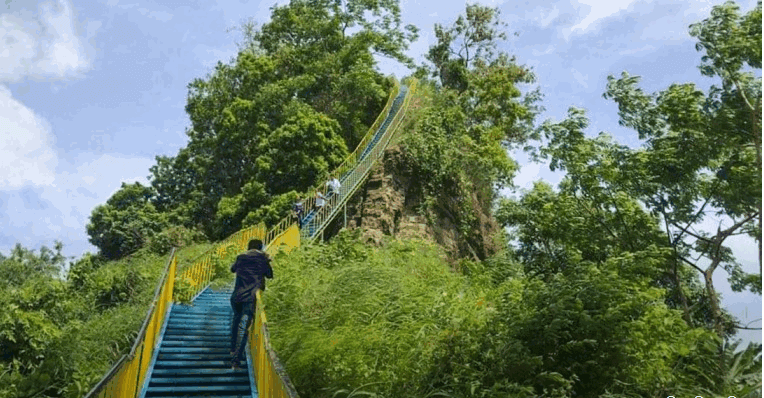 The Way To Go To Hatimura
If you want to go to Mayung Kapal / Hatimura, first you have to get off in front of Jamtalistha passenger camp on the way from Khagrachhari Sadar to Panchhari. Car rental from Khagrachhari Sadar to Jamtali is 15 rupees per person. Then you have to go straight to the left side of the passenger camp at Jamtali, cross the Chengi river, and go to the school road on the right. The name of the school is Paltanjay Soh Primary School. Go there and find a shop. Take the road to the right in front of the shop.
Two bamboo bridges must be crossed. Then you have to cross another bamboo-tree bridge along the small road that has passed on the right side of the rhyme and now you have to go straight ahead. There will be a neighborhood called Bagra Para. Then a wide rhyme will be read in front of them. Then you have to cross a big hill.
Once you cross it, you will find a locality called Kaptala. Then you have to take the low path on the right-hand side, you will find two roads in front of you on the way and you have to take the road on the right side. Then you will see the extraordinary Mayunkapal / elephant mura. It will take an hour and a half to reach altogether.
Trekking is quite difficult because you have to cross small hills. Be sure to take water and dry food with you.
Where to Stay Hatimatha Or Hatimura
In Khagrachhari, there are hotels of various standards including tourist motels.
Tourist Motel: It will be worn only after crossing the Chengi River as soon as you enter the city. All the rooms in the motel have 2 beds. Rent: AC 2100 Tk, non AC 1300 Tk. AC Suite Room 3,100 Tk. Inside the motel, there is a map of Bangladesh on the ground. However, the AC rooms are being rented as non-AC due to voltage fluctuations in the entire Khagrachhari district due to electrical disturbances. Contact: 0361-6207465
Hotel Eco Chhari Inn: Located in a hilly environment next to Khagrapur Canterment. This is a resort-type hotel. Contact: 0361-62825, 36432225
Hotel Shail Subarna: 0361-61437, 01190612
Hotel Jerin: 0361-61071
Hotel Lobbyat: 0361-61220, 0155758584181
Visit More Places:
Frequently Asked Questions About:
খাগড়াছড়ি ভ্রমণ গাইড
খাগড়াছড়ি দর্শনীয় স্থানের ছবি
পানছড়ি দর্শনীয় স্থান
মাটিরাঙ্গা দর্শনীয় স্থান
খাগড়াছড়ি পিকনিক স্পট
দীঘিনালা দর্শনীয় স্থান
রিসাং ঝর্ণা
খাগড়াছড়ির সৌন্দর্য