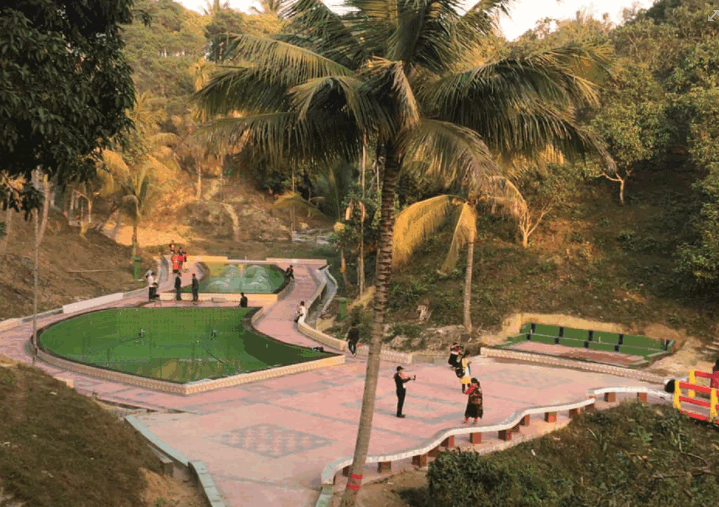 Horticulture Park is a very popular park located in the Khagrachhari district which is rich in natural beauty, hills, and springs. The Horticulture Heritage Park has been built across a 22-acre hill in the Zeromile area of ​​the district town. The park has a beautiful hanging bridge and a large swimming pool.
The environment inside the Horticulture Park is quite pleasant. A great place to spend time with friends and family. The view from the west side of the park to Khagrachhari town is amazing.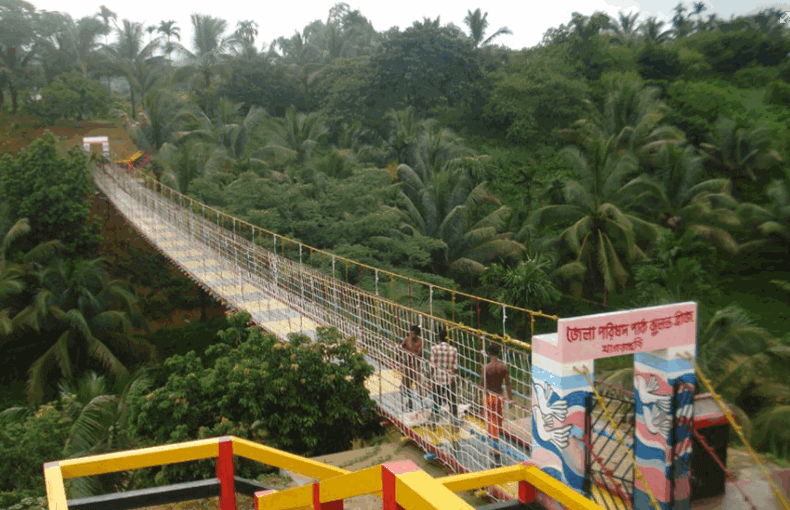 There are also toy trains, swings, and watchtowers inside the park. There are also flower gardens and various species of fruit trees. There is also ample space in front of the park for school, college, or university picnics. If you want the lake inside the park, you can take a boat tour to see the beauty of the park. The lake flows through the mountains on both sides and in the middle.
The entrance fee to the park is 20 Tks.
The Way To Go Horticulture Park
From Dhaka, you can take Shanti, Shamoli, Hanif, and other transport buses to Khagrachhari. The rent will be 520 rupees. BRTC and St. Martin Transport's AC buses also go to Khagrachhari.
Contact:
Saint Martin Paribahan – Arambagh: 0172691341, 0172691340.
Khagrachhari: 0172691356.
Shyamoli Paribahan – Arambagh: 02-6194291.
Kalyanpur: 9003331, 8034275. Asadgate: 812471, 912454.
Dampara (Chittagong) 01711361405, 0171137249.
Shanti Paribahan – Arambagh (Dhaka) – 01190994006.
Oxygen (Chittagong) 0171715552.
You can also go to Khagrachhari from Chittagong. BRTC AC Bus (Chittagong) Kadamtali: 0172375125. Khagrachhari: 01556402506.
From Khagrachhari Sadar Bazar, you can go to the Horticulture Park on Ganjpara Road by renting an autorickshaw for 10 rupees per person and a rickshaw for 25 rupees per person. The fare from Khagrachhari Sadar Bazar to Main Road via Autorickshaw will be Tk. The Horticulture Park is also easily accessible by any vehicle including motorcycles
Where To Stay At Khagrachari
There are various quality hotels including tourist motels in Khagrachari.
Tourist Motel: It will be worn as soon as you enter the city and cross the Chengi River. All the rooms in the motel have 2 beds. Rent: AC 2100 Tk, non AC 1300 Tk. AC Suite Room 3,100 Tk. Inside the motel, there is a map of Bangladesh on the ground. However, the AC rooms are being rented as non-AC due to voltage fluctuations due to electrical disturbances in the entire Khagrachhari district. Contact: 0361-6207465.
Hotel Eco Chhari Inn: Located in a hilly environment next to Khagrapur Canterment. This is a resort-type hotel. Contact: 0361-62725, 3643225.
Hotel Shail Subarna: 0361-61436, 01190612.
Hotel Jerin: 0361-61081.
Hotel lobby: 0361-61220, 01556575847, 01199244730.
Hotel artist: 0361-61895.
Where To Eat Near Horticulture Park
If you go to Khagrachhari, don't forget to taste the indigenous food. There are several indigenous food restaurants in the Pankhaiyapara and Mahajanpara areas of the city. Those restaurants are the addresses of those who come to the mountains and want to eat mountain food.
Read More:
Frequently Asked Question:
Sajek view
Sajek tourist spot
Sajak bd
Sajek travel guide
What to do in sajek
Sajek valley caption bangla
Hatimura khagrachari