Sajek Valley is located on the northernmost border of Mizoram in the Rangamati district. Sajek is the largest union in Bangladesh with an area of ​​602 square miles. Sajek is bounded on the north by Tripura in India, on the south by Langadu in Rangamati, on the east by Mizoram in India, and on the west by Dighinala in Khagrachari.
Although Sajek is located in the Rangamati district, it is accessible from Dighinala in Khagrachhari. From Rangamati, you can reach Kaptai by boat and walk a long way to reach Sajek. Its distance from Khagrachhari district headquarters is 60 km. And 49 kilometers from Dighinala. 34 km from Baghaihat.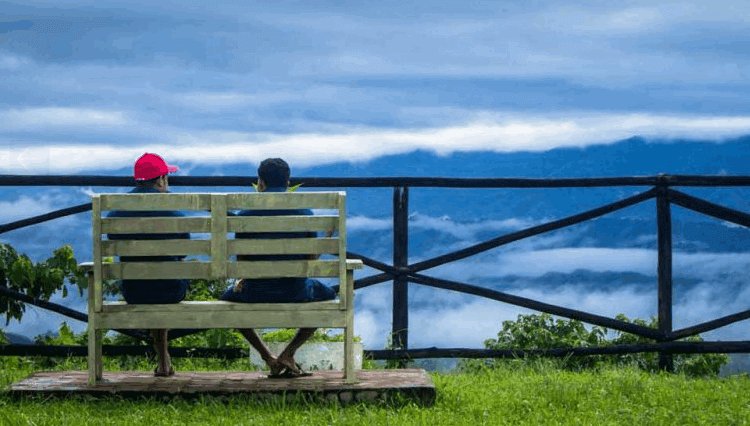 From Khagrachhari you have to go to Sajek through Dighinala Army Camp. Later, Baghaihat Police and Army Camp No. 10 will be held. From where you have to get the original permission to go to Sajek. Then Kasalong Bridge, two rivers merged to become the Kasalong River.
Later Tiger Tila Army Post and Masalang Bazar. After crossing the market, you will come to Ruilui Para, the first village of Sajek, which is 1800 feet high. Its elderly population is Lusai. Pankua and Tripura also live. This neighborhood was established in 175. Its head man is Lal Thanga Lusai. Sajek will reach from Ruilui Para in a short time. Sajek's BGB camp is the highest BGB camp in Bangladesh. There is a helipad here.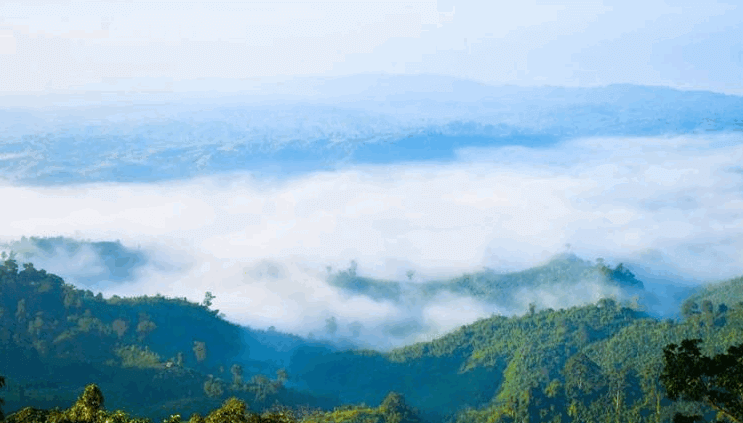 You can trek from Ruilui Para of Sajek for two and a half hours to see the beautiful Kamalak waterfall. Kamalak Jharna is known to many as Pidam Taisa Jharna or Sikam Taisa Jharna.
Sajek's last village is Kanlak Para. It is also inhabited by the Lusai people. Its head man is Chaumingthai Lusai. The Lusai hills of India can be seen from Kanlak Para. From where the river Karnafuli originated.
Sajek is not allowed to visit Kanlak Para from time to time due to security reasons as there is no other camp after the BGB camp. On the way back you can see Hazachhara Jharna, Dighinala Hanging Bridge, and Dighinala Forest Monastery.
Way To Go Sajek Valley
Shyamoli, Hanif, and other transport buses can go to Khagrachhari from Dhaka. The rent will be 520 TK. Apart from this, if you want to go directly to Dighinala, you can take the Shanti Paribahan bus. Rent 580 TK. AC buses of BRTC and St. Martin Transport also go to Khagrachhari.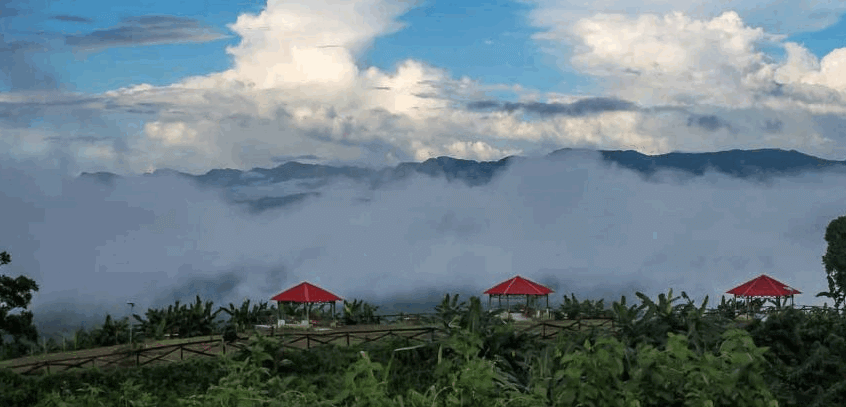 Contact Of SajeK Transport
Khagaracharih stop transport – Arambagh Kalyanpur 027194291 9003331, 8034275
Asadget 8124881, 912454
Dampara (Chittagong), 01711371405, 01711377249
Shanti paribahan – club (III) – 01190994007
Oxygen (Chittagong) from Chittagong, Rangamati can be 01817715552.
BRTC AC Bus (Chittagong) Kadamtali: 0172375125 Khagrachhari: 01557402506
Saint Martin Transportation, Arambagh 01762691341, 01762691340 01762691358
From Khagrachhari or Dighinala you can take a jeep (local name Chander Gari) reserve and visit Sajek Valley in one day. The rent will be 5400 TK. One car can seat 10 people but the maximum of 15 people can sit.
If you go back on the same day, the rent will be 5400 TK. And if you come from one night to the next day, the rent will be 8000 TK. And if you stay for two nights, the car will cost around 10000-13000 TK. One thing to keep in mind, this is a full moon car rental, not for one person.
If there are fewer people, you can also take CNG from the city. The rent will be around 4000-5000 TK. Although taking CNG is very risky. There is a possibility of reversal. Or you can go to Dighinala from Khagrachhari city and go to Sajek.
Dighinala bus fare is 45 TK per person and motorcycle fare is 100 TK per person. From Dighinala, you can also visit Sajek with a motorcycle reserve for 1000-1200 TK. On your way back you must cross Baghaihat Army Camp before evening. If not, you will have to face many questions. The ban on taking pictures of the camp must be kept in mind.
Eating Place & Good Food At Sajek Valley
There is no shortage of restaurants now. Among the good quality restaurants are – Fudanki Restaurant, Chimbal Restaurant, Maruti Didi Restaurant, Kashaban Restaurant, Montana Restaurant. Their food is good, pulses, rice, vegetables, desi chicken package food is available for 200 TK per day. If you want to have a barbecue, 220/250 TK.
The traditional System Restaurant is located at Pankhai Para near Khagrachhari town. Here you can eat the traditional food of Khagrachari. Contact: 0361-62734, 015573493, 01732906322 After eating, come out from the nearby New Zealand neighborhood.
Hotel / Resort To Stay In Sajek(Traveling Time)
Khagrachari has hotels of various standards including tourist motels. Although there are a few hotels in Dighinala, the quality of Dighinala Guest House is a bit better.
Sajek Hotel & Resort:
Sajek Resort – This is a resort run by Bangladesh Army. Which has four rooms on the second floor. Meals are available. Contact: 01759025694/01746060395.
Runmoy Resort – It is located in Saje. It has three rooms on the ground floor. Each room can accommodate 2 people. You can take extra bed with extra money. There are four tents, each can accommodate four people. Contact: 0172011652.
Emanuel Resort – It has 6 rooms. All common baths. Contact: 0175349130, 01794906 (Moiya Lusai) (bkash) This resort is a very ordinary resort, friends or those who have no complaints about staying here can stay here, it is not an ideal resort for a girl or family.
Sara Resort – It is located in Ruilui neighborhood. It is owned by Mana Dada, a businessman from Ruilui. There are 4 rooms here. Three attached baths. A common bath. There is a bed in each room. There can be 2 people. The rooms are a little small. Made of tin. There is solar. Contact: 01554534506.
Megh Machang Resort – Rent will be approximate: 2500 – 3500 TK. Contact – 01822168877.
Meghpunji Resort – Phone No. 01911722008 Rent Approximately 2500-3000 Taka per night.
Chayanir Eco Resort – +8801881164864
Jumghar Phone Number – 0174-206060
Dighinala Hotel & Resort:
Dighinala Guest House: It is located opposite the bus stand in Dighinala town. It is one of the standard hotels in Dighinala. Nur Mohammad (Manager) – 01827468377
Khagrachori Hotel & Resort:
Tourist Motel – It will be worn as soon as you cross the Chengi River into the city. All the rooms in the motel have 2 beds. Inside the motel, there is a map of Bangladesh on the ground. However, the AC rooms are being rented as non-AC due to voltage fluctuations due to electrical disturbances in the entire Khagrachhari district. Contact: 0361-6207465.
Hotel Echo Chhari Inn – Located in a hilly environment next to Khagrapur Canterment. This is a resort type hotel. Contact: 0361-62725, 3643225.
Hotel Shail Suburban – 0361-61436, 01190612.
Hotel Jerin – 0361-61071.
Hotel Lobiyat – 0361-61220, 01556575848, 01199244830.
Hotel Shilpi – 0361-61795.
Contact For Chander Gari
Dighinala's moon car driver Nur Alam – 01720732043,
Raj – 0172074172, 01749649,
Hanif – 0172629907,
Midhal – 017135214,
Shibu – 01720846444
Visit Also:
Frequently Asked Question:
Sajek valley resort price list
Sajek valley road
Sajek valley hotel
Sajek valley tour package 2020
Sajek valley tour package 2021
Sajek valley map
Sajek valley height
Sajek valley tour guide Bangla