Furomown Hill is a hill in Rangamati which is 1,517 feet high. When you enter the town of Rangamati, you will see it which is located at a distance of 6 km from the city. Climb to the top of this hill and enjoy the beauty of Rangamati city. If you walk along this road for 2 hours and 30 minutes, you will get a staircase to reach the top of the hill on the right.
The beauty of Furmon is waiting for you after crossing 413 paved stairs and a few earthen stairs. But refrain from making noise because Bhantera meditates here. Remember it is not a tourist center, it is a pilgrimage center. The pain of climbing the hill for about 2.30 hours will disappear in 2 minutes by looking around from the top of the hill. Of course, team up, it is better not to go alone. You must take your ID card with you.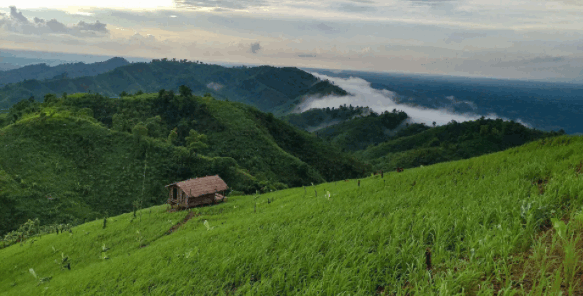 Take the necessary things with you before climbing the mountain because you will not find anything on the way. Such as enough water, dry food, walking sticks, etc.
Way to Go In Furomon Hill
Different transport buses go to Rangamati from different counters including Fakirapul and Kalabagan in Dhaka. Manvede rent 800 to 1,500 rupees. When you reach Rangamati, you can reach the foothills of Furmon by CNG-powered autorickshaw or any other motor vehicle from the city. From Chittagong's Oxygen bus station, take a hill bus and get off at Sapchhari.
The rent is 120 rupees per person. If you ask anyone here, they will show you. For this, Reserve CNG from New Market in Rangamati town and ask to drop it in front of Furoman Bhabna Kendra. The trekking started from there. However, on the other side of the Furoman, you can go to the foot of the mountain.
In this case, 40-50 rupees per person in local CNG or 200-250 rupees if reserved. you must have the habit of climbing mountains. If you want to get a little more comfortable, you can also go through the road built at the foot of Furomon.
Accommodation Furomown Hill
There is no way to stay and eat.
Visit Also:
Frequently Asked Question About Furomown Hill:
Furomown Hill
Furomown Hill View Point
Furomown Hill Buddhist Temple
Furomown Hill Helipad
ফুরমোন পাহাড়, রাঙ্গামাটি
Beautiful Rangamati