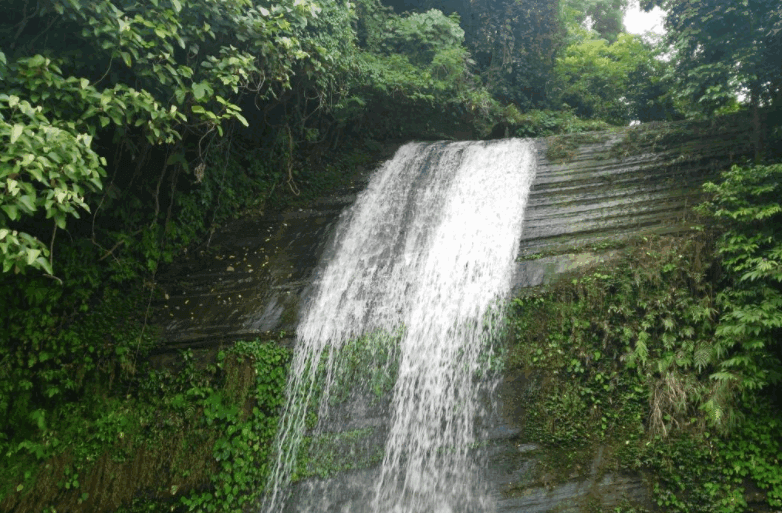 9 km from Khagrachhari district headquarters, 6 km from tourist motel. And 2 km from Alutila. Risang Jharna is located in Matiranga Upazila. As soon as you go north from the main road, you will hear the murmur of the fountain. There are two fountains here as well. The road has been paved with paved stairs to go to a fountain for the convenience of tourists. So it is easy to go to this fountain.
Another fountain 200 yards further from the first. The total distance from the district town to the fountain site is about 11 km. With your own transport, you can easily go to the foot of the waterfall. A little walking will add to the attraction of the journey. Anyone who walks on the side of a high mountain will get stuck in the mountain green and lifestyle. If you look at the valley thousands of feet below, you will be amazed at any amazing fascination.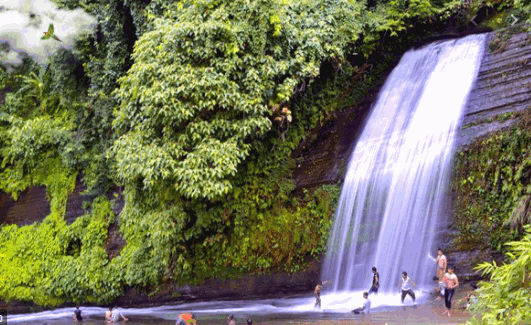 The waterfall is about 2 km from the main road. The whole footpath. This natural waterfall is falling from a height of about 30 meters. Totally rocky environment. The water of the spring is falling from about 100 feet above the hill. After falling down, it rolled over another 100 feet of rock and landed on the plane.
It is a unique form of it that will surpass your imagination. There is another spring near Risang Jharna which is known as Rishang Jharna-2 or Apu Jharna. Its path is a bit inaccessible and it will take 30/40 minutes to reach Rishang Jharna.
How to Go There Risang Waterfall
You can take Shanti, Shyamoli, Hanif, and other transport buses from Dhaka to Khagrachhari. The rent will be 520 Tk. BRTC and St. Martin Transport's AC Bus also goes to Khagrachhari. The Shanti Paribahan bus goes directly to Dighinala.
Saint Martin Paribahan – Arambagh: 01762691341, 01762691340.
Khagrachhari: 01762691358.
Shyamoli Paribahan – Arambagh: 02-7194291.
Kalyanpur: 9003331, 8034275.
Asadgate: 8124881, 912454.
Dampara (Chittagong) 01711371405, 01711377249.
Shanti Paribahan – Arambagh (Dhaka) – 01190994007.
Oxygen (Chittagong) 01817715552.
You can also go to Khagrachhari from Chittagong. BRTC AC Bus (Chittagong) Kadamtali: 01682385125. Khagrachhari: 01557402507.
Depart Khagrachhari by bus or Chad's car in the morning. Risang Jharna is 10 km towards Dhaka and after crossing Alutila cave. If you want to see this waterfall, you can drive 2 km from Alutila by Chad car, local bus, or CNG. Next, you have to go to the heart member area first.
The local bus from Alutila will cost 5 Tk. About 2.10 km from there. Rishang fountain in the distance. This route requires walking or biking. The bike will cost 50 Tk per person just to go, 100 Tk on arrival. If you take Chad's car or CNG, you have to get down about 500 meters from the fountain, the rest you have to walk.
Where to Eat At Bandarban Traveling Place
Traditional System Restaurant is located in Pankhai Para near Khagrachhari town. Here you can eat the traditional food of Khagrachari. Contact: 0371-62634, 01556773493, 01732906322.
Where to Stay At Bandarban
There are hotels of different standards including tourist motels in Khagrachari. But it is a good way to stay in Dighinala. That is the Dighinala Rest House.
Tourist Motel: It will be worn as soon as you cross the Chengi River as soon as you enter the city. All the rooms in the motel have 2 beds. Rent: AC 2100 Tk, non AC 1300 Tk. AC Suite Room 3,100 Tk.Inside the motel, there is a map of Bangladesh on the ground. However, the AC rooms are being rented as non-AC due to voltage fluctuations due to electrical disturbances in the entire Khagrachhari district. Contact: 0371-6208485, 0371-62084, 0371-62085, 01556564375.
Hotel Eco Chhari Inn: Located in a hilly environment next to Khagrapur Canterment.
This is a resort-type hotel. Contact: 0371-62625, 3743225, 0371-61625, 0371-61626, 01828-874014. Room rent 1000-2500 rupees per night.
Hotel Shail Subarna: 0371-61436, 01190776812.
Hotel Jerin: 0371-61071.
Hotel lobbyot: 0371-61220, 01556575746, 01199244730.
Read More With Related Traveling Place:
Frequently Asked Question About Risang Waterfall:
খাগড়াছড়ি পিকনিক স্পট
আলুটিলা ভ্রমণ
আলুটিলা গুহা ইতিহাস
risang jhorna
দীঘিনালা দর্শনীয় স্থান
খাগড়াছড়ির সৌন্দর্য
খাগড়াছড়ি ভ্রমণ গাইড
মাটিরাঙ্গা দর্শনীয় স্থান