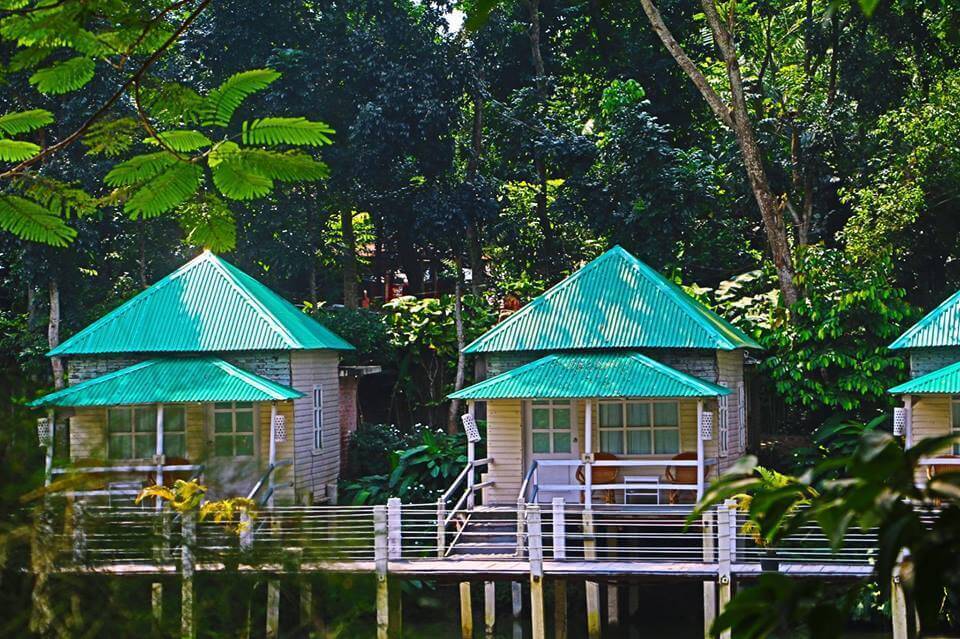 Nokkhotrobari resort has been set up in rural solitary environment area in Gazipur, a little far from the noise of Dhaka. The actor, Film and Drama Director, Architect Toukir Ahmed and the actress and illustrator Bipasha Hayat Commercially established this wonderful nokkhotrobari resort.
Nokkhotro Bari Resort In Gazipur
The resort is located in the dense green environment of chinasukhania village on 25 Bighas land. The resort is most popular for those people who want to take a little vacation from the noisy of Dhaka. And they also want to spend their leisure time with their family and friends in the beauty of green nature.
The nokkhotrobari resort has artificial fountains, swimming pools, restaurants, residential buildings, the air-conditioned cottage made of wood, bamboo, and timber. There are also dighi, conference rooms, and waiting rooms. You can enjoy the night time view of the festive atmosphere from the balcony of the water-based cottage at these trees surrounded Resort. Besides, you can taste different types of cuisine in Bangla, Chinese, Indian, Thai, Continental.
Apart from this, the aesthetic nokkhotrobari resort has shooting spots, library, movie theatre, and play areas. There are badminton, table tennis, and billiards. There is also a cricket ground. If you want, you can go fishing on the boat. You can also arrange the poolside parties, musical events and BBQ parties at night. There are all kinds of facilities and arrangements in this resort to make your leisure time and exhaustion Colourful and Happy.
Rent:
There rent are different by Places and Population.
Hotel Complex:
Couple Regular Rent 6325 Tk / Night
Convenience: The convenience of having two people in One bad
Deluxe Couple, Rent 1,222 / Night
Convenience: King size one bed can accommodate up to 5 people.
Twin Regular Fare 7957 Tk / Night
Amenities: Two single beds can accommodate two people.
Family Bungalow:
Two Bed Room Rent 27,830 Tk / Night
Amenities: Two beds can accommodate 5 people.
Water Bungalow:
Deluxe Cottage Rent 10,752 Tk / Night
Premium Suite Cottage Rent Rs 22,770 / Night
Family Suite Cottage Rent 20,240 tk /Night
The conference hall will have to pay 30,000 Tk per shift. Entrance to the resort is 5oo Tk for general visitors.
How To Go?
You can go to Gazipur anytime of the day on a private or public transport from Dhaka. after reaching Gazipur, you will have to go to Rajabari Bazaar on Dhaka-Kapasia highway. Nokkhotrobari is located in Chinasukhania village, one and a half kilometers away from Rajabari.
Attention:
Don't Pollute the environment by throwing your extra products or anything. Make your area clean and Beautiful with planting trees more and more.
Also Read: