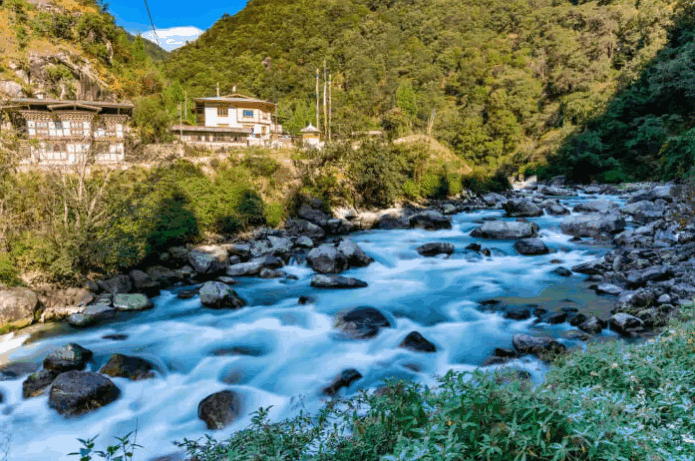 Phobjikha Valley, or Gangte Valley, is located at an altitude of 3,000 m, 135 km from Thimphu, Bhutan, 80 km north of Punakha. The U-shaped Phobzika Valley, located across a vast area of ​​the Ganges region of central Bhutan, is actually a protected wetland and also a Ramsar site. The Phobzika Valley, located just below the Ganges Cave, is the winter habitat of the rare species of Black Naked Crane. Numerous birds come here every year in the lure of small bamboo grasses in the valley. Bhutanese consider this bird sacred and a symbol of good fortune. For many years there was no electricity service in the area except for the birds. There is a crane center in the valley from where the whole valley is monitored and the birds are taken care of. It is said that when these birds came to the valley from distant Tibet at the end of October, they circled the cave three times in the Ganges, then entered the valley, and returned in the same way when they returned in February.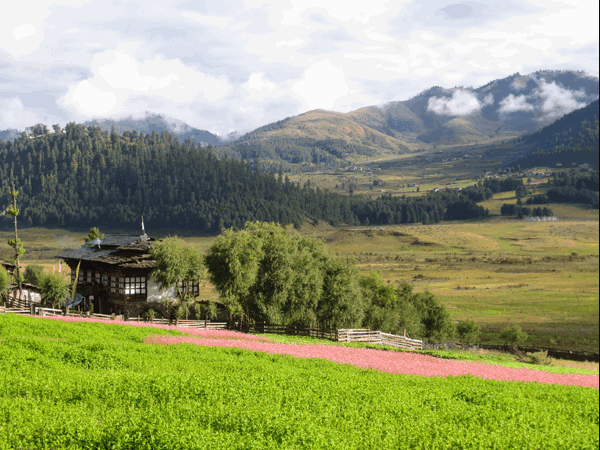 Although potato cultivation is high in the valley, radishes, and oleracea of ​​another species are also widely grown as winter food for cattle. From the valley, a narrow road surrounded by pine, maple, and rhododendron trees leads through the jungle to the Ganges cave. A spectacular view of the valley from above, which is perhaps impossible to describe in words. Ganges Cave is one of the most important ancient Buddhist schools. Every year on November 12, the Black Naked Crane Festival is organized in the attic of the cave, which attracts a large number of people from home and abroad. It is much colder here than in Thimphu. If you want to taste the rural life of Bhutan, you must come here once.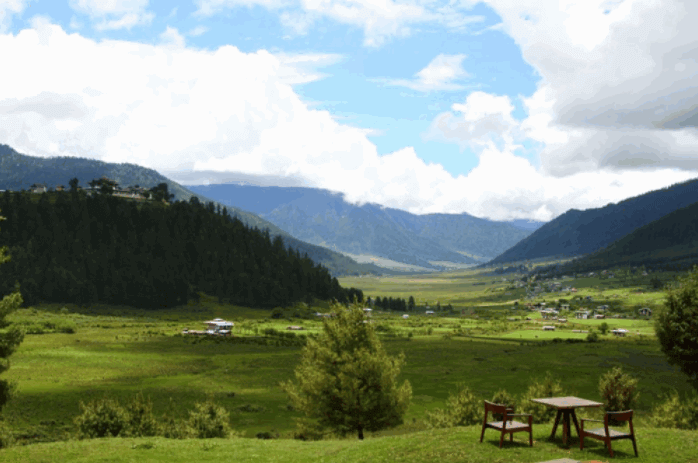 Way to go Phobjika
60 km north of Punakha with heavenly Sushma waiting for you in the Phobzika Valley surrounded by pine, maple, and weeping willow. Walk along the paved road from Punakha to Bumthang via Wangdu for about three hours, then climb the hill on the right and after a twenty-minute drive down to the soft marsh covered Dhaka Marshland. A winter pasture of Tibetan black-necked cranes, the dense golden peace descends silently through the sky in this Phobzika Valley.
Where to stay
In the Phobzika Valley, most farms have hot stone baths. Important information is to get a permit from Thimphu to go to Punakha, Ha Valley, Phobjika. The permit office opens around 10 am, and if you apply in the morning, you will get the permit by noon. If you want to visit Pinakha from Thimphu, the bus service is good and the fare is low. But yes, it is better to rent a separate car to go to Phobzika. Depending on the type of car rental will be 2500-3000 Taka.