Pokhara is the second-largest city in Nepal, located 200 km west of Kathmandu, the capital of Nepal. The city of Pokhara, full of natural beauty, is called the "Paradise of Nepal" and the "Queen of Nepal". The Nepal Tourism Department has a slogan, "Your visit to Nepal will not be complete unless you visit Pokhara." The world's longest (140 km) lined Himalayan range can be seen from Pokhara. Pokhara is also called the city of "Mountain View". From here, you can see the Annapurna and the fish-tail peaks (6,977 m), one of the four world-famous peaks.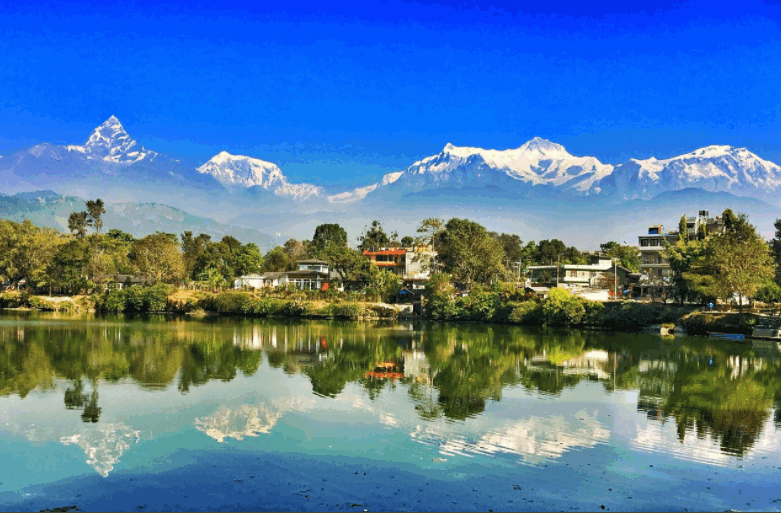 There are many places of interest in this pond. Muktinath can be reached by helicopter from Pokhara to Jamsam in a couple of hours. Muktinath temple and Jwalamukhi temple are worth visiting here. If the sky is clear, the Annapurna range can be seen here. Reaching Kurinta by car from Pokhara, one can only visit the temple of Manokamana Devi.
Places of interest in Pokhara
Fewa Lake – This is one of the second largest natural lakes in Nepal. 4 km in length and 1.5 km in width. The first is called "Rara Lake" which is located in a remote area of ​​the Mugu district in western Nepal. Fewa or Fewa Lake is a tourist attraction and ideal recreation center. Colorful boats are available for rent, paddle boats and sailing boats are also available. The rent has to be paid by calculating the time. Tickets are available at the entrance of the lake. Ticket prices for SAARC countries are much lower than for foreign tourists. There is a temple in the middle of the lake, named "Barahi Hindu Temple". Everyone from the Hindu community goes to the temple by boat, and many tourists also go there. It feels very good to travel by boat.
The main attraction of Pokhara is the boat trip to Feua Lake which has to be done before daybreak. Here the boat rent is fixed. So Damadami has nothing. There are two types of boats, small and large. If you take a group/family, it is better to take a big boat. 9-10 people can go in a big boat. This lake is dazzlingly beautiful. Suddenly it looks like a lake in Europe. Anyone would like to walk on the mountain.
Peace Pagoda –
Peace Pagoda has a local name – Peace Stupa. A pagoda made for Buddhists built on Mount Andu. People come here for meditation. This beautiful installation on top of the hill will appeal to anyone. It is basically on one side of Fewa Lake. Since the pagoda is at the very top of the hill, you can see Phewa Lake and the whole of Pokhara City from the top. This is a great place to take pictures.
But keep in mind it is not a tourist place. It is beautifully made for religious worship. Silence is the first sign of entering the Peace Pagoda area. Although tourists will not be allowed to enter the main part of the pagoda, do not forget to shout/talk in pairs. It is our responsibility to show respect for their religion. When someone speaks loudly, the people in charge of the pagoda control it immediately.
Davis Falls – Davis Falls is one of the attractions of Pokhara. The name of a small fountain is Davis Falls. There is also a history of naming. There is a dam on one side of Davis Falls. There was a time when the flow of water in the fountain was not so much when the water in the dam was under control. A couple was taking a bath in the shower. At this time, when the water of the dam is released a little, the water in the spring is called a slope. At that moment the woman disappeared with the current. His body was recovered 3 days later. The Nepalese government later surrounded the site with railings. Named after a dead tourist. You can go to see it even if it is not a very big shower. Admission here is 30 rupees. The whole money goes to a school fund. You will find several shops outside the gate. You can shop if you want to. But Damadami will take. The bargain will start at 40% of the price you want.
Mahendra Cave – The limestone cave opposite Davis Fall is called Mahendra Cave. The cave is named after the late King Mahendra Bir Bikram Shahadev. Inside it is small low power bulbs. You need a guide and a torch to get inside. Believers in Hinduism have placed a statue of their main war god Mahadev inside the cave. There is also a priest there. It is also a religious place of worship for them. Inside, there are big stones under the feet, low light, torch in hand, with guide, creepy environment, will definitely be a new experience! A little further on there is another cave called "Chameri Cave". There are a lot of bats inside it.
Sharonkot – Pokhara's Sharonkot is the most attractive viewpoint for tourists, with spectacular views of the mountains, Pokhara Valley and Fuwa Lake. Sharankot is situated at a height of 1592 m above sea level, five kilometers from Pokhara. Here tourists mainly come to see the first light of the sun on the mountain tops. New Sun on one side, Annapurna on the other, Fish Tail. She is an unprecedented sight !!
International Mountain Museum – Located in the city center of Pokhara, 1.5 km south of the airport. One of the features of this place is that three mountain peaks can be seen from here. Whose names are Dholagiri, Annapurna, and Manaslu? The main features of this museum are the art of mountaineering techniques, information about major mountain ranges around the world, the geographical location of the mountains, equipment used by climbers around the world, clothing, and history of climbing.
Gurkha Memorial Museum – This museum is also located in the city of Pokhara. There is an exhibition of world-famous Gurkha soldiers with descriptions of war victories, clothing, batches, used weapons, and other equipment. The Gurkha tribe is near Pokhara which is now known as Gurkha Land.
Tibetan Buddhism Monastery – on the outskirts of Pokhara, four kilometers from the airport, on the banks of the Shweti River. It is a Buddhist shrine.
When to go
February to May and August to November are good times to visit.
How to get to Pokhara
Kathmandu Tribhuvan International Airport is a well-known airport. Flights from different countries are going to Kathmandu regularly. Bangladesh Biman and United Air have direct flights from Dhaka to Kathmandu. Port entry visas can be obtained from Tribhuvan Airport in Nepal. However, it is convenient to take a visa from the Nepal Embassy in Dhaka. Under the package tour, it will cost 24-35 thousand rupees per person to stay in the hotel for 2 nights and 3 days with an air ticket. Nepal can be reached by road through Kakarvita, Birjung, Raxaul, Sunauli, Nepalganj, Dhangadhi, Mahendranagar, and Kodari on the Indo-Nepal border. Other destinations in Nepal can be reached from Kathmandu on package tours or by car. There are helicopter services for Pokhara and Muktinath. Chitwan can also be reached by air. You have to reach Lumbini by plane or bus.
Where to stay
There are plenty of good quality residential hotels to stay in in Pokhara. Some of these notable hotels are named – Hotel Lexter – Rent 1500-2000 Taka Hotel Viewer – Rent 1500-1800 Taka Hotel View Resort Rent 1400-1900 Taka. Fewa Lake can be seen from the veranda of the Hotel Lexter Resort. There are also numerous more hotels on the shores of Pokhara Fewa Lake and in the city.
Food arrangements
Food in Nepal tastes good. Whatever you eat, rice or bread will be served first. There will be salty chutney. You will get rice, vegetables, and pulses. You will also find delicious food in ordinary restaurants or absolutely roadside Dhaba. Rice, curry, pappar, and chutney will match with everything.
Pulses and rice are famous food in Nepal. Pulses are cooked with spices, great fun to eat. Meat and fish cannot be found without big restaurants. Beef is not available in general food stores in Nepal. There are many Tibetan food restaurants in Kathmandu. Tibetan food called Momo is available here. This dish dipped in red sauce is a kind of meatball. Can be of different meats. Have fun playing Chicken Momo. There are Indian restaurants as well as chain food shops like KFC and Pizza Hut. Besides the Nepali language, common people understand Hindi. If you can speak Hindi like working then no problem. Understands English a little better in shopping centers and hotels.
Read More: Nagorcoat